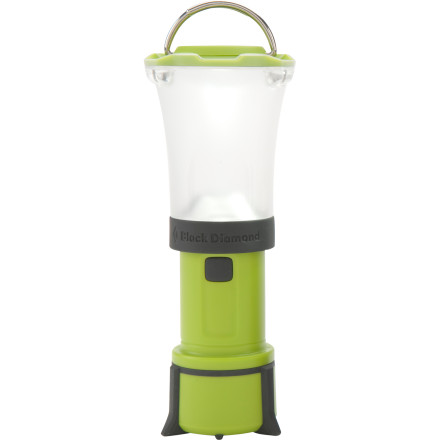 Detail Images

Community Images
As you pack for next big climbing expedition make sure to pack the Black Diamond Orbit Lantern into your duffel. Weighing in at a mere three ounces, the Orbit is light enough to take with you on your next trip. No worries if a storm keeps you in your shelter all day—the Orbit's 24-hour burn time should get you through till Mother Nature breaks blue.
Dimming switch provides the optimal amount of light and lets you conserve battery power
The Orbit's frosted globe gives off a non-glaring light so you can read a book in your tent while you wait out the storm
Lantern powered by 4 AAA batteries
Compatible with Black Diamond's Orbit-specific NRG2 rechargeable battery kit (sold separately)
Share your thoughts
What do you think of the
Black Diamond
Orbit Lantern
? Share a...
This little.. More like tiny lantern is perfection. It is small enough to fit in your shorts pocket and bright enough to light up a family tent. I really had no intention of using this lantern more than just camping, but I take it EVERYWHERE. It is super convenient and if you don't want to annoy people with the light, you can dim it! A great quality product that Backcountry delivered with awesome customer service.
This little lantern is awesome. It's not waterproof but my little brother dropped it in the creek once and.. It still worked. I love how you can dim it.
Great size and weight for backpacking, I had high hopes for this light. Each time I turn it on, the light stays on for about 3 seconds and then goes out. I have played around with it over and over and cannot find what I assume is a loose component. So I had a very dark camping trip.
Mighty little light
Familiarity:

I've put it through the wringer
BD cust service is #1! I dropped it and it only would flash like a strobe. Since I was within the warranty, they just sent me a new one.

The little twin bale at the top is perfect for hanging from inside a tent. This is the one luxury item I take backpacking and I try and keep it pretty light!
Great addition for the backcountry
Familiarity:

I've put it through the wringer
Small size, easy to pack, and great light. What else could you ask for. I really like this product and look to order more. Does not drain batteries as fast as you would think. Can be switched from bright to dim light.
Shuts off before batteries are drained
Familiarity:

I've used it several times
The Orbit was awesome at first - small, lightweight, bright light AND a dimmer, convenient hanging mechanism... but after about 6-8 hours or so of intermittent use over about a week, the thing started shutting off unexpectedly. I could flip it back on, then it would flip off again after a minute. Frustrating, for sure. I've played with the dimmer function like a previous reviewer, and like that reviewer found that it just goes into "strobe" mode, which I initially thought must be a factory defect because I didn't see anything listed stating it had a "strobe" mode option. You'd think that if the batteries started to get lower that you could opt to dim the thing, but no. I checked the batteries, and they still have plenty of juice - not low enough to warrant it shutting off.

I really love it when it has fresh batteries in it, but it's really annoying when its the only light you have to locate your headlamp in the pitch dark and it keeps shutting off on you after 5 seconds! What's incredibly frustrating is I just got back from a month-long trip with it (1/2 of which it was dead weight) and I bought it as a stocking stuffer for my spouse, so just barely more than the return policy allows for returns! I'm still not convinced that I didn't get a defective product.
Close to being good
Familiarity:

I've used it several times
I scored a few of these things on SAC and had very good initial impressions.


Like Scott I keep having these things shut off on me, but I only seem to have this problem when the batteries are getting low.


Instead of automatically dimming itself when it's batteries are getting low, it shuts itself off. Not a big problem until the batteries get low enough to where it automatically shuts itself off the instant you turn it on. Trying to get the button pressed quick a second time to dim it only sends it into strobe mode. When it is in strobe mode it's plenty bright, and if I stick the batteries into my headlamp I get enough light to tell the batteries aren't that low. Seriously, you CANNOT use this thing even when you have probably 50% charge left in the batteries. It happens to all 3 of my Orbits.


If BD changes the low battery setting to automatically dim instead of shutoff, this thing would be 5 stars easy. It is super pack-able, light, bright, and cheap. Please fix!
Works as listed
Familiarity:

I've used it once or twice and have initial impressions
Lightweight, well built. Good design. If you would rather have a light in the table or hanging in the tent instead of using your headlamp, this would be a great choice.
Mighty good light~
Familiarity:

I've used it several times
Great light for such a small lamp. Brightness settings are nice as well to customize the light for the space you are in. The to piece hanger on the top is smart so you can easily hang it from multiple places.
it got too bright outside to take an action shot, but this lantern sure is adorable (and bright!)
Good Baby lantern but NOT bright.
Before I start bashing this light let me say that it seems very well made, I like everything about it except for the very low light output. And if you get it for $10-$15 it's still a very good deal. Keep in mind this is the 45 lumen from last year, NOT the newer 60 lumen with the "Flashlight" mode. But even for a 2013 model this thing is weak. I have A LOT of flashlights from surefires to $10 Chinese Ultrafire knockoffs and every single one of them uses a brighter CREE LED than the one used here. Although it is a little dimmer than anticipated, it is light, and adequate to use in my tent so I will be keeping it. If you can get it under $10 on SAC it's a GREAT deal for the money.
Tiny size, Big light.
Familiarity:

I've put it through the wringer
I have the smaller and larger version of this lantern and honestly find the smaller of the two more useful. Big light, small size.

very tiny, light and bright lamp
Familiarity:

I've used it several times
To be honest, I was not expecting it to be so small and tiny from the picture in the website, and even took a giggle from me when I saw it for the first time (my friends had the same reaction!). But then its functionality surprised me hugely (and too my friends too!). It's very compact, easy to use and truly bright for its size! We compared the light with the big version of it (see photo) and it's practically the same. It's good for outside and inside the tent, and the dimmer is great for inside the tent if you want a softer light. I'm definitely "in love" with this lamp and will take it with me to every outdoor trip!
Nice and bright !
Familiarity:

I've put it through the wringer
Love this little guy . Super light and compact ,I find myself using it more often than I thought I would . Saves the battery on over using my headlamp for every little thing .Would recommend this for sure.
Bright and light
Familiarity:

I've used it several times
This is an awesome light works great and it's nice and compact and light weight. Pits out a good amount of light. And the dimmer function comes in handy when you just want enough light to read.
Mini Powerhouse
Familiarity:

I've put it through the wringer
The initial reaction I usually get when I whip this lil' badboy out is the "Are you kidding me?!" Once it's on, everyone is happy.

Bought it twice
Familiarity:

I've used it once or twice and have initial impressions
I bought one as a gift then liked it so much I bought one for myself. Super light-weight but sturdy and bright. I haven't taken it out on the trail yet but it seems like a great tool.
Bright Light
Familiarity:

I've used it several times
I was surprised at just how bright this light can be. It is great for keeping the tent lit or for cooking in the dark. The flash light ability is nice if you need to find your way around camp. Overall it is a Bright light for the price and weight.
low weight, bright enough
Familiarity:

I've used it several times
Great for keeping the tent lit on backpacking trips.