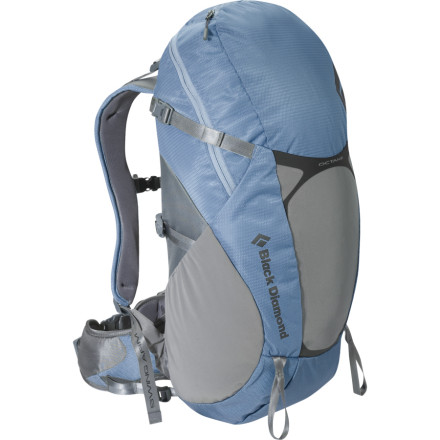 Detail Images

Community Images
Take the shoulder ache out of full-day hikes and climbs with the Black Diamond Octane Backpack. The pack's padded straps and ergonomic ergoACTIV suspension relieve your shoulders and back of the strain that accompanies a full water reservoir, climbing gear, food, and extra layers.
ErgoActiv suspension system features an innovative free-floating hip-belt that pivots with your body's movements for improved load stability and comfort when traveling over uneven terrain
Swing Arm tech routes the shoulder straps through the pack's lumbar area for unrestricted movement when hiking with trekking poles or scrambling
OpenAir back-panel system circulates fresh air between the pack and your back to keep you feeling comfortable when the midday sun is cranking
Panel-loading design allows easy access to inside
3D mesh straps and OpenAir back-panel system eliminates the dreaded sweaty-back syndrome by allowing fresh air to circulate between your back and the pack
Stash pocket on the hip-belt is perfect for storing extra calories, and a front zippered pocket keeps your trail map, headlamp, and other on-demand essentials organized
Stow trekking poles or ice axes on outer loops
Slip your water reservoir into the inner sleeve for hands-free, on-the-go beverage-ing (reservoir not included)
Why is my black diamond octane creates squeaky noise even it is not loaded?




Best Answer
Most likely it is from the ErgoActiv suspension system. It allows the hip belt to move with your body, there's a good chance the squeaking is coming from the pivot point.
Red Clay Back Panel & Straps
Red Clay color is missing. I just bought it and this is what the color looks like. My pup wanted to be in the photo.
What is the weight/load limit for this...
What is the weight/load limit for this backpack? I can't find it on their website.
Best Answer
I think they suggest 20 lbs. I hiked Whitney in October and it tipped the scales at 30 lbs. It was not uncomfortable at all. The only issue I had was that the load stabilizers had to be retightened. This more had to do with the fact that I had my 15 degree bag strapped to the outside (due to the fact I had to carry a bear canister). I routinely use it for backpacking carrying 25 lbs.
Black Diamond Octane Backpack
Worth every gram and cent
I highly recommend you consider the Octane if you're looking for a pack in this size and price range.

My first significant hike with the Octane was a 40.2 miler in 24 hours over highly variable terrain. I have a slight angle scoliosis and my left leg is slightly shorter than my right which has always caused upper back fatigue with any repetitive movements or limitations to range of motion. Weight on my shoulders from "ultralight" packs contribute a lot of discomfort for me... even when loaded with 7-12lbs.

I am exceptionally pleased to now own a pack that is of medium volume and can handle a 20-30lb load straight to the hips (especially when your hips are not "straight") while allowing me to side-bend while walking (gecko on a window). This pack has a thoughtful and clean design without silly extras or annoying top panel lid. Weight weenies may overlook the pack due to specs but in real life I've found that sometimes this should be measured qualitatively. The fit of this pack paid for it's own weight. The stretchy side and outer pouches also increase the volume capacity quite a bit.

I did begin to feel some pressure at L3 from the belt adjusting mechanism but only when I bent down to tie my shoes. This pack can serve my needs from 1-4+ days depending on the season. Shoulder pain? It felt so good I had to find something else to grumble about.

I'm 6'2" 170lbs. The Large pack fits well.


This pack is excellent. The suspension makes it hands down the most comfortable pack I've ever used. I was kind of skeptical of it at first and thought it might be a gimmick, but it really delivers. The difference is astounding. I bought it as a daypack, but I've actually used it more as an overnight and multi-day pack. It can fit a ton of stuff for a "daypack". The two side pockets can hold 1L nalgenes with no problem. The stretchy material on the sides so far appears to be far more durable than the more traditional mesh other pack makers use. The backpocket can hold a ton of stuff, too.
Nice pack, Awesome suspension!
I've had this pack for almost a year and I love it. The pack is not perfect but the good well outweigh the bad. Let me start by saying the suspension is genius, my favorite so far, which is why I just bought an Infinity 60.

I am very slim, 5'9" 130 lbs and I find that some hip belts (more bulky/excessively padded) do not stay put on my skinny hips. Excessively padded shoulder straps are also a bother to me as I feel that they dig in to my bony spots more. The straps on this pack have very thin padding, and I find that this is the PERFECT blend of stability and comfort. The thin foam padding tends to mold to you as opposed to forcing itself upon you. I have never had comfort issues with this pack anywhere, and I use it all of the time.

The suspension is awesome, best I've ever worn, hands down, it will be hard for anyone else to get me to buy their packs while Black Diamond continues to make ErgoACTIV packs. This is the reason I am buying the Infinity 60, and also why I don't care about certain things on the Infinity either (such as top loading ONLY). I really cannot stress enough how comfortable this suspension is, if you are in the market for a pack, find a local retailer that sells it, try it on with some weight, you'll see what I mean... Then come back and order it from Backcountry!

Downsides:
The suspension is the best, IF KEPT WITHIN THE WEIGHT LIMITS, can't stress that enough either, this pack can comfortably take up to about 15 lbs, then the weight will start to be felt and the suspension will no longer work... at all. This is true for all packs but I feel the difference becomes extreme very quickly with this pack. Black diamond has the weight limit specs on their website, on any pack go to tech specs to view the weight limits.

The pack setup is very simple, not too many frills and thrills, top notch quality through and through, just simple. Packing for overnights would be so much easier with an extra accessory strap or two, may be even some more outside pockets.
I got this pack to use just as a large day pack; something that can handle a few layers and basic gear...as well as a summer load of 3 persons gear. It has reall performed. I can fit all the late winter early spring gear that I need in it. That includes a primaloft jacket, a fleece and an extra top layer, socks, two liters of water and food...I still had room. the outer pocket is great to just slide things into...gloves or a hat. The pack holds an ice axe well and trekking poles store easily. This will be a great summer pack hiking with the kids...load it up.The stand out feature was the suspension of this pack. The waist belt and the shoulder straps are amazing, the pack moves with you unlike any I have ever owned. Overall this pack is awsome.
It doesn't look like this can carry skis,...
It doesn't look like this can carry skis, but might the lower side straps loosen enough for it to be possible?
NO, you cannot. The straps are under the stretchy pocket fabric. BD should allow routing of the straps under and over the stretch pockets. Osprey and Gregory do it, so this is a quite a stunning oversight on a premium-priced daypack.
Is this pack too large to reasonably carry...
Is this pack too large to reasonably carry on an airplane? Also, same question with hip belt removed.
I'm not sure you can remove the hip belt, but, providing you don't over stuff it and attach items to the outside, you'll have no problem getting this on an airplane with the belt or not!
It's fine to use as a carry on. I take backpacks up to 50L as a carry on without any issues.
i love this pack. the swivel hip belt is the best in design. very comfortable and durable. the OpenAir backpanel is great from keeping you sweating like a pig in houston. very functional belt pockets for storing cameras, cliffbars, compasses, whatevs. the construction and frame of the pack is great and not floppy. you throw it down empty and it still stands up and doesn't flop over. i'm a big fan of the compression pouch on the front of the pack. the shoulderstraps are much more comfortable then other packs i've owned and it functions almost as a front and top loader pack. this is an excellent excellent pack that is versatile and light and will keep your shoulders happy.
2010 Black Diamond Active Form Design Packs - Research and Development
20 years in the making. Black Diamond's experience with climbing hardware design, from carabiners to crampons, gives us a unique perspective from which to approach pack design. Watch our Behind-the-Scenes video to get the inside beta on the R&D process from our pack designers—all the way from concept sketches to field-testing.
Black Diamond Launch and Enduro Series Packs ? Pack Fitting
Correct fit is paramount to realizing the performance benefits of Active Form Design. Determine your pack size at a retailer using Black Diamonds Pack Fit Tool or have a friend measure your torso length. Confused? Watch our pack fit video to learn the proper way to determine your pack size and then fine-tune your fit.
Black Diamond Octane Backpack - 1700-1831cu in
I didn't even know that BD was coming out with backpacking packs. When I found out about the new line, I was interested to see how they were going to be. I previous experience with BD items told me that I could expect only the best. They didn't disappoint! This pack is ridiculously comfortable. The reActive straps allow your shoulders to move freely, while leaving the pack glued to your back. The Ergoactive belt pivots in a ball-socket joint which allows the pack to stay in place on your back, while your hips are moving. All the packs come in one size and the torso length can easily be adjusted to fit your body perfectly.

And at this price, it's a great deal as well. There are many similar sized packs with inferior suspension systems in the market that are going for alot more $$$.

This also comes in similar women's version BLD1164