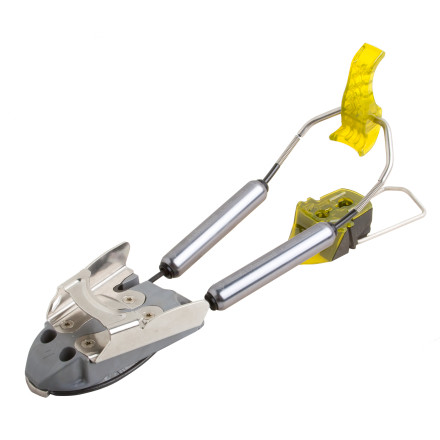 Detail Images
The Black Diamond O3 Telemark Binding focuses on versatility and tourability. This binding incorporates a one-piece, stainless steel toe box that entirely surrounds your boot's toe to provide maximum power transfer and durability. Forward-mounted flex points minimize resistance on the uphill. Black Diamond integrated the O3's toe plate with a reinforced anti-stick riser that provides a secure, ice-free connection to the ski. The Freeflex is Black Diamond's softest, most neutral cartridge, making it ideal for touring and lighter skiers.
For the price, not a bad choice
I've owned a single pair of these since 2005 with MidStiffs and they've been mounted on three different skis since then (Volkl Outback, a cheap pair of Dynastar alpines, and currently K2 Shuksans). In that time I've also used G3's Targa extensively, and recently got my first pair of Hammerheads.

I have skied these with an older Scarpa T1 and most recently with Garmont Ener-G (three buckles)

While the Hammerheads are by far the most active and durable binding of what I've experienced, I have never been dissatisfied with my O3s with what I've used them for - 85% lift-served in Colorado, and 15% backcountry/touring. They've been reliable, and as long as I check the tension when I start out in the morning, I've never had a problem with the tensioning changing. Nor have I ever popped out of the binding in anything other than a fall. And I ski quite aggressively, having progressed from an east-coast-alpine past.

Between these and the Targas - I choose O3s because of the more active feel.

An under-rated binding, worth your consideration for the proper skis (nothing too beefy). If you're driving big skis, or 100% focused on area skiing, look elsewhere (Hammerhead or perhaps BD O2).
THESE BINDINGS DO NOT FIT ALL SCARPA BOOTS!
I have the Scarpa T4's and they are too wide to fit into this binding. Backcountry.com, Please take that off of the description.

Thanks and Happy Holidays,
Andy
Right now I have the mid-stiffs, I am a very aggressive skier, and I keep popping out of them. It's not good. I hit a tree last weekend because they released. I'm going to get the ridiculously stiff cartridges, so we'll see if they work. I don't suggest them if you're very aggressive or if you're skiing on solid conditions
O2 or O3? I'm a strong alpine/AT skier...
O2 or O3? I'm a strong alpine/AT skier looking to take up telemark skiing so skiing with friends who are intermediate skiers will be fun again. I plan to ski mostly in the resort but as my ability grows I might venture into the backcountry and even may patrol on these next season. What do you all think?
I have the 03s and that is exactly what I use them for. I learned on them love rippin around groomers with friends who aren't chargers, I have also spent quite a few days in the "side" country and I think they work fine. Just get the stiff cartridges or mid-stiff and make sure they're tight at the start of the day as they can get loose riding around in the car. I have mine mounted on a pair of K2 Sodos which are a very stiff ski that is mid 90s under foot. For the price I don't think you can beat them.
02's would be a be the best option of the two for intermediate skiing. 03's are more of a beginner binding- they don't offer very much activity or stiffness. Really, though, I've skied every tele binding out there, and the only bindings I'll ride are 22 Designs. The Axl and the Hammerhead are the best there is.
These are horrible bindings. You will have to lock-tite the screws to keep them on your feet. Go with any tele binding other than BD. 01, 02, 03 - all will not stay on your feet.
These are horrible bindings. You will have to lock-tite the screws to keep them on your feet. Go with any tele binding other than BD. 01, 02, 03 - all will not stay on your feet.
Great Binding, poorly marketed
I think that in the world of pos-5 hammerheads and NTN, its a breath of fresh air to have a well made binding with a neutral feel. If you aren't an aggressive skier looking for a light on piste binding, this is definitely a better option then a G3. I don't think that it really is good for touring, pins or free pivot is the way to go in that department
Fun to ski--pop off alot!
I've skied these bindings with mid-stiff for 2 seasons now and have been satisfied overall. BIGGEST complaint is that the bar that goes around the heal (has a little spring-looking covering on it) sticks out laterally too far so that I hit it with my opposite ski during jumpier turns. This has led to me having my ski pop off mid turn quite a few times! Not too fun when you're ripping through some moguls and your ski is dangling behind by your safety lanyard...And you'll look like a fool if that line is under the lift! Also makes me nervous when i'm backcountry and don't have lanyards attached. Never had the problem on groomers though.
I have a pair of Karhu Guide BC skis, and...
I have a pair of Karhu Guide BC skis, and currently have the 01 on them, but am looking at something a little lighter. Would these be comparable? Or would not having the free pivot option just piss me off?
Honestly once you have used the O1's you will probably just be pissed off. I suppose you could try them out (demo) or something, but ultimately i think you would want your O1's back.
Yeah, I agree with Brian. You can't really go back after having the free pivot. And look at it this way--the 01 might weigh a bit more, but it saves you lots of energy because without the free pivot you're fighting against the spring tension with every step you take, which ruins the point of saving weight.
01's on the Guide?! Talk about overkill! Waaaaaaaayyyyy heavy binding for such a light ski. I'd get some Voile Switchbacks for those, or even just some 3 Pin Hardwires. The Voile's would be far lighter and far cheaper while giving you all the support and rigidity you'd need for those waxless Karhu Guides. Yeah, I'd say that either of those Voile's would be perfect for those sticks.
Is the 03 a good beginner kids binding or...
Is the 03 a good beginner kids binding or should i look for something different. I am 15 and 85 pounds.
Best Answer
You can get the O3 set up a few different ways. the cartridges are interchangeable. With your light weight, you may want to go with the FreeFlex cartridges. As you get better (and/or bigger) you can swap the cartridges out for MidStiffs or Ridstiffs. The O3's are one size, but the O2's come in small and regular cable lengths with shorter cartridges on the small. These cartridges are also available in the 3 different flexes, Free, Mid, and Rid. check them out. Hope this helps.
For the price, these are a great binding. I have the midstiff cartriges, which tour well and seem to have plenty of power for the downhill.

I think the only problem is that BD is now trying to market them as a touring-only binding. I'd say it's better suited for 50% inbounds and 50% out-of-bounds.

They seem to be about 100 times more durable than the G3 Targas. I have been skiing them for three years now and have not had any failures.

The cartridges to loosen relatively easily. But, it sounds like this is a problem with all of the BD bindings.
If I got this binding just to learn on,...
If I got this binding just to learn on, but had a taller 4 buckle boot, would the boot overpower what the binding is meant for? I'd be mainly learning on-piste with some lighter backcountry touring.
If you got stiffer cartridges, then no, but freeflex absolutely. Go for the O2 mid stiff.
get the voile side throws
I had these bindings for a season and I hated them even though they are touring oriented, they are too big and bulky for this. The toe bar rips apart your duck bills and the catridge is so soft that it feels like i am skiing rottefella 412s. If you are mostly touring oriented, the voile side throw is a much better decision