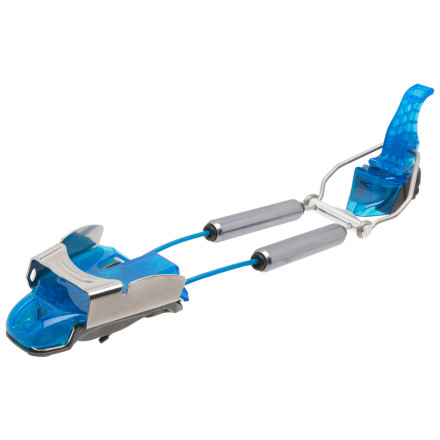 Colors

Community Images
Description
Go fast, go big, go for the Black Diamond 02 Telemark Bindings.
The Black Diamond 02 Telemark Bindings provide the power and control that hard-charging tele skiers need to push the limits. Under-foot compression springs create a progressive flex that makes the O2 Telemark Bindings a great choice for driving big sticks. Black Diamond designed them with a solid heel wire to increase torsional stability for snappy edge-to-edge transitions. The O2 Bindings have what it takes to launch a massive cornice or power some fatty planks in funky, beat up snow.
Unanswered Question
What is the active user and reliability difference between "Freeflex" and "Ridiculously Stiff?" Are they both "loose" and do they both have the "Loosen" problem?
Alright, if you like loose as heck
Familiarity:

I've put it through the wringer
I am a patroller at a Northeastern mountain and made the switch from alpine to tele about a year ago. I get a lot of time on the hill and do try to wake up at 5 am to earn my turns at least ten times a year. These bindings are great for the experienced tele skier who wants a binding that will remain very loose all the time and allow for plenty of knee-touching-ski time. However, the spring cartridges suck! They loosen up with every run and cost you some seriously good time on the hill where you are sitting in the snow spinning the cartridges before getting back on the lift or tossing on your skins and hiking up.

One would think that for $199 BD could deliver something a bit more bomber. I bought the ridiculously stiff cartridges and was finally happier with the flex, but then they become incredibly tedious to put on, which is not ok for a patroller responding to a code.



I have also experienced a serious lack of stability in the sides of the toe plate when knee-dropping in the uneven, loose snow that we encounter all to often on the east coast. They are loose enough that the ski will bounce around, side-to-side when you are engage that edge through the icy, churned up stuff on the trail edges. This makes pulling a toboggan (especially when a patient is in it) absolute hell on your knees.



In short, not the greatest binding, far from it in fact. They have the ultra free flex that will only loosen as you come down the trail. The only benefit to this could be that if you somehow encounter some powder at the base (which never happens as it is always all skied out) then your bindings would be loose enough to allow you tips to float above the snow rather than diving down and giving you a face-full. I am just starting out on a pair of 22 designs axls and I LOVE them. They give you some serious power flex with such great connection to the ski, like NTN but without all the extra crap on them.



Don't buy O2s unless you want them to loosen on you every run.
For finesse skiers.
Familiarity:

I've put it through the wringer
These work great until I start flailing around or landing a little wonky on jumps. Then my binder releases unexpectedly. I think I'm stomping on the heel-wire and pushing it off my boot. This never happens with my G3 Targa's. But I'm a brute and am often skiing with reckless abandon.
What is the difference between the o1 and...
What is the difference between the o1 and 2? Can you tour with the o2 and if so can you switch from ski to tour with your pole? Is an o 2 better for groomers or glades? I'd like to ski both and have a chance to tour. Does anyone know a good binding for that?


Hey Yimbus,

The 01 and 02 are pretty similar however the 01 features a resistance free touring option that the 02 does not have. If you plan on touring a lot this is a feature you will want to have. I would point you to the 01 over the 02 if you plan on touring at all.
A Very Good Inbounds Binding!
Familiarity:

I've put it through the wringer
I've read a lot of the posts slamming this binding, and feel they are unfair. I have owned several pairs of HH's, and while they do ski fine, I really did not like the loose tolerances and broken heelpieces. I always felt that the duckbills were sloppy in the HH, not so in the BD02. Frankly, I think the pivot point feels better in the 02 than the HH, the engagement of the springs smoother. Once the binding is installed and the cables seated, all that is needed is a narrow ribbon of Gorrilla duct tape to "lock" the cartridges together, and they will not loosen! True, the HH has fewer moving parts, but I don't feel it skis tighter or better than the BD02 when correctly set up. It should be noted that BD has not changed the design of the 02 for some time, and HH's are ending production.
I'll start by saying that I really do dig these bindings- they've taken me many cool places, and performed in some sticky situations. I have two pairs of these that I've been on for the past 4-5 years, in both Big Mountain and Park skiing. I've had to pick up the small cartridges for both (if you do this, make sure they give you the smaller housing as well, or else they'll still be loose if you have a small boot). But yes- they tend to loosen themselves when you ski, so you are constantly having to tighten them up. They recently came out with newer cartridges that supposedly helped fix this issue- I haven't tried any of the recent models, so I can't say for sure. They also recommend throwing on a piece of tape to decrease the chance of them loosening up when skiing.
Overall, even though it's a bit of a pain having to make sure that your bindings are tightened up at the beginning of each day, I still love the 02s. They're great for charging, throwing down in the park, and just having a good time!
I've ridden this binding for the past year and a half and initially liked it a lot. As time has gone on I would not recommend this binding since there are better options out there. I think it performs ok but you have to constantly re-screw the cartridges which leads to inconsistent performance. At times I've had to change this mid run because it loosened so much and locktite and thread tapes never helped long. Kind of frustrating when every other binding I've used is a set it and forget it deal.
Not Even Worth The One Star
Um, I'm sorry but who wrote the product description for these? I'm guessing Black Diamond because it couldn't be more wrong. "The O2 Bindings have what it takes to launch a massive cornice or power some fatty planks in funky, beat up snow." These bindings can't even handle my Karhu Team 100's (100mm underfoot). I have the rid stiff cartridges on them and they are still far from being "tight" or responsive. Very loose and sloppy when skiing pow, steep lines, and choppy conditions. On top of that, they "squeak" on every turn,(a sound that I am pretty sure comes from the boot sole rubbing on the plate, and definitely not from the cartridges, which are brand new). There's a reason pro tele guys, like the boys from Powderwhores, are riding Hammerheads, Axles, or NTN setups. Sorry for the harsh review BD but you should be sued for false advertising. Your bindings suck
Ok but there are better options.
The O2 is a decent binding for the resort but there are better options such as twenty two designs. The need to constantly re tighten the cartridges constantly is a little annoying. I recently sold mine because of the lack of touring capability. On the good side these bindings are very smooth.
Five seasons and going strong
I used to hijack my dad's old Rivas until I got sick of too little tension and a few too many nosedives. Picked up a pair of O2s and while they took a little breaking in and are definitely heavier they get the job done. They flex evenly with my garmont boots and I've never had any problems. The weight doesn't bother me either and I have no problem touring. I see guys on the O1s but I'd rather have a little tougher climb with fewer mechanical problems if you know what I mean
I have had the bindings rip out twice. The first time it happended I thought install error and had another dealer remount them onty to have them tear out again. I recently have been discussing this with different shops and pin heads I meet and am finding that it happens very often. I would be interested in knowing if other people have had this issue.
I bought these and mounted them on my K2's with the intention of having a great all mountain set up. These bindings were a waste of money. They are constantly loosening up and I have to crank them down every time I ski. They were supposed to be the mid-stiff but not as nearly as much as advertised. For the cherry on the sundae I was skiing at Keystone and my binding loosened up again allowing my boot to pop out and off my ski goes, on a adventure never to be seem from again. Try Hammerheads or G3's much better deal.
I have been on these bindings for three years now and love them. I like the pivot point on these bindings way better than the Hammerheads. I currently have the rid-stiff springs on a pair of 188 LIB TECH Freerides and it is a great in-bounds setup. I don't use these ski's or bindings for my hiking setup. I have a lot of preload on the springs and haven't had a problem with springs coming loose. I know if you don't have the BD compression spring cartridges tight they do tend to give you problems...but then so would my pair of Rottefella Hot Chilis back in the day.
2 years on these.. I loved them
Mounted in 2 pairs of skis (BD Havoc and Volkl Karma). Rid Stiff cartridges were awesome! I ski very agressively and they never pulled out of skis and had great feel. They do need constant adjusting and tend to freeze such that you can't adjust and have to bring inside to thaw to adjust again.. but that was never critical, just an annoyance. The duct tape trick sounds like it should be effective.I'd recomend, but not for touring.. just on lift served. Get the 01 for touring.. just as great but have touring mode
Nothing standout about the O2 for me. It gets the job done. I have a pair of O1's and they seem to have a slightly different pivot point. Even after adding plumbers tape to the threads and properly preloading, my cartridges just spin loose all the time. The binding feels sloppy on hardpack. It's a fine binding and all, but there are better choices for your standard telemark binding. A lot of it is preference. I have friends that love the O2, but I am not crazy about mine. The BD warranty is pretty good though. Cracked a heel throw and they just gave me a new free one.
These were the first pair of tele bindings I ever used. They were adequate for the job. Most people will be perfectly happy with them, yes they have a couple of flaws, a little duct tape, or locktite fixes that.
has anyone heard about compatibility issues...
has anyone heard about compatibility issues between the 02 binding and the t-race boot? i used the two together and after the first day there was large indentations on the t-race duckbills from the 02 toe piece.
That tends to happen when you press p-bex into steel repeatedly. Won't affect anything, but hey, you might as well get some Hammerheads or Axls, just 'cause they're better and might not leave imprints in the toe. Or get NTN's.
I wouldn't worry about it, though. That's just how it is.
Best Answer
i think what you need are some hammer heads for that T-race boot Hammer Head is super active and has way more control.... Just throwing it out there.
Ive been skiing the O2 for years with T-races yes the steel cuts in but it has yet to effect anything, I would not get NTN, I thought that they would be a good idea, Broke on my first day out on them, Utter Crap!
will the hammerhead or axl also blow me? sounds like they do about everything. maybe this could be the next upgrade? Hey, like that you are the small fries taking on the big guys - and suppose the response, "Just get some hammerheads..." is wearing thin. BD has been around a long time putting out some solid equipment. Are they perfect - nope. Was the super loop - hammerheads ugly step child - nope.