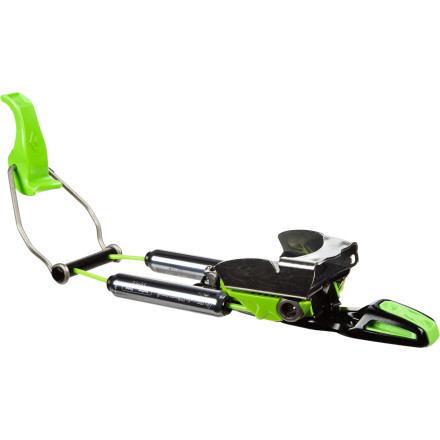 Colors

Community Images
Description
What goes up fast, must come down just as fast.
After winning more than its fair share of awards from almost every magazine in the ski industry, the Black Diamond 01 Telemark Ski Binding has carved out its place as a high-end, performance telemark binding. Flip between ski and tour modes with a simple push of a button, rip through technical terrain supported by an uncompromising compression spring design that offers both power and control, and glide naturally on the skin track thanks to free-pivot point action similar to that of the best alpine touring bindings. There are three flavors of cartridge flex to choose from too, so pick your poison and dive into a world of equal uphill and downhill performance.

One-piece stainless steel toe piece features a new 6-hole mounting pattern for increased screw pull-out resistance
Solid wire yoke heel piece keeps your heel firmly in place and underfoot cable
routing ensures smooth, uninterrupted action
Toggle between ski and touring modes with a simple push of a button on the toe piece
Three flavors of cartridge stiffness allow you to pick a cable tension that suits your skiing style specifically
FreeFlex is the softest tension, Midstiff is the best balance of stiffness and forgiveness, and Ridiculously Stiff is the hardest tension flex Black Diamond offers
Climbing wires are included with binding
super agressive binding
Familiarity:

I've used it several times
only a couple of days out on these so far, but with the redic. stiff cartridge these bindings can power big skis thru turns pretty effortlessly. the touring release works as-advertised.

stoked

stoked.
Can I retro fit the small to a standard size by ordering the backcountry kit and replacing the cables/heel pieces?
Hey T Monty,

The only difference between sizes is the cable length *AND the cartridge size*. BD sells replacement cables at about $25 per binding... Or you could get two of the backcountry kit - basically the same thing plus a few extra pieces for backcountry repair. If you're just trying to make the binding bigger, all you'll need is the rear cable and heel throw.

Bottom line - either order the replacement cables (2) or the backcountry kit (2), but you wouldn't need to do both since the backcountry kit contains the replacement cables.
So, I took Laura's advice - I have a pair of 01's, Small, and two Backcountry Repair kits in front of me. I removed the Small rear cables, and installed the Standard ones from the BC Repair kit, as Laura said. The bindings are still about 3-4 cm too short for my 29.5 boots. Any tips? What did I miss?
*Correction* Just spoke with Black Diamond - the cartridges are sized as well so in order to make that small binding accommodate a bigger boot, you need the standard cartridges (BLD0934) as well as the standard length cables.
What sized boots do a small fit? Would...
What sized boots do a small fit? Would they be ok for a smaller lightweight (105lbs) skier? If not what do you suggest?
Hi there,

These would work perfectly fine for a smaller skier- I'm very similarly sized and I love the BD line! The standard cartridges on these will fit a BD boot size 25 and above, but you can purchase small cartridges separately, which will fit a size BD 24.5 and below no problem
The best!
Familiarity:

I've put it through the wringer
Thought I'd throw a review down while I'm at it. These bindings are by far the best telemark binding I've tried for resort and touring.

Active, tough, tour very well, and the ski/climb is by far the best at resisting ice-up. Not to mention BD customer support is REDICULOUSLY awesome! These guys have taken care of this "nobody" telemark skier multiple times. BD rocks!

*The only system I haven't tried is the tele tech, but the O1's don't leave me wanting, and my crusty old BD customs fit so well.
Not for heavy hitters
Familiarity:

I've put it through the wringer
I put these on some blizzards and snapped them in half twice. Based on the narrow screw pattern and my heavy deep style turns, I split out the core of two skis. Also the toe piece bent irreparably twice. BD was great about it and replaced them, but in the end they're just not strong enough. Two sets lasted 5 days and 6 days respectively. I'm 200lbs. Until they failed, they were awesome...
Any suggestions on the mid vs ridic...
Any suggestions on the mid vs ridic cartridges? I'm 180 lb and on t1's and 184 Volkl Mantras. Other skis have x-mountain G3 Targa cartridges, and HH (blech - never buying those again). Thanks!
Hey Josh,

If you plan to ski this ski mainly in resort and want a binding that is very aggressive then I would recommend the Ridiculously stiff cartridge. This paired with your Mantra and T1 would be a killer in resort charging set up. If you want it to charge hard but plan to hike a bit with them then I would recommend the Midstiff cartridges. They will still be responsive in resort and will hike slightly better.
Best Answer
Rids. Makes no difference hiking. It's a free pivot binding. Also, less heel flop for sidestepping.
Great for BC and touring
Familiarity:

I've put it through the wringer
These bindings have made Backcountry so much better. I am in it for the climbs and these climb beautifully. I have used these for a few seasons now and am really impressed with the ease of in and out as well as the stiffness of the cartridges. I have not had one rip out with a 4 screw mount before, but knowing there are 6 screws I feel much more confident in carving really big turns.
I have been running BD bindings with the RID STIFF cartridges for a few years now, and they are the best I have used. PLEASE BD, fix the fact that the cartridges can get loose. A locking mechanism maybe?? They come loose way more than they should, and don't give me that " you have them set up wrong" crap :)
These bindings are great. Especially with the new six hole mounting plate. You don't have to worry about ripping out of the ski and breaking the binding. BD also got rid of the small amount of play that the older models had before the cartridges engaged. Definitely a solid binding and the tour mode is awesome!
Black Diamond 01
Gender:

Male

Familiarity:

I've put it through the wringer
Best binding on the market!!! Ridiculously stiff springs make them comparable to a downhill setup!!!
Great bindings but...
Gender:

Male

Familiarity:

I've put it through the wringer
I love these bindings because they have the ability to release tention to skin up a slope easier.

Con. Bindings losen up while skiing, so I have to tighten them before I ski and sometimes at lunch.

Besides that they are awesome.