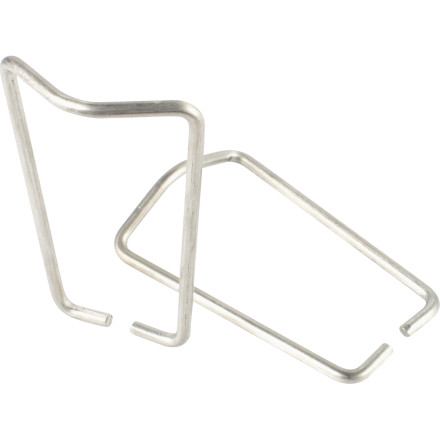 Colors
Description
Save your legs for the downhill by using the Black Diamond 01/02/03 Climbing Wires.
Make your uphill tours easier by outfitting your Black Diamond telemark bindings with the 01/02/03 Climbing Wires. Just flip them up to ease calf strain on that unrelenting 30-degree ridgeline, and flip them back down for the descent. The Climbing Wires are available in short (3.5cm) for moderate tours and long (5.5cm) for horrendously steep ascents.
I am looking to purchase these for my BD 02 bindings, I need help deciding if I need short or long... Does it have to do with my height or the terrain I am choosing to skin up?
Exactly! Steeper ascents would benefit from the Long bars, while the Short bars are fine for moderate touring.



Shoot me an email or give me a call for more answers!



Ben

801-746-7564

brabinowitz@backcountry.com
Essential for pitched ascents
So if you tele and you like to backcountry ski, this is an absolute must, otherwise you will be expending tons of energy needlessly. These work very easy, you flip them up when climbing steeps (which can be done with a ski pole basket) and when you get to your descent you simply give them a hard tap with your pole and they hide below your heel block. Other than that, don't go to the backcountry without them as this is an essential piece of equipment.
Hi i am trying to mount these on my black...
Hi i am trying to mount these on my black diamond 02's but i cant seem to open them wide enough to put them on the heel block. Do i need to take my heel block off or just get stronger forearms????
You dont need to remove the heel block. Just grab a buddy and both pull!
You may also want to try stretching them and starting from the top of the groove that the bars click into when upright, and then working them downward to the hole.
Justin, I agree with everyone above, these go on without taking your heel block off. You do need to use a lot of muscle but when you get the hang of it they come on and off pretty fluidly. If all else fails, like Jack said, get a buddy.
Will these fit onto G3 targa bindings?...
Will these fit onto G3 targa bindings? They look like they have the same attachment (since the G3 wires are sold out). Thanks...
Just FYI I'm playing around with our bindings, and yes, it looks like the Short BD climbing wires are the same length and width as the long G3 climbing wires. The G3 bindings are not as tall as the BDs, so if you want a G3 short, you will have to get the G3 short. Also the Long BD climbing wires are a different width as the BD short and G3s.