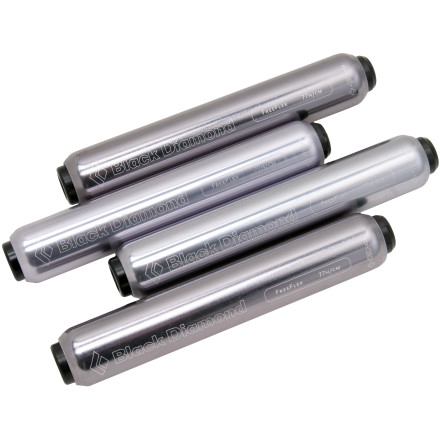 Detail Images

Community Images
Description
Each backcountry tour has different binding needs. Be ready with the Black Diamond 01/02/03 Cartridges.
Customize your Black Diamond telemark binding's flex with the 01/02/03 Cartridges. These compression cartridges are available in FreeFlex for easy touring, MidStiff for all-around backcountry use, and Ridiculously Stiff for aggressive freeriding.
Unanswered Question
I have the small mid-stiff BD 01 binding. My boot sole length is 291. My shoes size is a 7, which equates to a Mondo size 24. Based on these facts, I fall in the size small BD 01 binding.



I would like to get a stiffer ski and therefore need a stiffer boot and binding. I would like to switch my small mid-stiff cartridge for for the rid-stiff cartridge, but it is not available in a small. Based on my boot length and size, and based on the fact that I currently have the small mid-stiff, would it be possible (and safe) to replace my small mid-stiff cartridge with the (standard) rid-stiff cartridge?
Work fine, no issues.
Familiarity:

I've put it through the wringer
I have skied Black Diamond 01 for years with no issues. I just traded out Mid-Stiff cartridges for Ridiculous-Stiff and was surprised that there was not a pronounced difference. Also minor complaint that during a day of hard skiing the cartridges will lossen up so once or twice a day bindings need to be tightened.

Otherwise all is good.
Unanswered Question
I would like to know. It is this standard...
I would like to know.
It is this standard cartridge about what cm length is?
105cm?115cm?
I had size regular freeflex for learning and used them for 2 seasons. I decided I needed more tip control and snap so I swapped out the frees for midflex and saw a dramatic difference in my control in powder. Also, I am on T2X's size 26.0, which are right on the cusp or either regular or short. I ordered regular, but bc.com sent shorts(!). I decided to put them on anyway. Now I essentially have a makeshift "medium": short cartridges with regular wires. The set up is much better for me as I now can tighten and loosen the cartridges whereas before I couldn't tighten them any further. Sweet bindings!
I used mid stiff in 01's for a while and soon upgraded to rid stiffs, big difference, especially if you play around with the pre-load ie. tighten the binding to your boot more. Rid stiff cartridges ski similar to hammerheads in pos 4, and axles in pos 2, its a different feel, but certainly still capable of great things. Sometimes the cartridges loosen up on their own, try using plumbers tape, and even just running duct tape around both the tubes to keep them from getting loose. I've had the duct tape fix last over a year before. Another hint, adjust them BEFORE heading up to the hill, sometimes the threads get wet and freeze or for whatever random reason they won't adjust when cold and you're SOL till they get warm again.
Just put some of the Rid stiff's on my o2's super fun for inbound shredding. Quicker turns easy to install. If your looking for an upgrade that will keep you stable at high speeds give them a try you wont be disappointed.
These cartridges have increase my ski performance. I'm able to make quicker tighter turns. I'm still needing to adjust them almost once a day
No more involuntairy binding releases!
Wow, what a difference, swapped out long cartridges for these short ones as the long ones kept traveling on me and releasing me at inopportune moments. Not only do I stay in the binding but man they have redefined STIFF! W00t!!
I'm a fairly aggressive alpine/randone...
I'm a fairly aggressive alpine/randone skiier who has switched to telemark. I'm picking it up pretty quick and do a lot of touring. I weigh 150 and am wondering if the ridiculously stiff cartridges on the 01 bindings would be too much for me.
As I have said below, there is not much difference between the rid stiff and the mid stiff. If you really want to get better, and have a binding that adapts to your improving skills, while also retaining superior performance AND reliability, then get a pair of Hammerheads! I can't stress this "opinion" enough! I've never met (in person) someone who thinks after trying them, that Hammerheads aren't totally superior to BD bindings, or any other binding on the market.
Get some Axls if you want to tour, but ditch the 01's for sure!
But if you MUST keep your 01's, then sure, the rid-stiffs are not going to overpower you.
How do I turn my BD 01 small bindings into...
How do I turn my BD 01 small bindings into standards?
Just buy regular size cartridges and swap them in. (Regular size cartridges don't have an "S" next to them in our drop down menu).
Did you already make this change? I am actually looking to exchange my standard midstiffs with small midstiffs. I understand that not only do you have to change out the cartridge but also the cable.
So I wanna go from std to sml on my 01's what do i need to buy, cables aswell as cartidges? my old boot size was 27 T2X and the new will be 25.5 T1.
Still need a little clarification...Giving my 168 Nomads with BD O1's and mid stiff cartridges to my girlfriend, she wears a mondo 24.5 and is just starting to tele. Do I need to replace the cables as well as the cartidges to convert the binding assembly to freeflex small to fit her smaller boot? (i.e. the backcountry repair kit and replacement cartridges, totally over $100)?
Best Answer
All you need to change out is the cartridges from my understanding. With that said if anyone is looking for small mid-stiff I would love to find a trade for regular mid-stiff or rid-stiff as I just purchased a pair of 01s used and to my disappointment they are small springs.
Email me jpw1187@yahoo.com. Jeff
Hey, I ski Scarpa T-Races, am 6'2" and 180 lbs and moved up from the MidStiff cartridges to the RidStiff cartridges. It was a good decision. The RidStiffs allow me to make more powerful turns at higher speeds, opening up a wider range of terrain for me to ski. Be careful when using them with super-burly boots however, the O1s might rip out of your skis, as has happened to me twice...
, ☃bcs_badge_alumni_label☃
stiffer baby!
These cartridges rock! If you thought your skis were too soft then these are for you. If you have the Scarpa T-race or Crispi XR these will give you even more power transmission to the snow. I borrowed a friends skis last year with these and they felt sooo good in the pow and crud, my skis seemed so soft, now I can take them anywhere. Stiffer is better like Wider is better.