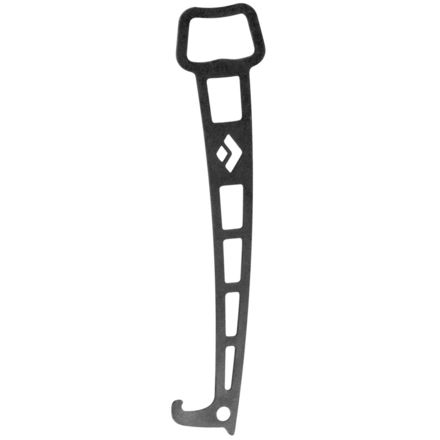 Community Images
Use the Black Diamond Nut Tool to loosen stubborn nut placements, reach buried cam triggers or snag an out-of-reach piece of webbing. And at the end of the day you can use the end of the Nut Tool to crack open a cold one.
Basic tool
Familiarity:

I've used it once or twice and have initial impressions
This is a very basic, simple nut tool. It appears to be stamped chromoly steel. It is light weight, but this is somewhat deceiving. Most of the time I end up attaching it to my harness with a carabiner, so you really have to include the weight of a carabiner when you are comparing this tool to other ones that have an attachment method built in. I bought this on sale as a loaner if my climbing partner/follower doesn't have one. The price is right for such a plain tool and it is one of the least expensive nut picks available. However, similar to how the weight is deceiving, you have to include the cost of a 'biner when considering the price. Like any nut tool, it is worth its' weight in gold when it helps you free stuck pro.
Decent - kind of jagged
Familiarity:

I've put it through the wringer
Pretty good nut tool - can definitely dislodge a piece. Pretty rough around the edges though and doesn't seem very well machined. I definitely worry about slicing something in my pack with a rope, sleeping pad, thin puffy, etc...
You get what you pay for.
Familiarity:

I've put it through the wringer
It's simple, lightweight, and gets the job done.

Like some people have said, it'd be nice if it had a bungee, a better grip, but for $10, I think it's what can be expected.
Not bad for the price...
Familiarity:

I've used it several times
As others have mentioned this is a long tool but I don't see that as a bad trait. The fact is its longer profile makes cleaning "over-cammed" active pro, as well as passive pro that's "walked" deep into cracks, easier to manage. By far!



Over-all this is a stunning little tool for around $10.00. You can't really even buy crappy fast food for that price, so why not skip the burger and add this to your harness eh?!



Great purchase! Midnight black in color as pictured and according to all specs mentioned.



(Pic-The lady safely back on the ground after cleaning a pitch)
I can't compare this nut tool to any others, but it does the job. I've never had any problems with it and can recommend it for sure.
Bomber
Familiarity:

I've put it through the wringer
This is a great nut tool! works well for really getting stuck nuts and hexes out. I just used this nut tool and a rock to beat a stuck cam lower into a crack where it widened out and we could get it out.



This nut tool is good if you and your partner use a lot of nuts and hexes, or if you are aid climbing and the nuts need a good solid tap from the bottom to get out.



The draw backs to this tool are that you need a separate biner to hang it from, its kind of long, and it clangs around and makes a bit of noise that can get annoying after a while.
Solid and Light, No Clip
Familiarity:

I've used it several times
This nut tool works very well and is light enough to barely be noticed. My one gripe is the lack of Caribiner clip built in to the handle. This forced me to larksfoot some cordalette to the end, or to directly attach a caribiner. Both of these options added excessive bulk to the tool. I would recommend finding a tool with a caribiner clip.
Don't get caught without it!
Gender:

Male

Familiarity:

I've put it through the wringer
Unless you enjoy decorating the wall with your gear, include this as an essential item on your rack. Even if your not the one cleaning that nut you jammed into the crack a bit too hard, your partner will definitely thank you. At the very least you wont need to buy a new set of nuts every season.
Basic... that's all you need!
Familiarity:

I've put it through the wringer
This is the only nut tool I've ever owned, and is likely the only one I will ever own in the future. It is simple, lightweight, and it works. It sure is noisy while it klanks around on a carabiner. This is an essential piece of gear for all you new climbers out there, following routes day after day.
I had a BD Nut tool for many years. It was good at plucking out stuck cams and stoppers. Did the job. EXCEPT when I needed to give a piece a good smack to get it out. Without tape on the back, you can't smack too hard because it's just a stamped piece of chromoly and it's fairly narrow. It was annoying.



Enter the Wild Country nut tool... This piece of art has a wide ass end that you can really smack without any risk of injuring your hand. It may be a little heavy, but I think it does a much better job than the BD nut tool. And, if you're worried about not having a bottle opener, just use a carabiner.



Bottom line: It'll do the job, just as it has since Chouinard forged the first one in his back yard in 1970-something. There are just better designs available now, such as the Wild Country nut tool. It's time for BD to design something better...
It's a nut tool.
Gender:

Male

Familiarity:

I've put it through the wringer
It's a nut tool. Basic and gets the job done. I will agree with the fact that it's uncomfortable to bang on with your hand. Just wrap a little tape around the end, you can use any other part of it as a bottle opener if you're a real man, or just use your teeth. Stands the test of time.
This makes everything a lot easier and less frustrating. Does a good job. I am very glad I bought it.
Does the job. Wish for the $, they included a string or bungee cord for easy use.
I don"t know were I would be without this Nut-tool. Me and my buddy were out playing in the crags and we stumbled upon a runnout sport climb. we set a #1 stopper and finished the climb. Cleaning that nut was a lost cause (pretty bomber placment if I do say so myself). The next saturday we grabbed one of these and headed back to avenge our the nut we recovered the nut thanks to this fantasic tool. You should never climb without one, even if you aren't a trad kind of guy. Who knows? You to may stumble across some treasure in the cracks.
I've been able to use this tool a bit over the last few weeks and it performs like a nut tool. I think it could use a rounded end to make it more comfortable to bang on with my hand, but if you're really that worried, take a dead carabiner or an old hex or just something to use as a hammer and our problem is solved.
This is a good tool that does what it's designed to do, but the edges are pretty squared so it hurts to hit it with your palm and it is lacking a built in carabiner/leash. This is a great minimalist/cheap nut tool but there are better ones out there. I prefer the Wild Country Pro-Key Nut Tool.
As other reviewers said, this will open a beer, which is important, because having beer after your route is a critical step in successful trad climbing.

What many don't know is that the holes in the handle can be used as a wrench to tighten loose bolts, or to exchange dated hangers. The bottle opener fits on 1/2" bolts, and the largest cutaway fits on 3/8". Pretty crafty BD.

For cleaning buried cams, The hook fits nicely in the notches in the Camalot triggers, or , you can hook one side of the trigger with the nut tool, and the other side with the cable loop of a stopper.

Other reviewers have commented on the painful nature of banging on this tool with the palm of your hand. Most nuts will come out with a simple push, but for those that won't, my solution is to remove my climbing shoe, and put my hand inside it - the rubber sole protects the palm nicely, allowing you me really wail on that piece.

I rack mine on a small piece of cord that is secured to a carabiner and immobilized by a rubber band. This assures that I can't drop the tool while cleaning.
Simple, functional, half the price of Metolius nut tool. Kind of a no-brainer.

Others have noted that it hurts banging on this with your hand...a hex makes a great improvised hammer for those really stuck placements, if you're carrying them.

I keep mine on a locking biner clipped to a sling, simply to have another locker to spare in case things go awry.