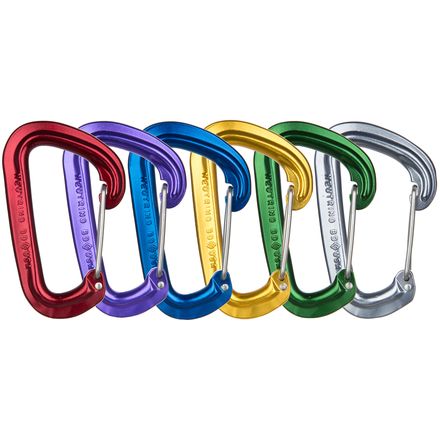 Community Images
Black Diamond specially anodized a set of 6 Neutrino 'biners to simplify and lighten your rack. The Neutrino Rackpack features 6 Neutrino carabiners anodized in each Camalot color: gray, purple, green, red, yellow and blue. Now you can put all your #1 Cams on the red 'biner, all your #2's on the yellow, and so on and so forth. Woohoo!!
Perfect match to my Camalot C4 package
Familiarity:

I've used it once or twice and have initial impressions
It makes me happy! It's easier to know which cam I am grabbing when I can see the color on the biner. Nice move BD...
For the OCD in all of us
Familiarity:

I've put it through the wringer
They are light, affordable, and match your cams. What more could you ask for?--Well maybe a little bigger gate, but I love them!
Great for completing a rack
Familiarity:

I've put it through the wringer
I use this most commonly with my trad gear. Great gear for the price. If you are climbing longer multi pitch routes or finding you have to backpack in to a route and want to save on weight try the hood wire backpack.
If you're looking to color code your camalots, these are a great deal to pick up. They're solid, feel great and do the job. Get em!
Good deal.
Familiarity:

I've put it through the wringer
They're cheap, nice versatile size, and not too heavy. Definitely hit a sweet spot for functionality vs. price.
Love 'em
Familiarity:

I've put it through the wringer
The 'biners are just the right size for many applications. Using them for an alpine draw using nylon slings, thinner dynema and for tying your rope w/ a clove hitch, they work. The clove-hitch rope is a stretch but they are useable in a pinch. On draws they are easy to clip. A+ for the gate action and the gate registration when they snap shut.



Now as far as the color matching, yep they do vary. But really, do you care that much ?? Purple is still purple even if it's slightly darker/lighter !!



Big plus is that they are cheap. You can use them as bail 'biners if you have to and leave them as a gift to someone else's bounty!!



Basically these are my go-to 'biners
From Top Left to Bottom Right:



Mammut Wall Micro Locking - MAM004G

Mad Rock Ultralight Wire Gate - MRC0074

Trango Phase Carabiner - TRG0063

CAMP USA Photon Wire Straight Gate - CMP3296

Black Diamond Neutrino - BLD0851

Black Diamond Mini Pearabiner Screwgate - BLD0729

Omega Pacific Five-O Screw Lock - OGP0029

Petzl Am'D Locking - PTZ0129

Trango React Screwlock - TRG000K



Jared D.

Expert Gearhead

800.409.4502 ext 4055

jdowns@backcountry.com
Simple but Effective / Sturdy
Familiarity:

I've put it through the wringer
When I started building my rack, the natural cost effective go-to was the Neutrino Rackpack.



Gate Size:

The gate size on these are middle of the road. Not super huge but not super small. They work perfectly fine for me. My draws are all the Trango Phase draws that have small wire gates (some climbing partners complain about them) the Neutrino's have bigger gates than my Phase biners and I think the Neutrino gates are perfectly fine. 4 out of 5 stars for this.



Biner Size:

Like the gate, these aren't huge biners but they aren't super small either. For trad they're great and get the job done. I give a 4 out of 5 stars for the size.



Color Coding:

This is the biggest strength for these is the anodization color matching with the Camalots.



But here is where is where I'll be nit-picky. Especially since BDE manufactures stuff that costs a lot. The single Neutrino's I bought do not match identically (color-wise) to the Neutrino Rackpack that I purchased. It looks to me like they were either anodized in different manufacturing facilities or there was an inconsistency in the product made at one facility. This doesn't make me mad since they'll get all scratched up and used. But it is something that makes me curious since BDE they constantly mention their quality standards. I'd give them 3 out of 5 stars on this just because it should be the same.



Weight:

These are not super light like some of the Trango Phase biners or other biners out there but they definitely are not super heavy. I've given them 3.5 out of 5 starts for the weight.



Over all these are great and the perfect economical option (as economical as trad equipment can be!) for someone just building their rack.



Jared D.

Gearhead

800.409.4502 ext 4055
The biner is as it is.
Familiarity:

I've used it several times
What you see is what you get. They do their biners job, plus help to recognise the cams
Helps fight the Elvis leg!
Familiarity:

I've put it through the wringer
When in a hurry to find the right size of gear, these color coded carabiners are a huge help. Not to mention, the gates are as smooth as butter!
Great size, color, and design
Familiarity:

I've put it through the wringer
I have always been a big fan of Black Diamond wire gate 'biners. It's nice having matching colors for my Camalots. Though I use these on my Metolius TCU's too, the matching 'biner color is not a must for me just a plus. Nothing gives me confidence in my equipment quite like the black diamond name.
Cam Companions
Familiarity:

I've used it several times
I just got these little guys for my black diamond cams. Good price, reliable company (not afraid to take a fall on these), light weight, and nice colors. The green could be brighter, but I'm not complaining. A wise investment indeed!
Perfect in every way.
Familiarity:

I've used it several times
Picked this up to match my BD cams and I love them. Slick, light, colors are vibrant and easy to identify. Perfect match.
perfect for any set of cams
Familiarity:

I've put it through the wringer
I got these awhile back and have been using the hell out of hem on my trad routes. They are light and make picking my cams easy. Granted the green could be a bit darker color. In he bright light it is easy to mistake it as silver. But over all a great product.
great biner
Familiarity:

I've put it through the wringer
these are my go to for racking cams. they cordinate and are pretty small and light
OCD Peoples best Friend
Familiarity:

I've put it through the wringer
These carbiners are awesome for people who need to be matchy matchy!!! Excellent action on the gates, they hold up great even with plenty of rope drag.