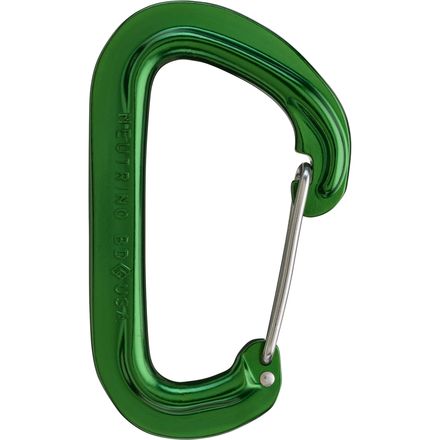 Community Images
Description
Ultralight, resistant to freezing, and easy to clip—get it all with the Black Diamond Neutrino Carabiner.
The Black Diamond Neutrino Carabiner brings you full-strength, easy-to-clip performance at an incredibly light weight of 1.3oz. Unlike other ultralight carabiners, the Neutrino has a large gate opening, so it won't feel like you're trying to clip into a keychain when you're totally gripped and Elvis leg is rocking your blue-suede climbing shoes. Because of its freeze-proof wire gate and ultralight design, the Black Diamond Neutrino hangs from trad, ice, and alpine racks the world over.
Good carabiner
Familiarity:

I've put it through the wringer
Use these mainly as carbainers for the slings of my cams. They come in a bunch of different colors so you can match it to the cams which is cool. Other than that they are light weight, strong and have held up well. Not much else to say about a carabiner...
Good for racking
Familiarity:

I've used it several times
The Neutrino is my second choice racking biner. I prefer the Camp 22, since it is a little smaller and a little lighter, but both of these do a good job and the colors are close enough that either can work for color matching to your cams.
Hammock biners!
Familiarity:

I've used it several times
I bought two of these so they could work with my new ENO hammock I just picked up. I love that they are light-weight and very durable. Obviously, if they were meant for climbing, they will hold up a hammock with no problem.

Solid purchase at a great price!!
Chalk bag holder
Familiarity:

I've put it through the wringer
Using this to hold my chalk bag to my harness, works pretty great so far and loving the color!
My Go-To Racking Carabiners
Familiarity:

I've put it through the wringer
The Neutrinos are perfect for racking cams - light, strong, color coded to match most cams and easy to clip. They're not rough on the wallet either!
Great biners
Familiarity:

I've used it several times
These are no problem carabiners for anything you need. You just clip it and it stays. I bought one of each color individually because at the time it was chaper doing it that way. I got matching colors to go with my BD Camalot set.
From Top Left to Bottom Right:



Mammut Wall Micro Locking - MAM004G

Mad Rock Ultralight Wire Gate - MRC0074

Trango Phase Carabiner - TRG0063

CAMP USA Photon Wire Straight Gate - CMP3296

Black Diamond Neutrino - BLD0851

Black Diamond Mini Pearabiner Screwgate - BLD0729

Omega Pacific Five-O Screw Lock - OGP0029

Petzl Am'D Locking - PTZ0129

Trango React Screwlock - TRG000K



Jared D.

Expert Gearhead

800.409.4502 ext 4055

jdowns@backcountry.com
Black D Carabiner
Familiarity:

I've used it once or twice and have initial impressions
Good little carabiner, does the trick!
Quick Clippage
Familiarity:

I've put it through the wringer
To be honest, I only went with the Neutrino's because they were one of the cheapest options that BC offered at the time of purchase. In addition to their inexpensiveness, they also had a ton of positive reviews to go with them. Ahhh yeah, now that's what I'm talkin' about!



Since I can't speak on their ability for when it comes to climbing, (you'll have to read the other reviews below) I can vouch for their awesome non-climbing versatility elsewhere. Primarily, I use them for danglin' random pack accoutrements, on the fly key chainery, and even leashing up the pooch. Most recently, clipping stuff to my SUP.



Inexpensive, many color options, can withstand the elements, I'm a fan.




Simple but a Proven History
Familiarity:

I've put it through the wringer
When I started building my rack, the natural cost effective go-to was the Neutrino's.



Gate Size:

The gate size on these are middle of the road. Not super huge but not super small. They work perfectly fine for me. My draws are all the Trango Phase draws that have small wire gates (some climbing partners complain about them) the Neutrino's have bigger gates than my Phase biners and I think the Neutrino gates are perfectly fine. 4 out of 5 stars for this.



Biner Size:

Like the gate, these aren't huge biners but they aren't super small either. For trad they're great and get the job done. I give a 4 out of 5 stars for the size.



Color Coding:

This is the biggest strength for these is the anodization color matching with the Camalots.



But here is where is where I'll be nit-picky. Especially since BDE manufactures stuff that costs a lot. The single Neutrino's I bought do not match identically (color-wise) to the Neutrino Rack Pack that I purchased. It looks to me like they were either anodized in different manufacturing facilities or there was an inconsistency in the product made at one facility. This doesn't make me mad since they'll get all scratched up and used. But it is something that makes me curious since BDE they constantly mention their quality standards. I'd give them 3 out of 5 stars on this just because it should be the same.



Weight:

These are not super light like some of the Trango Phase biners or other biners out there but they definitely are not super heavy. I've given them 3.5 out of 5 starts for the weight.



Over all these are great and the perfect economical option (as economical as trad equipment can be!) for someone just building their rack.



Jared D.

Gearhead

800.409.4502 ext 4055
For the price you really can't get much better - they work for both climbing purposes and are about the same price as many cheap biners people use for things like holding keys, holding a water bottle, etc. Good solid choice - best thing out there? No. But a solid compromise for the price and color variety is great.
Decent. Average.
Familiarity:

I've used it several times
BD Neutrino Biners are good biners. They're smooth. They're appropriately tensioned and sized. They're strong and durable. They're great for color coding to BD Camalots. That's probably their biggest strength. But frankly, they just fail to impress. They're amazingly ordinary. Incredibly unremarkable. Average. They're not particularly light. They're size is middle-of-the-road. They're gate opening isn't happily large or sadly small, but acceptably average. The basket too is best described as common.



When I build my complete rack, I will go with biners that are both lighter and have a larger opening. But these will do, and they're perfectly color coded to BD Cams. So....yay color coding!
Versatile biner
Familiarity:

I've put it through the wringer
Just made a dog leash for my pup out of an old climbing rope and a Neutrino Carabiner from Black Diamond.



This is a very versatile piece that I love to use for keys, quickdraws, nuts, dog leashes and many more.



*(units on the scale are grams)
Great little things
Familiarity:

I've put it through the wringer
These guys are great for anything you could think of that you need a non-locker. I use some for my hammock, others for climbing gear, backpacking, anything you could think of. They aren't super lightweight, but they are great for so many applications.



Excellent build quality as well, no sharp edges, and a smooth gate action. The colors are awesome as well.
Good, not best.
Familiarity:

I've put it through the wringer
I have a few of these on the first set on cams i bought, after climbing more and seeing how quickly the weight adds up on big climbs. I changed to the CAMP nano 23 and am super stoked.

Admittedly these are a tiny bit easier to clip than the nano's and that could just be that they are a bit bigger and I have giant hands. but at 36 grams they are way heavier than the nano (23 grams) which makes the very slightly harder clipping nano 23 my top choice for racking biners. and some day I will replace the neutrino's I have with nano 23's
key carry-all
Familiarity:

I've used it several times
i use this for my keys. it's the right size, and the wire gate is smooth. nuff said. it's nice to have a biner that you can use in a pinch.