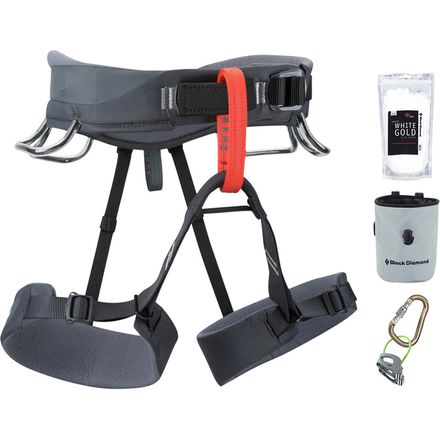 Black Diamond's Momentum Package is the perfect starter kit for lead climbing class at the local gym. Its Momentum harness is Black Diamond's most popular choice for all-around use, featuring a pre-threaded Speed Adjust waist belt as well as trakFIT adjustments at each leg for a custom feel. This harness also features a durable Dual Core Construction, an adjustable rear elastic riser, and four pressure-molded gear loops.
The Momentum Package also has Black Diamond's ATC-XP belay device with multiple friction modes to help you learn how to belay and rappel safely. Clip the ATC-XP to the included Rocklock Screwgate locking carabiner, Black Diamond's largest locker for easier learning. To top it all off, Black Diamond also included the classic Mojo chalk bag and BD White Gold chalk to keep your palms dry for your first lead.

Momentum harness
ATC-XP belay device
Rocklock Screwgate locking carabiner
Mojo chalk bag
BD White Gold chalk
Great for all experiences
Familiarity:

I've put it through the wringer
This is a GREAT harness! I purchased the whole package about 6 months ago after beginning to get more serious into climbing. I logged about 100 hours of climbing, belaying, and repelling in this harness over the past summer as a guide at a high adventure camp. This harness was comfortable the whole time, providing me with very good flexibility, maneuverability, safety and style. I get complements all the time about how good the harness still looks in the rock gym after all I've done in it. I've also used this harness system while hanging bow stands for hunting season. The carabiner is your standard screw locking carabiner and works flawlessly. The ATC that come with it is also very high quality. It has teeth on one side so you can belay someone a lot larger than yourself or you can use the other side for a smoother belay. Haven't really used the chalk bag or the chalk that comes in the package too much recently but the back seals off very well so you have minimal leakage. All in all a very good product for beginners or experienced climbers!