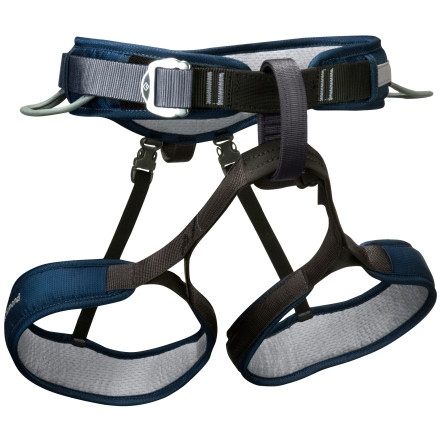 Detail Images
Solid for beginner/intermediate
This was my first harness, and it's been great.

Fits everything you need whether you're leading or cleaning gear, feels comfortable, and it's not too expensive.

The Momentum is a great all around harness.
I am giving this harness the highest rating not be cause its the most comfortable or the most featured packed like others, with adjustable this and thats. i give it a five because its simple, affordable, and gets the job done. I've taken a fall or two top roping at the gym auto and manually and can say its pretty good at keeping you comfortable with some minor discomfort. but for the price i would recommend this bad boy to any one.
The Black Diamond Momentum Harness is an amazing harness for the money. Being a novice climber, I talked to the staff at backcountry.com and they recommended this product. For multi-pitch climbs, this harness never becomes uncomfortable and its lightweight also contributes to its outstanding performance. They also recommended other products to get me started climbing. I really appreciated the support and knowledge of the staff and love the Black Diamond Momentum Harness.
Light, simple, good lookin', and gets the job done for a good price. I'm somewhere around 5'9", weigh around 150 lbs, and usually wear pants with a 32" waist. The medium harness fits great. Due to "mtn biker quads/hams" the leg loops get pretty tight over thick/baggy shorts or pants. I'm all about light weight and minimalism, but adjustable leg loops and a little more adjustment in the waist might have saved me from buying another harness to wear over warmer clothes...then again, it gave me a good excuse to buy more gear.
I've worn this harness nearly every day for the last few months. It's holding up great! It's comfortable, no signs of wear. It's comfortable to swing from, climb in, etc. I'm very pleased.
This harness works great. It's super comfortable and lightweight. Plenty of room to hang my equipment from. I mainly top rope and sport climb and I've never had a problem with the harness being uncomfortable or being in my way. I'd suggest this harness to anybody looking for something basic and comfortable.