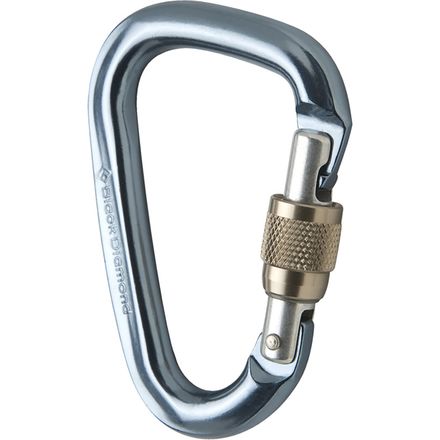 Colors

Community Images
Description
A light, low profile belay and rappel biner.
The Black Diamond Anodized Mini Pearabiner is a light and smooth belay or rappel biner with a Screwlock sleeve that locks the gate, not the nose so there's no dreaded "seized sleeve" when loaded with your body weight. Sculpted for use with an ATC or similar device, Black Diamond's Anodized Mini Pearabiner has a 12mm rope-bearing diameter and small overall size for maximum functionality. Its minimum weight and volume works well for both rappelling and belaying.
Great product
Familiarity:

I've put it through the wringer
I'm a Petzl guy and I know that, but I have to admit that this carabiner is amazing. I bought one a long time ago to use with my ATC and I can tell that it very durable. Bought a new one to give as a present to my girlfriend.
great carabiner
Familiarity:

I've used it several times
Holds up well. Great little carabiner for multiple uses
Best All-Round Locking Biner
Familiarity:

I've put it through the wringer
Very versatile. I have a few of them in my rack.
From Top Left to Bottom Right:



Mammut Wall Micro Locking - MAM004G

Mad Rock Ultralight Wire Gate - MRC0074

Trango Phase Carabiner - TRG0063

CAMP USA Photon Wire Straight Gate - CMP3296

Black Diamond Neutrino - BLD0851

Black Diamond Mini Pearabiner Screwgate - BLD0729

Omega Pacific Five-O Screw Lock - OGP0029

Petzl Am'D Locking - PTZ0129

Trango React Screwlock - TRG000K



Jared D.

Expert Gearhead

800.409.4502 ext 4055

jdowns@backcountry.com
Great Belay Biner
Familiarity:

I've put it through the wringer
Best belay biner I have ever used, it is now the only one I use on my atc. Nothing else to say, it meets all three criteria: inexpensive, functional, and well-built.
Good biner for the money.
Familiarity:

I've used it several times
I've been using it to attach my grigri 2 to my harness and it really like it. But its not a very big biner to use. The bright side is it's very light since its smaller.
great for the price
Familiarity:

I've used it several times
great carabiner for the price. i like that is not really big so you can take a bunch of these, and they are not as bulcky and heavy as the rocklock or simmilar
Excellent Belay Carabiner
Familiarity:

I've used it once or twice and have initial impressions
I picked up one of these as a backup belay carabiner after I got tired of swapping my Gridlock back and forth between Grigri and ATC. It works great for belaying with my ATC, especially in guide mode. I haven't used it in other applications, so I can't really comment on other uses. But for belaying it's awesome!
Does the job
Familiarity:

I've put it through the wringer
I'm mainly a gym rat, and use it with my Grigri 2. That said, and in light of my limited knowledge around climbing (versus my other pursuits), the BD Pearabiner works for me.
good all around
Familiarity:

I've used it once or twice and have initial impressions
really a nice biner. it is light, but not the lightest. sturdy enough to trust for a belay or rap. screwgate is smooth, even when using in the snow.
Price is great on this biner, and I love BD screwgates, they work so well, even after using them in sandy slot canyons and getting them all jammed up.



I've used this for belay with an ATC, figure 8, and a Grigri, as well as rappelling and canyoneering, mainly with an ATC and figure 8.



For belay with an ATC, nothing beats a Petzl Attache with the rounded stock. The Pearabiner is ALMOST as good, but just not quite as smooth. Pearabiner isn't exactly symmetric like the Attache, which can be good and bad. The good--it doesn't cross load as easily, always stays put, and is especially good for using a Grigri, because it sits in the deepest part of the biner along the spine. I have no doubt BD designed it this way. However, the downside, as opposed to an Attache, is that when rappelling or using an ATC on belay, the rope wears only in that spot, rather than moving along the width of the "bottom of the pear." I have a nasty groove in mine after using primarily on 20 or 30 rappels in Zion NP and some belaying. It's a great biner, with some pros and cons, I'd definitely buy again.
This is my go to biner...
Perfect all-around carabiner. Not too big or bulky; great for multiple clove hitches. Not the lightest, but also not the most expensive. Works well with all gear, Grigri, ATC etc.
Mini Pearabiner
Gender:

Male

Familiarity:

I've used it several times
The key lock nose works well with the Ropeman 1.
The good:

These are a great shape and size. Fairly lightweight for their size with a large opening and a nice shape. Ropes run smoothly over them and they have a nice linear action, like most other solid gate BD biners.



The not so good:

I have 3 of these biners. Two are mainly used on multi-pitch gear anchor master points, and another used to be my main belay/rap locker. After less than a season I had to retire my belay one because of excessive wear. The other two I used one time to set up a toprope for a few people and they became noticeably notched after this single use.



Overall, there is still a place in my rack for these, but they are NOT workhorse biners. They will wear out quickly. If you are looking for an HMS belay locker, I recommend the Petzl William. Huge gate opening and they wear like iron. The BD Rocklock is good too, if you are on a budget. They still wear a little faster than I'd like.

Leave the mini pears to less demanding duty.
I've used several different locking carabiners and so far, this is my favorite. Really, all BD carabiners have taken the cake as being my favorite. But specifically this one has great gate clearance, yet it's small and light. Can't go wrong here.
mini pearabiners are the shiznit
This is my belay biner!

It's nice and functional to rap or belay with and bit lighter than the petzl attache' belay biner everyone has. Comparable weights (69g vs 80g Petzl), size, and strength ratings, but the main difference is that the attache is completly round/circular where as this one is rounded on the inside loop and flattens slightly towards the outside edge. This gives it a slightly higher breaking point compared to the attache' and a lighter overall weight. It does have a bit of an issue twisting around on thinner belay loops (like the newer black diamond models).

Major Axis Strength: 24 kN
Minor Axis Strength: 7 kN
Open Gate Strength: 8 kN

I really do like the attache' for rapelling and belaying, but I prefer this BD one overall. Then again, my buddy is the exact opposite. Either way, I do think these are the two best mini belay biners.
Very very very light carabiner. Personally I prefer something a little beefier, but it has yet to ever flaw me. Gate and screw work great and it is very smooth compared to other biners on the market in terms or rap and belay. Good buy.
I must of got a bad one because the gate and lock don't fit the carabiner very well and it was very very rough right out of the store(the screw lock was not smooth, gate rubs on the nose badly etc...)
It was probably a bad one but thats too bad, it gets a bad review.