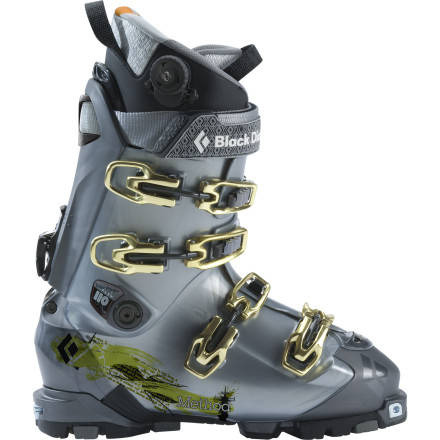 Community Images
The Black Diamond Men's Method Alpine Touring Boot offers aggressive all-mountain skiers a stiff freeride boot with excellent backcountry access capabilities. This 110 flex-rated boot features interchangeable sole blocks compatible with ISO Alpine DIN and all AT binding systems, including Dynafit(ISO Alpine DIN block sold separately). Black Diamond gave the Method an alpine style overlap design that provides a natural, progressive flex on descents and increased uphill touring efficiency. Three forward lean setting allow for eight degrees of customization, and the mechanically integrated ski/walk mode toggles on and off securely. The Method Alpine Touring Boot comes stocked with a thermoformable, anti-microbial Stobel Power Fit liner.
ISO Alpine DIN block sold separately
good boot
Familiarity:

I've put it through the wringer
I've used these boots for 2 plus seasons. I am not an agressive tourer, only having gone about 20 times over the 2 years. The walk feature is nice, and as others have mentioned the boa system works great for walking to and from the mountain and while touring. I haven't had any problems with the boa system, buckles, or shell yet. They might not be as stiff as other boots but they aren't expected to be. My biggest problem is forgetting to take them out of walk mode when going downhill. I would recommend these boots as a good introductory boot for touring, but not someone who will be doing long tours or lots of tours a season as they are a little on the heavy side, but that is expected for something at this price point.
I used my Methods twice. The second time, the shell split in the back. Very strange.

I found the boot frustrating because it was difficult to adjust the forward lean. The only way to adjust the forward lean is to take the rear locking mechanism off with a hex wrench and replace the spacer with one of the others that comes with the boot. Then the forward lean was too much for me. Why can't Black Diamond just make an easily adjustable forward lean mechanism?
not a quality product, or an aggressive boot
I been skiing in method 110 boots for about the last month. they were new when i purchased them. a month later, a buckle is broken and the plastic shell is flexing more than i feel is acceptable. over all the boot is extremely comfortable and light, but feels cheaply made. After one month I expect these boots to preform like new, but thats far from reality. they are not by any stretch of the imagination a "high performance" boot. they lack the forward cant that an aggressive should offer, and over all they are soft and sloppy. I will not be buying Black Diamond boots again. If you decide to use this boot in any situation where a failure like a broken buckle would leave you in a tough spot, i would recommend bringing spare buckles. over all they are not durable and not an aggressive boot.
Shells ok, liners leave much to be desired
I purchased these boots this season and I've had about 15 backcountry days in the PNW on a Wailer 112/Dynafit setup. I'm about 5'8" 150 lbs. While they are really comfortable to skin in with BOA cinched tight and shells loose, when the skiing gets serious I had to resort fully cranking BOA and the buckles and power strap (to the point circulation is cut off in my feet) to drive my skis with any precision. I experimented with a set of Atomic T2 liners from my downhill boots in these shells and problem solved. My feet felt connected to my skis again. The downhill liners are slightly thicker foam and had stiff plastic on the tongue and around the sides and back. They are heavier but this was not noticeable on the tour. The Method liners lack stiffness and support and they feel like thick socks as compared to real ski boot liners. For what these boots retail for, I feel Black Diamond could deliver better liners.
I've used these for about 60% inbounds and 40% backcountry. The idea is solid and well implemented. The BOA is awesome to get things nice and tight, but the toebox like others have mentioned is a bit tiny. I have bad circulation in my feet, but these can make for some miserable days out there without warmers. They can be a bit tight getting on and off, which is frustrating after a long day. All that being said, I feel that they are very responsive and my favorite boot ever for skiing. For comfort, they are a C+.
I am having trouble removing the heel at...
I am having trouble removing the heel at sole block. Any tips on how to get those screws out of the bottom of the boat?
If I am remembering correctly, you have to take the sole insert out from the inside of the boot. Then you can access the screws for the heel.
Unanswered Question
Is there a last width spec'd for these,...
Is there a last width spec'd for these, 100mm 102mm 104mm ?
Only a few days on the boots. I got both the factor and these and decided to go with these. They only weight a hair more than my Garmont Adrenaline with intuition liners. I really like the BOA. I have skinny ankles so I usually have to crank down the buckles to get it tight enough but not with the BOA. Also stays tight when skinning. Great Boot. I was a 27 in my Garmont boots with a 28 Intuition liner. The 27.5 liner fit well. The 27 liner was too tight and the 28 was OK but I was afraid the shell was too big...and that was confirmed with a shell fit test. I have attached a few pictures to compare to my Adrenalines.
Unanswered Question
i need a boot that can be canted- is it...
i need a boot that can be canted- is it possible to put a wedge between the block and the sole on the black diamond boots? currently in lane superblaster pros because of that but the walk mode is pretty ordinary
Unanswered Question
Boot Size Question i usually take a 29.5...
Boot Size Question
i usually take a 29.5 in solomon boots, but the index shows a 29 for a size 12 foot. Should I try the 28.5 or stick with the 29.5..didn't know how these run.
Thanks.
Haven't Done Much Touring, but Love In Bounds
These just plain fit my feet very well. They're warm and responsive as well. I've gotten both soles and have felt good in my Dynafit AT bindings as well as my Look alpine bindings. They're definitely going through a lot of different conditions as well this year and have held up nicely.
Good for Lifts and Skin Tracks
I used these boots for both in area and backcountry in 2009 and they were great. They have the right balance of stiffness and forgiveness so that they turn the ski and are comfortable all day long.
The BD Method boot on an early morning dawn patrol in the Wasatch Mountains.
Had a big season on these, 75% resort and 25% backcountry. Would be a 4 star except the toebox is too narrow for my feet which are wider. Really wanted these and was hoping they wouldn't be too narrow.
Otherwise.....these boots held up really well to a full season of abuse. They were super solid for anything at the resorts, and were adequate for the backcountry, as they are not the lightest, but appreciated having a solid boot in nastier snow conditions. I'm not completely sold on the boa system yet, sometimes more of pain then I feel any benefit. I'll know more when I try a boot without them in the future. Really wished these fit my feet better as I have been really happy with them.
I have a pair of Methods and love them. ...
I have a pair of Methods and love them. I use them with Marker Barons and use the AT sole blocks which all work great together. However, can I use the AT sole blocks with regular alpine bindings or do I need to buy a pair of Alpine sole blocks? I am going on a trip and will need to demo skis so I want to be sure I have the right gear. Thanks
i have heard of people stuffing the a/t blocks into regular bindings but that doesnt seem safe. ive never done it but personally id by the alpine sole blocks. just safer and then u have them for later use
I have used the AT block in alpine bindings with no problems, but I'd be wary like peter said as you may not get as good of toe release.
Its just not a good idea, on the alpine block it is a smooth plastic that will consistently slide off when torsionally twisted... on an AT binding there are sliders that aid in release thats why you can have the rubber soles.
I was able to score a really good deal on a pair of these so I snagged them. I currently am not into AT, so I got some off the Alpine din plates and I've been using these for resort skiing. The Boa system is choice. It cinches the liner right up to your foot. I were a 10.5 in normal shoes and I went with the equivalent 28.5. At first they seemed pretty tight on my feet but after a few days of skiing, they packed out a little bit and now they are perfect.
They are very lightweight which would make them a perfect touring boot.
I need a new boot for a DPS Wailer 105...
I need a new boot for a DPS Wailer 105 with Dynafit TLT Vertical FT 12 Bindings. Any strong thoughts on either BD Method, BD Factor, or the Dynafit Titan?
Thanks... I got the Titan.
In an odd development, my Methods shipped without a footbed. I threw in a pair of superfeet liners, and it all worked out. But, is this a BD choice or just a BD/Backcountry.com mistake?