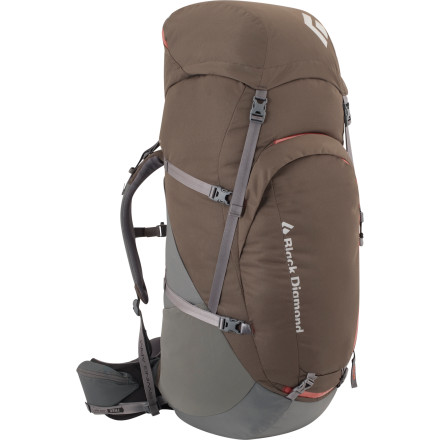 Description
Black Diamond's most feature-laden bag.
Black Diamond designed the Mercury 75 Backpack for multi-day backpackers that won't compromise on quality any more than they'll stay inside on a sunny weekend. The cutting-edge ergoActiv XP suspension system shoulders heavy loads and utilizes SwingArm shoulder straps and an unrestricted hip belt to keep you comfortable over long distances. A contoured frame optimizes load transfer so you can spend your time taking in incredible mountain vistas rather than popping painkillers for your wrenched back.
SwingArm shoulder straps thread through the base of the pack and connect together by a cable that continuously balances strap length as you hike
ergoActiv XP suspension features a ball joint attachment of the hip-belt to the frame, which allows it to move with you in three dimensions
XP means it is designed to carry heavier loads with the help of urathen elastomers in the hip-belt for more stability and dynamic load transfers
Water-resistant taping keeps lingering moisture from seeping onto your goods
Compartment divider, hip belt pockets, side pockets, and organizer pockets mean you know exactly where all your essentials are at all times
Hydration-compatible to keep your thirst quenched during each multi-mile push
So I have an older BD 33L Demon size S/M...
So I have an older BD 33L Demon size S/M that fits me great. How will this compare to the M sizing on the Mercury 75? For reference, I have an 2008 Osprey Aether 70 pack size S that I am looking to replace. Thanks!
There is going to be a little overlap in sizing between the two BD packs. Your old pack is designed to fit a 16-19 inch torso lengths where this pack in size medium is designed to fit 17.5-20.5 inches. I strongly suggest measuring from your C7 vertebra to your hip shelf and seeing if that fit will work for you.
Thanks, the adjustable torso height via the hip belt attachment will make this a done deal
50 days on the trail using the mercury
Familiarity:

I've put it through the wringer
I've spent 50+ days hiking the High Sierra's with this bag and things between us are getting pretty serious and I thought I would share some of the intimate details with you.



This bag is pure comfort, I bought it because I'm a fan of Black Diamonds Suspension system that uses a ball joint to attach the belt to the bag, giving you a fluidity of motion that is guaranteed to reduce your chiropractic bill. I am a tall guy and this bags taller build puts the majority of the weight on my shoulders, which works well with how I hike.



I also really like the fact that this bag uses one large compartment, instead of multiple sections like some other bags. It's a personal preference, but I pack my gear in order of how I would unpack it, I.E. Tent/tarp on the straps, food on top, first aid, outerlayers, book/hammock, underwear and socks, and sleepingbag/sleepingpad on the bottom. Then I throw stuff like my headlamp and knife on the "brain" portion.



Speaking of the brain portion, it detaches, and you will find on underside of it a strap and buckle, which allows you to use it as a smallish 5-10 liter day pack. Which is SO awesome, I've used it for many ascents and day hikes on backpacking trips with a basecamp.



Issues: The bag isn't without its problems. The zippers are finicky and prone to jamming because of the waterproof seal that surrounds them. The trick I've found is to zip it slow.

I also had the chest buckle break on a particularly strenuous hike, it was an easy fix, but I was still surprised to have something snap within a month of use.



Pros

-comfort, so much comfort

-ergoactive suspension system is a back saver

-streamlined interior

-detachable brain with ability to transform into a daypack

Cons

-zippers act like spoiled children

-one of my plastic buckles broke



Feel free to comment on this post if you want more information/pictures. I'd be happy to pass on what I know.
Love this pack
Familiarity:

I've used it several times
So far I've used this pack on 3 different backpacking trips and it is great. The suspension system is unbelievably comfortable. When the straps are done correctly, you can barely tell you're wearing it. The bottom buckle is connected to the main pack using a ball-and-socket type swivel. This allows the main pack to move freely from the hip belt. There is also the ability to lock the swivel so the pack doesn't move independently from the hip belt, if you want. The material is pretty heavy duty, but you don't feel it in the weight of the pack. I'm not sure how water-resistant the material is, I've purchased a rain cover just to be safe. The pack also has a zippered on the front that allows access to the main compartment which is really handy when packing and unpacking. The main compartment also has a few small zippered pockets which are great for keeping your smaller items organized. All in all, this pack is fantastic!
Are Mercury75 waterproof?
Are Mercury75 waterproof?
No, just water resistant. That's going to be the case with all packs until you get up into some that are very expensive and specialized. A pack cover or interior liner are your best bets.
Best Answer
I agree with Phil, a pack cover is your best bet. But I was surprised by how resistant the mercury75 was, I got caught in a summer squal without my cover and nothing inside the bag got wet.

Bottom line: If there is going to be rain, bring a cover, but you might just be alright without it.
does the mercury 65 have sleeping pad...
does the mercury 65 have sleeping pad straps? i see two straps on the bottom of the pack that could be sleeping pad straps.
Yes it have a sleeping pad streps
This is a phenomenal pack. From top to bottom Black Diamond got every detail right. I just spent some time backpacking in the Sawatch Range in Colorado with the 75 liter version and this is what I took away from the trip.

-The suspension system does everything BD says it should. I was carrying 50-60 lbs and the entire load was distributed comfortably into my hips with no chafing or squeezing. The back panel grants great air flow and the hip belt and shoulder straps are both well padded and anatomically shaped. The freedom of movement the pack allows made walking feel much more natural; I could hardly tell I was wearing a framed pack. It also made using poles much easier on my shoulders since the straps would extend with each swing of my arm.

-The organizational features are well thought out; It's essentially a single compartment pack, but the extra pockets BD included are useful for small items that would otherwise float around in the main body of the pack. The lid is spacious and has a pocket on its top and bottom. The interior mesh pockets are also easily accessible and sized just large enough to fit a shell or several pieces of small gear.

-The pack is built tough. The fabric is very wear resistant and the zippers and buckles all operate easily and are solid enough to really pull on when you're cinching down the pack.

-The pack also sizes down very well. I used it as a summit pack with only my ten essentials and extra water and it was able to tighten down without seeming awkward or bulky

I would highly recommend this pack to anyone who is looking for a piece of gear that handle anything from day trips to extended backpacking trips comfortably and elegantly.
Pretty keen to see peoples opinions on the...
Pretty keen to see peoples opinions on the Mercury range of packs (thinking of getting a 55 & 75). Are they up to brutal treatment & is this harness system as comfortable as the tech talk says?
I love the harness system on this pack. It's really comfortable. I've only had mine for about a month (3 trips) so I can't really speak to its durability. That being said, it seems to be a very durable pack.
Pretty keen to see peoples opinions on the...
Pretty keen to see peoples opinions on the Mercury range of packs (thinking of getting a 55 & 75). Are they up to brutal treatment & is this harness system as comfortable as the tech talk says?
I ordered this pack, and immediately sent it back for an osprey xenith, I did not like the fit or comfort of the Mercury, and I don't like the fact that they are just one big pocket. they also have no attachment points on the outside, which sucks.
What water bladder's are compatible with...
What water bladder's are compatible with this pack?
Currently using the Osprey 3L...works fine.
I was wondering if this will ever be...
I was wondering if this will ever be available in a size small?
Best bet for a quick answer to inventory questions will be to initiate a chat with a BC rep using the link at the top of the page. Best of luck!
Your best bet for a small torso model is to go for the Onyx pack. It's doesn't come in Stone, but the Nightsky color is essentially black.