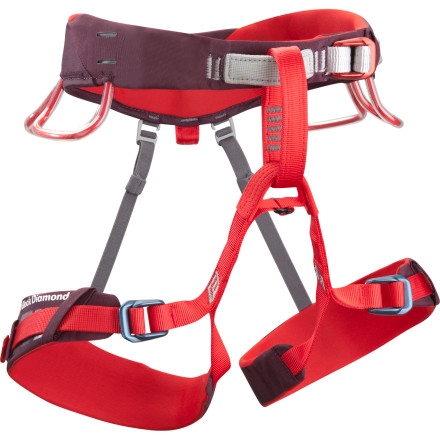 Colors

Videos
Description
Four seasons of climbing, one harness.
The Black Diamond Women's Lotus Harness keeps you comfortable for your year-round vertical excursions. Whether you're working a sandstone route or navigating a frozen waterfall, the women-specific Lotus utilizes a bullhorn-shaped waistbelt to achieve optimal fit and pressure distribution. Black Diamond also included proprietary Dual Core XP Construction technology for a design that won't cut off your circulation while you hang off an elusive project.
Dual Core XP Construction utilizes an OpenAir waistbelt with separate bands of webbing and a supportive insert to combine breathability with pressure distribution
Women-specific bullhorn shape contours to the female form for an optimal fit
Ultra tough abrasion patches offer 20 times the durability of standard nylon
Pressure-molded gear loops, ice clipper slots, and strength-rated haul loop offer multiple racking options
Pre-threaded Forged Speed Adjust waistbelt and leg loop buckles allow for quick adjustment
Long Term Commitment
Familiarity:

I've used it several times
A friend who is in the climbing biz guided me to purchase this harness as I get going in the climbing world. It's just the right size that I am comfortable and feel secure in it in the gym, but would also be okay to put on a few layers and go ice climbing. The stitching has proven solid and there doesn't appear to be any defects or weak points in the harness that would prove a safety risk!
Loop seems to be sewn wrongly
Familiarity:

I've used it several times
I have bought this harness 2 months back after I picked up sports climbing. Was really happy when it came, and didn't notice anything wrong with it. Recently I started going for classes and the instructor noticed that the loop (where we hooked on the caribeaner) was hooked to the waist belt rather than the external waist loop. See photo for my explanation. That's when I realized it's loop wrongly. This seems like a manufacturing defect? Wondering if this is a cause for concern?
Girls Climb Ice Too
Gender:

Female

Familiarity:

I've put it through the wringer
When I went looking for a harness with ice clipper slots that would fit a female-specific waist and hip shape, I had a really hard time finding options, especially reasonably priced ones! I finally ended up with the Lotus and have had it for almost a year now. I've used it for rock and ice climbing, and at the gym, and I'm really happy with it!


It's adjustable enough that I can go from indoor or warm weather climbing to lots-of-layers ice climbing without any trouble. It's comfortable enough to work a project (though I'm not sure I'd want to do a hanging belay in it). While it's not the coolest harness in the world, it is cool enough to perform decently for 4 seasons, even in Virginia summers. 4 gear loops plus 4 ice clipper slots and a full strength haul loop in the back round out this harness...and even when it's fully loaded it doesn't get uncomfortable. It doesn't even show too much wear and tear despite my crazy love of offwidths and chimneys.


BD could've phoned it in given the lack of 4-season harness options for women, but they didn't...they did a really good job on this one!
I gave this as a gift... But with that being said Black Diamond makes some great harnesses and this is one of the few light weight women's specific harnesses you'll find with adjustable leg loops. It is fully featured, more so than most other Women's harnesses out there.



It has 4 full gear loops, plus one large one in back for the important bits at the belays. Ice clipper spots and adjustable leg loops round out this as a nice 4 season ice climbing harness. And a rated haul loop round it out for anything you would want to do with it short of big walls.
My wife is a big fan of her Lotus harness. It's been comfortable for sport climbing, multi-pitch trad climbs, and even canyoneering. It has plenty of space for your typical climbing gear, and enough padding to be comfortable, but it is still light and manageable.



For anything short of big wall climbing, it's a great choice.
Black Diamond Lotus Harness
Is the fit similar to the BD Women's Aura...
Is the fit similar to the BD Women's Aura harness? Mine is just a tad too big and I'm curious as to how the small and extra small compare.
Best Answer
ril5421412,



The fit is very similar. Black Diamond is pretty spot on with their size charts on harnesses. I would refer to it before purchasing your harness.
Top Rope Toughin' it
Gender:

Female

Familiarity:

I've put it through the wringer
This harness is an upgrade from my janky, overused primrose that I gave to myself as a birthday gift. It's ultra comfy, doesn't give too many wedgies, has plenty of gear loops and is just overall awesome. I particularly love the adjustable leg straps.



Here I am top rope tough guying in City of Rocks with my new BD Lotus.
Does this harness have a speed adjust waist...
Does this harness have a speed adjust waist belt?
Jess,

Yes, the Black Diamond Lotus harness has pre-threaded Forged Speed Adjust buckles on the waist and leg loops.
Best Answer
Yes, it does have a speed buckle--called by Black Diamond a "Forge Speed Adjust Buckle".


Safe and Secure
Gender:

Female

Familiarity:

I've used it several times
I got this harness as a replacement because the first one I bought started to come apart on the leg loops. My previous one had elastic on the leg loops so I made sure to get a new one that did not have elastic. This harness is great and I feel like it built really well and I feel secure that it won't come apart. I am a beginner climber hope to stick with climbing for a while and think this will last. It feels very durable and is a better fit than the other one that I returned.
Tiny people (finally) get 4 gear loops.
Familiarity:

I've put it through the wringer
Update: the newer color/updated version does have 4 gear loops in th xs; I put up this review when the older gray/teal one was still available - wish I'd waited a year!



First off - the size XS harness in the 2012 model only has 3 gear loops, BD fixed this in their updated version!



That aside, this harness is great. Sizing wise, the adjustment range of the leg loops relative to the waist loop is what sold me on this design. Sure, it's a bit heavy duty for summer climbing, especially when you're walking to and from various crags. But you know what, it's damn comfy. I've spent many an 8 hour day belaying group parties at my part time job at a rock gym and been very thankful for the cushioning.



I wanted a harness that would take me from clammy schist and granite in the summer to frozen walls of ice and hauling sleds in the winter. This harness does it all.



Bottom line: not as lightweight and airy as some of the gym and sport-climbing specific harnesses (like the Aura and Siren), but an all around workhorse that keeps coming back for more. Also, super adjustable leg loops, yes please.