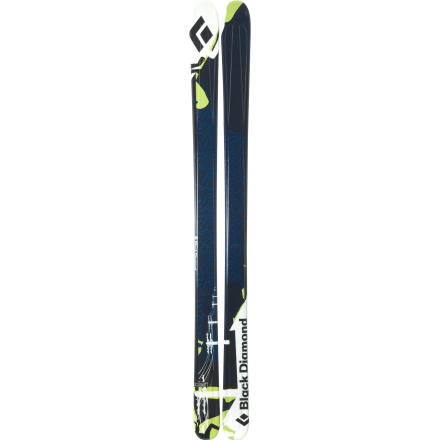 Community Images
Talk about a quiver of one—The Black Diamond Kilowatt Ski bridges the gap between stable, big-mountain speed freak and agile turning specialist. The redesigned platform makes for easier turning at low speeds or on hard snow, while the 95mm waist lets you hold your own on a deep pow day.
Formula One Technology uses three support ribs to transmit power directly to the ski
Poplar core for a balance between lively pop and a smooth ride
Torsion Box Construction wraps the core like a burrito for a race-inspired ride with improved dampening
More of a traditional sidecut for easier turn initiation
good first touring ski
Familiarity:

I've used it several times
Not the lightest or fastest ski, but a good overall first touring ski. I matched it with pomoca skins, Dynafit Vertical bindings, and BD Method boots. They have held up well over two seasons of light use (probably 20 times total, half for tours and half for downhill use). They definitely chatter a lot on the downhill, but that is to be expected. Otherwise they have been a good ski to learn on. If I was a really into touring I would spend some more money on a lighter ski, but since I'm not its a good ski for me.
How my Kilowatts dealt with a powder day at Solitude last winter...
Dead
Gender:

Male

Familiarity:

I've used it once or twice and have initial impressions
I have only skied these one day thus far but they are so far the worst ski I have ever skied. Dead is the best way to describe them. Like skiing on 2*4s. They lack playfulness, pop, rebound, etc. They also do not hook up well in the front end (i.e. they feel like a rockered ski). The only turn they really make is skid/pivot turns. However, they want to run and they straightline well! I will give them some more days but man am I liking my k2 backups with dynafits over these with dukes! Will get back after further review. Sorry, but not loving these. BTW - I am 6'2, 175 lbs and strong skier.
has become my everything ski
im 21 and a very aggresive skier; (park,...
im 21 and a very aggresive skier; (park, rails, trees, occasional poww day, hard stuff (live in Northeast) so how do u think this ski would be for me. again i brake almost all my skis after a few years and ski 40 plus days a year...
I have these as my everyday ski and also live in the Northeast. I haven't done rails in a while, but I'm a pretty aggressive skier, and these skis haven't disappointed. The only issue I would have with these skis if I were you is whether or not you ski switch. They're not a true twin tip ski, so that could be an issue for you. But in terms of everyday performance and durability, these skis rock.
No longer feel like fence posts
I have to admit that I thought I liked the older version of the Kilowatts (khaki topsheets) just fine - I like the dimensions, the weight is acceptable for such a solid ski, etc. But after getting a screaming deal on the updated 'Watts (blue topsheets), I realize just how much the old tan sticks skied like fence posts. The updates have made the ski flex much more consistently and this makes for a more forgiving ride. Mounting the blue Kilowatts up with tele bindings works well and my khaki 'watts are now relegated to early/late season downhilling.
183 lbs, 5'10'' want to try kilowatt with...
183 lbs, 5'10'' want to try kilowatt with AT Barons on the East coast (mostly trees, but in-boud long steep trails on powder days too). Thinking if I should go with 165 or 175? thanks
Go with the 175... looking at your weight and height the 175 would probably be better. If you are an expert skier they say the skis should be above your head, and plus the 175 will give you a little more loft on powder days.
Anton,

I have the 175's and I am a bit bigger than you -- 6'1", 210. Most would say that I bought these too short, but they ride just fine for me. For me at this length they swing very well in the trees, and hold an edge while carving relatively high speed GS turns. I haven't had them deeper than about 6 inches of pow, but that's because I have rockered skis for backcountry days (check out bluehouse's website -- local SLC skis for a heavily discounted price). I use these as my resort/side country skis for regular days, and they're great for that.

Shawn
Definitely the 175, considering I'm 5'4", 150 lbs and ski the 165.
You definitely want AT LEAST the 175. Even though this ski has some stiffness to it, at your weight you are going to overpower and overflex the 165. You want the ski to provide some stability for you. You should definitely get at least the 175.
I live on the East Coast and these are my workhorse, go to skis for just about any conditions. I'm sure there are better skis for only carving, bumps, touring, and pow (I have separate skis for truly deep days), but these skis do it all. I can't say anything bad about them, except that I wouldn't really use them as my deep pow ski, since they are not rockered (see my recent review of the Liberty Genome -- rocker makes a serious difference). BONUS: buy 08/09 model cosmetic blems for less than $300.
Unanswered Question
Skied the 165 kilowatt at Alta on 8" of...
Skied the 165 kilowatt at Alta on 8" of powder over ice. They were much floatier than my older BD Mythic's 176cm and felt easy to turn in the trees. I think they were an older model and I've heard that they softened the tip this year. Thinking about bumping up to the 175 with the Hammerhead. Ski 70% of the time in bounds and of course like the steeps when its fluffy but enjoy crud busting and soft bumps too. Any recommendations?
hey i'm looking to get into telemark after...
hey i'm looking to get into telemark after totally mastering alpine and running out of ways to keep it fun. i'm leaning towards the Kilowatt/01 combobut i'm unsure about some of the more technical stuff as it concerns tele vs. alpine. any recommendations for ski length if i'm 5'7" 170lbs. also for you experts out there how do you feel about the garmont 7tm bindings?
Best Answer
weird, I don;t recall you at the last winter olympics, oh great ADHD master...
Unanswered Question
So Im stuck between these and the G3 Saints...
So Im stuck between these and the G3 Saints in a 184/5. My only concern about the saints is they might not be "enough" ski for me as Im 195-200lbs. I do plan on doing quite a bit of touring but its all for a reason, to bag sick lines in deep to semi deep snow. Ill be using the Axls and TX2's. Thoughts...anyone?
Perfect everyday ski. All mountain all condition ski. stiff enough to power through nasty chop, zipper crust, hold an edge on the hard pack this is my every day ski when I'm not sure what the conditions will bring. Great pick if you need an everything ski.
Hey - I'm interested in the Kilowatts, but...
Hey - I'm interested in the Kilowatts, but can't decide what size to get. I have been skiing 183 Havocs for the last few years and love them, but I think I finally want a fatter ski! Any thoughts on whether I should go with the 175 or 185 Kilowatts? I am 6', 165lbs, and a pretty aggressive skier.
185, for sure. It'll give you better float, and let you go lots faster, too.
Definatley one 185 you will feal a huge difference in flotation between the two.
I am a 130 lb advanced tele fella and have skied on Kilowatts for a year and a half. The reviews are accurate, they are a great all around ski. Super fun especially in the powder. They are very forgiving and will do what you tell them to but, you need to tell them. I skied a pair of Havocs last year as well and in firmer conditions enjoyed the more edgy and snappy performance of the havoc. In the pow the kilowatts are a real good time. I would recommend this ski as a quiver of one to any one looking to rise up from advanced intermediate to advanced. Whereas advanced to expert skiiers may find a better ride on the more condition specific boards.
I like these skis a lot for a do anything stick. Stiff and powerful with a touch of forgiveness and nice flex.
The K'Watts do well for about everything, and would be home in the Wasatch, Cascades, New England, or CO.
Pretty light weight while not compromising downhill performance.
If you're going for a one ski quiver, these or the verdicts would be a good choice.
I'm looking at picking up a new pair of...
I'm looking at picking up a new pair of skis to be ridden mostly in the northwest (cascade range, sometimes heavy powder, sometimes the light stuff) and i have an opportunity to pick up the Kilowatts at a decent price. I'm 6'2 180lbs with some racing background so i need an aggressive ski. That being said, my impression is that the Kilowatt is best ridden as a telemark ski. Is it going to be something that compromises performance in an all alpine setup? Or does telemark just mean it's a bit more lightweight and has markings for mounting tele bindings?
I would recommend the Black Diamond Zealot. The Zealot is a good all around ski, especially for heavy powder and if you are a hard charger with a racing background the Zealot is super stiff and stable at high speeds. Also these skis are not telemark specific, you can ski alpine on these no problem. I have a ton of friends that ride these alpine and actually compete in them too. Hopefully this helps.
I kindof thought this ski was weak sauce, it feels flimsy in the crud and really doesn't want to hold a big turn, has a lot of sidcut which makes it somewhat good for patroller turns but is incabable of powering through anything. mounted with 01's (mixed feelings)and rid-stiff cartriges. BD custom boots I'm 5'11 160 and ski fairly aggressively.
I weigh 165 lbs and am 6 foot tall. I am...
I weigh 165 lbs and am 6 foot tall. I am an intermediate telemark skier. What length would you recommend...175 or 185. jalso what bindings would you recommend.
thanks,
Phil K
I would go with the 185 but you could enjoy either one. as for the bindings if you are skiing in bounds then look at the Hammerhead and the O2, if you are planning on touring then look at the O1 and the AXL -- bindings are super subjective and it depends on who you ask.
I'm looking at buying these as my goto...
I'm looking at buying these as my goto skis for about 90% Resort / 10% Sidecountry ... I would mount these with Marker Baron ... I'm an intermediate skier 5' 9" and 150lbs... I was wondering if I should go with a 165 or 175? It will be skied in Continental snowpack. Is it a good choice? any other suggestion ? Maybe something like a BD Havoc (165/175) or G3 Spitfire (170) might be better suited ?... Thanks !!!!
i would go with the 175s and go with the Kilowatts. if you do that will be a sweet sweet setup. the 95mm underfoot will provide the float that you need, and the sidcut will allow you to carve the sweet turns down the slopes. IF you go with a shorter ski i don't think you will be happy at higher speeds.