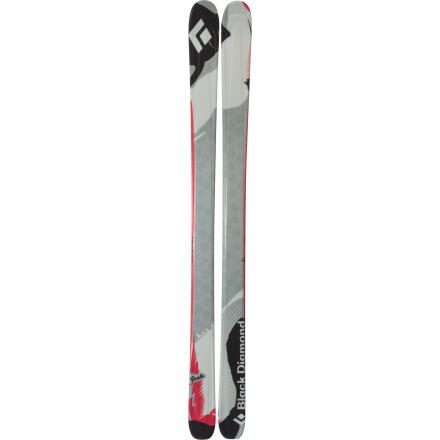 Community Images
The Black Diamond Women's Joule Ski might be designed just for the ladies, but when it comes to snow conditions, this mid-fat she-ski doesn't discriminate. With the same torsional stiffness as the men's Kilowatt, the Joule returns this year with a new design and a slightly softer longitudinal flex, giving you a smooth ride and total control in any conditions. The 95mm waist keeps you surfing in the deep stuff, and the hybrid core and Torsion Box construction give you plenty of snap for quick hop turns.
Torsion Box construction wraps core like a burrito for efficient power transmission to the ski
Poplar hybrid core uses foam stringers for lighter swing weight and softer flex
Formula One Technology uses three internal ribs to transfer weight along the length of the ski
Unanswered Question
Why are women's skis, such as this BD Joule...
Why are women's skis, such as this BD Joule here, not listed on the Black Diamond Skier Weight Recommendations chart?
I bought these to take backcountry, and mounted them with a pair of Dynafits. I'm 5'6 and weigh 120lbs and went with the 165 length. They are nice and light for touring and still perform well on the downhill. I've also skied them in bounds on very, very icy days and they held their edges amazingly well with no chatter, which I found surprising for such a light ski.Bottom line: LOVE THEM! Amazing in pretty much all conditions.
Are these skis factory waxed? Or should I...
Are these skis factory waxed? Or should I wax them before taking them out for the first time?
Best Answer
I d wax them berfore you take them out.
amazing all-mountain skis
I bought these skis last fall and rode them all winter (Mt. Baker WA, Mammoth CA, Tahoe CA, San Gabriels CA). They took me down anything I wanted and rode everything from fresh pow to spring-time crude like a gem. They are really light, so when I mounted the heavy Marker Barons they were still a decent weight. They floated me through Mt. Baker's heaviest powder, carved hard on the groomers, and were great in the backcountry. I can't wait to see how they ride in the light Utah powder next season - I'm sure they'll be great! I don't do any big cliff hucking or park tricks, but for what I do attempt (3 footers, 180s, etc) they were supper fun. I'm 5'4" and 130lbs and the 175s felt fine for me, but the 165s are the suggested length.

I love these skis. If someone stole them off my roof racks tomorrow, I would buy them again without hesitation. I feel like I owe it to BD to post this review - thanks for the great skis!
On backcountry skis how do you determine...
On backcountry skis how do you determine the length of the skis
For personal sizing its best to go off of your weight category. Unless you really prefer a longer or shorter ski, it just depends on what you're looking for. Longer will float better and make bigger turns. Shorter will be less weight to tour with. Ultimately it comes down to personal preference, but if you're just starting out go off the weight recommended length.
Efficient Power Technology: Inside Black Diamond skis design and construction.
Our freeride skis are designed for the modern skier who demands maximum performance with no limitations. Watch this video as Thomas Laakso, our Ski Line Category Director, details the design philosophy and construction technologies used in our skis.