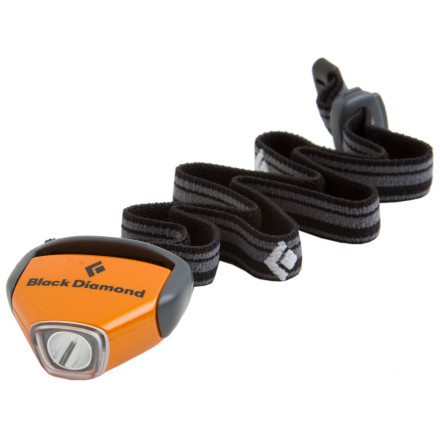 Detail Images
how do you change the battery on this?
how do you change the battery on this?
Just pop the cover off of the back of the light and switch the batteries out.
As a back-up lamp, this is cheap, TINY, and lightweight. I don't really like the way you have to hold down the switch to turn it on/off, rather than just pressing it, but that's pretty freaking nitpicky. For 20 bucks, why not?
Perfect headlamp to stash w/ your 10 essentials. Lightweight and adequate light for most jobs.
For the price you can't go wrong, super small and puts out a good amount of light for its size.
Nice back-up (or just in case) light
I like a good light source when I'm in the backcountry (so I have several more expensive, heavier headlamps). But the question is always what to bring as a backup. Now I use the Ion. It is nothing fancy, but is is very lightweight and obviously packs small, yet puts out enough light for around-camp needs. I use it as my backup, or throw it in my daypack just in case my day hikes go later than expected. I also have one that I keep in my car.
Woulda got 5 stars if it ran off a cheaper battery. However, this lil d00d is great!!! Uberlite headlamp that, while I wouldn't want as my main lamp, is a go to back up light. A buddy of mine had one with him on a camping trip we took last year in the Ozarks. Supergreat camp chore light, but only a decent trail light. Most times I forgot about it even being on my head. I luv the pivotry and small headband. Stays very securely in place. been using an energizer lamp as a back up to my Everlite Solar powered lamp and like it cuz it has a red gobo filter for really incognito usage; however it is way too heavy by itself besides the three AAA you gotta pack. I saw this ION pop up on SAC for 9 bux and figured I'd get my SAC 'fix on' with it since it can shave significant weight off my pack and accomodate my Everlite while its charging my Ipod, cell phone, gps, etc. Glad I was eyeballing SAC tonight. I'd recommend even at the regular price simply for the quality of the lamp and weight factor!
you pay for what you get. so in all its an okay light
this light works great as a back up light because of its size and relative brightness. however, i got greedy and tried to use it as my main light and it ran out of juice really fast.
I love this little headlamp. It replaced my Princeton Tec that I had for 4 years. The Ion is infinitely lighter and more compact. It stays on my head even when I'm running and the dual brightness settings is a nice touch. It sends plenty of light down the trail so you're not tripping on roots and rocks during a pre-dawn ascent. Get it as a backup if nothing else.