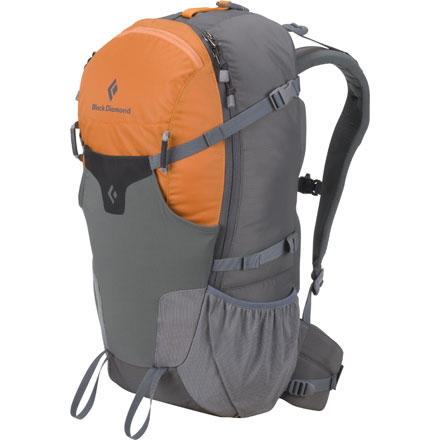 It looks like the compression/outside...
It looks like the compression/outside pocket straps cross the main compartment's zipper. Don't they interfere with opening it when they're buckled?
They do if what you need is fairly deep down. Since the zipper can't come all the way down, the front panel can't come down, so deep access is limited.
An all-around good pack with nice support and plenty of room for an overnight trip. A bit wide across the top portion of the backpack, so it likely fits better on folks with broader shoulders.

Black Diamond makes nice gear, so you can't go wrong with the Instinct pack.
Hi - Is it possible to remove or stow the...
Hi - Is it possible to remove or stow the waist belt on this pack when not in use? If not, can it be easily wrapped round the back of the pack and fastened so it;s out of the way?Thanks,Rob
No, if its anything like the other crash pads with hip belts I have come across, it is permanently attached and is not long enough to go all the way around the outside of it. You either strap it on or just let it chill at your sides or behind you. Its not a big deal, I never really notice it when its not attached.
This backpack does not appear to include...
This backpack does not appear to include a separate pocket for a hydration bladder. If not, do you recommend a similar pack with an accesible bladder pouch?
Not sure where you got that, but it does in fact have a place for a bladder. The fact that the Tech Specs say "Hydration Compatible: Yes" might have confused you, but rest assured it'll work.
Just bought one, there is a pocket in the main compartment for a hydration bladder. So as you stuff the main compartment the pressure will increase on the bladder. I've not found a hose hole, but I don't see why you couldn't just zip up the 2 main zippers for the main compartment and have them meet wherever you prefer the hose.
Does anyone know how big a bladder will fit in the hydration pocket?
I'm a 5'2" female looking for a reliable...
I'm a 5'2" female looking for a reliable all-mountain day pack. Would the s/m version of this pack fit the bill?
Best Answer
Heidi,If you are looking for a versatile day pack for the mountain this would fit the bill. To get more space out of your pack check out the CamelBak Omega HydroTanium Hydration Reservoir. Mahalo, Sumo
Can someone give me an opinion on this...
Can someone give me an opinion on this pack vs. the Black Diamond RPM for an summit day pack? Is this packable into a larger pack?
This is a large pack, designed for hiking. I would look at the Mountain Hardwear Scrambler, which really light. This pack weighs 2 pounds.
Bought this pack for hiking, but found out it works better for me as a small haul pack for climbing. I can fit a 50m & 60M rope in the main compartment and still have room for my BD harness. Other stuff gets put in the outsde pockets.
Love the pack iself, cut off the peripherals
Just used my new pack on Mt. Baker, WA last weekend. Perfect size, durable, comfortable. I despise the peripheral pockets, netting, and extra straps, which I cut off and melt. After I did that (customized to the Nth degree) it will work for 20 years I am certain.
This is a great pack! It's the perfect size for dayhikers who like to be well prepared with plenty of water, food, jacket, map, GPS, camera, etc. And it's very comfortable. I had trouble finding a pack in this size range that fit my torso right; most of them were for shorter torsos. This pack is also lighter than several others I tried, and yet it has good padding and feels durable.
Great Pack. Took this on a 13 hour Alpine climb in the Sierras and it turned out to be the perfect size and had all the features I needed!
Black Diamond Instinct Backpack
The Black Diamond Instinct Backpack is great for a day of hiking, climbing or bouldering (among other things). Stuff a fleece or puffy in the outside compression area if you're worried about getting cold. Then, you can put your sunblock, shoes, chalkbag, etc. on the inside. The camera/phone go in the smaller zip pocket on top. Water bottles on the side. Clip your rack/harness/whatever to the multiple straps/loops and you're all set. This is an all-around good bag for day-long adventures.