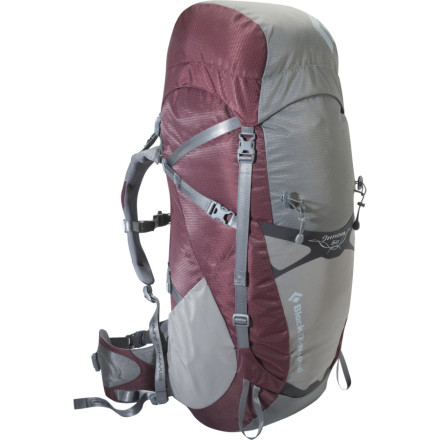 Detail Images
Load up the Black Diamond Women's Innova 60 Backpack for streamlined multi-day trips where lower weight means covering more ground. This svelte top-loader not only features a contoured, women-specific fit, but the 3D pivoting hip-belt lets you move freely in any direction.
Venting OpenAir back panel helps circulate cool air on warm, sweaty treks
Webbing loops attach trekking poles, ice axes, and other gear
ergoACTIV hip-belt uses a 3D ball joint to provide unrestricted motion and comfort on multi-day trips
Women-specific suspension contours to the shape of your body
Mesh stretch pockets accommodate small items
Hydration-ready so you can get the fluids you need on long treks (reservoir not included)
Not for Climbing
Familiarity:

I've used it several times
I'm not a fan of the rotating hip belt for climbing. It seemed like a great idea, but as soon I as load heavy items up high (rope, water, climbing equip) the balance of the back gets way off. Every time I step the whole thing tips to the side and rubs my shoulders raw. Would be fine if you could load heavy things down low, perhaps for backpacking when you have more control over where items go in the pack. But when climbing, I put my light stuff down low (sleeping bag, extra clothes) and have too many heavy things up high to be able to keep my balance. What a shame, since otherwise it is a well-made, well-designed pack.
I'm new at overnight hiking and I just...
I'm new at overnight hiking and I just bought this pack. It says that it is hydration compatible but I'm not really seeing how. Am I missing something?
There should be a compartment inside the pack, made specifically for putting a hydration bladder (sold separately). It would be up against the frame, or closest to your back when wearing the pack. The hydration bladders come with a hose that runs through a small hole out the top of the pack, and then usually clips to a shoulder strap.
Hey Kalie.

I have this pack. There is a small sleeve located in the main chamber of the pack right where the pack lies against your back. You slip your bladder in this sleeve, and you can weave the house through a small opening near the top of the shoulder strap.
I'm still on the fence about this bag. Admittedly , my first mistake was to try to fit it like a conventional pack--don't! Follow the Black Diamond fit video, don't rely on the store to try to fit it unless they use the BD method. Otherwise you'll be in for lots of pain. Even though the hip belt looked fine from the front, the back sat lower than I was used to, and there's not really a lumbar support in the normal sense. Also, like the previous reviewer said, the shoulder straps don't unload off shoulders well, which becomes burdensome if you're carrying more than 35 pounds. However, I'm still playing with the straps to see if this can get better, and I think I almost have the magic formula--my last hike was much more comfortable. I agree that more lash points would be helpful, and I wish there was a smaller pocket inside the lid to help separate items. The retractable ice axe loops are a nifty feature. The pack is very roomy and well made, and light compared to similar size bags. I wish there was a way to better lock down the hydration tube to the shoulder strap (the little loop on the chest strap is too small to hook it in easily). The free movement is great and does minimize chafing, but unfortunately if dirt gets inside the ball bearing, the hip belt can squeak (annoying!). I'm still trying to learn to love it, but right now it's more like a high maintenance boss than my best friend.
There are actually a couple of good things about this pack. It is a generous 60L (packs as much as my Osprey Ariel 65) and, for the most part, it seems to carry weight well, just not comfortably. I just got back from about 30 miles and 4000' (some off trail) and I have many nitpicks. The pack is best off trail, but the problems are noticible there as well. On trail there is no way to get the shoulder straps off your shoulders. Oh, you can move the pressure points from the tops of the shoulders to the front, but the load leveler straps do NOT move the weight of the pack off your shoulders. This gets tedious after awhile. Also, there aren't any lash points on the pack. I had my thermarest pad hanging off the ice axe loops which was fine since I didn't have an axe with me. But, for any sort of long journey where, say, you had to carry a bear cannister or something else large that needed to be outside the pack, there's no place to attach it. Also, I spent time all weekend adjusting the pack. Finally, when I was about 2 miles from the car I stumbled on a combination of shoulder straps, load levelers and torso length that was bearable, but not truly comfortable. One of the other issues is that the "open air" back panel is not ergonomic, so it hits against the throacic vertebrae unless you loosen the shoulder straps which makes the pack sit on the tops of your shoulders. I think BD needs to go back to the drawing board with this one. I'm 5'2", weigh 115 and have a relatively long torso for my size. If Backcountry won't take this pack back, I'll put it up on EBay or sell it locally at the used gear exchange.
I am having a lot of trouble finding a...
I am having a lot of trouble finding a pack to fit. I'm 5'5", 110 pounds and very boney in shoulders and hips. I usually pack up to 50 lbs on multi-day hikes (I carry my stuff and my large 8 year olds stuff, too plus dog's stuff and a bear canister and 200 oz of water for everybody in dry areas). Also, a lot of hipbelts are just too big for my 25" waist and my hips aren't much bigger at 30", but I have a 17 1/2" torso so xs bag don't work. My current bag slides all over cinched all the way down--kelty coyote 4750, size small, but I do like the padding on the shoulder straps and cargo size is good. Just need less girth on hipbelt and more shoulder comfort. The osprey ariel didn't feel good at all on my protruding clavicles nor the deuter act 60, aura, jade, rei flash and ridgeline, diva, nor go lite quest. any pack suggestions other than the standard "pack less"?
Best Answer
First off, you're killing yourself with way too much weight on. Nothing short of lightening up is going to give you a 100% solution (Sorry, had to say it). That being said, I know the feelings and obligations of being Dad the Sherpa/pack mule. Best suggestion I can make is to try on an Arcteryx Altra 62. My Arcteryx packs (Bora 80/ Altra 75) are far and away the most comfortable I own. Hope that helps.

Here's a sizing chart- a small belt should do you well in the hips
Really great backpack. Very large, can easily do a week trip with it. Side pockets are big enough to hold a water bottle (like a Nalgene), top compartment is very roomy, the outside pocket is a great amount of space and can expand due to the buckles. Extremely comfortable, the rotating hip belt is great. Carries weight well.
I'd like to hear some ladies' comments on...
I'd like to hear some ladies' comments on this pack. I have seen the Osprey Ariel and liked it. This pack sounds better as you can fit it more to your own shape. I need one pretty soon (have to say good bye to mine after 23 years :() and can't make up my mind. Can someone help me out? Thanks!
Best Answer
I'm 5'6", 150 lbs and I LOVE this pack! I've been backpacking for years and this is definitley the most comfy pack I've had...the pivoting hip belt is awesome and the whole pack is a perfect fit for a woman's frame. Only downside I've found is it's a little narrower on the bottom and doesn't have a sleeping bag compartment so its a bit tough to stuff the bag in, but I had a men's North Face Badlands 65 before this so it's a big size change but way more comfy.
Black Diamond Launch and Enduro Series Packs ? Pack Fitting
Correct fit is paramount to realizing the performance benefits of Active Form Design. Determine your pack size at a retailer using Black Diamonds Pack Fit Tool or have a friend measure your torso length. Confused? Watch our pack fit video to learn the proper way to determine your pack size and then fine-tune your fit.
2010 Black Diamond Active Form Design Packs - Research and Development
20 years in the making. Black Diamond's experience with climbing hardware design, from carabiners to crampons, gives us a unique perspective from which to approach pack design. Watch our Behind-the-Scenes video to get the inside beta on the R&D process from our pack designers—all the way from concept sketches to field-testing.
Black Diamond Innova 60 Backpack - Women's - 3478-3660cu in
I didn't even know that BD was coming out with backpacking packs. When I found out about the new line, I was interested to see how they were going to be. I previous experience with BD items told me that I could expect only the best. They didn't disappoint! This pack is ridiculously comfortable. The reActive straps allow your shoulders to move freely, while leaving the pack glued to your back. The Ergoactive belt pivots in a ball-socket joint which allows the pack to stay in place on your back, while your hips are moving. All the packs come in one size and the torso length can easily be adjusted to fit your body perfectly. The women's specific version has narrower shoulder straps to and accomodate for a women's torso. And the hip belt is angled to accomodate the larger hips of a woman. I'll probably get one of these for my wife.And at this price, it's a great deal as well. There are many similar sized packs with inferior suspension systems in the market that are going for alot more $$$.This also comes in a 50L item# BLD1174