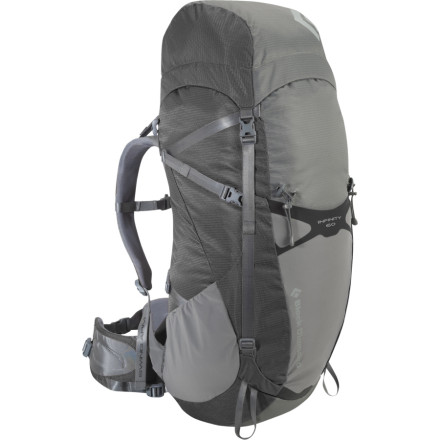 Detail Images

Community Images
Hut-hopping backpackers and dedicated backcountry athletes alike will find the lightweight Black Diamond Infinity 60 Backpack a worthy addition to their ergonomic, top-loading arsenal of packs. A mesh-lined back panel keeps you cool while a versatile support system including self-balancing shoulder straps and an active hip-belt keeps you comfortable. Black Diamond streamlined the rugged exterior of this pack to minimize annoying clutter so you can easily pound the trail without sacrificing anything essential.
OpenAir mesh back panel allows cool air to flow in between your back and the pack and vents away hot, sweaty vapors
Interchangeable ergoACTIV hip-belt is mesh-lined for comfort and attaches to pack by a ball joint to tilt, lean, and rotate with your torso
SwingArm shoulder straps thread through the base of the pack and connect together by a cable that continuously balances strap length as you hike
Aluminum V-Motion frame is customizable to match the contour of your back
Front compression pocket serves both as storage and as added compression when pack volume is low
squeaky
Familiarity:

I've used it several times
great pack love the suspension system, Two thumbs up! The only thing I didn't like was the squeaky pivot. It has fixed itself though after some use. I think I used chap-stick to fix it on the trail. By the end of the trip it had gone away.
tetons
Pros:

- I absolutely love the pivoting hip joint and shoulder straps. It makes the pack easy to manage and very comfortable when fully loaded. This Feature gets 6 out of 5 stars.

- The pack is surprisingly light weight.

- Belt Pockets are a great place for a camera or other small handy items.



Cons:

- I found myself consistently wanting a few more straps to attache my gear.

- No bottom entrance into the main compartment.

- I had a sleeping mat fall out and get lost that I packed in the compression pocket. I admit that I am at fault for not packing it properly, but there are not a lot of other options.



This is not a complicated pack. It gets the job done. It has some issues, but overall it is a solid pack.


Solid Pack that could be improved.
Gender:

Male

Familiarity:

I've put it through the wringer
I like this pack, it does great on 3-5 day outings. The ergo active hip belt makes for nice free movement while still keeping the load off the shoulders. That being said there are a couple of small improvements that would bump this pack up to a definite 5 stars. First an alternate entry point to the main compartment would be awesome. I understand the simplicity BD was going for with only the top entry point but it is very frustrating when you have to unload your whole pack because something has managed to slip to the bottom while you were hiking. A single bottom or side entry point would be very convenient without detracting from the sleek contour of the pack. My 2nd complaint probably stems from me expecting too much from the pack but the padding on the shoulders is a little thin and you can feel the heavier loads as the day wears on. More padding on the shoulders would go far to make heavy loads much more bearable. I tend to use this pack as my do everything pack and its just not quite as versatile as I would have hoped. By no means is this a bad pack, I definitely recommend it for shorter trips. If you are looking for a pack to do it all, however, I can't say the infinity would be my first recommendation.
Does this backpack have a way to attach a...
Does this backpack have a way to attach a Sleeping pad on the outside?



Thanks.
You can attach to the Ice Axe Loops and to the side straps
Has anyone using the Infinity 60 been able...
Has anyone using the Infinity 60 been able to fit it in a plane's overhead compartment?
It will fit in larger overhead bins such as planes used for international flights. Of course, the bins in smaller jets and commuter jets aren't big enough. However, the real issue is whether you can get this thing past security to carry on. I've had mixed results depending on the airline and the airport. I always give it a shot and then check it if I get denied.
Black Diamond Infinity 60
My backpacking buddy tried this pack and so I'm relaying some of the feedback he gave me. He's 5'10 and athletic. He said that the Pack fit really well and that it rested well on his hips. He also liked that he could fit more that he thought he could thanks to the generous width and large lid.
Just bought this pack because of how highly...
Just bought this pack because of how highly it was rated. Unfortunately it came with nothing to tell one how to set it up, or even where the features are that it supposedly has! All kinds of straps with no description as to what they are for. There are two straps that are just sitting in the top pocket, what are they for? Where is the sleep pad attachment? On and on. Does anyone know of a location where this information is located?
I find it interesting that you didnt ak these questions before you bought the item???
Best Answer
Where do you start? There aren't really any hard and fast rules for how you lash on gear because it's so subjective to the user, but normally, the side straps are for load compression primarily, lashing on whatever secondarily (pineapples are a new one for me), the back strapping is compression and lid attachment, as well as for anything from crampon pouches to a sweater, the bottom straps would be for your sleeping pad (not on this pack though...it's supposed to be a more streamlined/internal-carry, mountaineering type deal), bungees and loops are for ice axes and/or trekking poles, etc. Loose straps in the top pocket?...aside from any specific use, I can think of 10 things to do with them that might even suit me better than what they're intended for, without even trying! You get the point. It's all a matter of what YOU like, not what someone else likes. If it's not giving you clear picture of what you need, just understand that a new pack and how it fits and functions for you is a work-in-progress. If the pack lacks the features you need, or doesn't meet your expectations, return it and get one that does. Hey, be happy you're not trying to figure out all the possibilities on a Bora 80. Hope this at least helped you out a bit.
3 days in the backcountry- perfect pack
I love this backpack. It was very comfortable. It held all my gear (abt 32 lbs) w/o being cumbersome at all. The lockout on the hip belt is so well thought out. The only reason I didn't give it 5 stars is because I wanted a panel zip somewhere on the bag, but honestly it wasn't necessary as I learned where/how to stow stuff so that the bag was still balanced and things I needed during the hike were accessible. I'd give it 4.7 stars if that was an option.
this pack is great, enough room to go for as many days as i want, comfortable and sleek design without all the straps and loose crap to snag on things as your hiking. with that being said, my only complaint is that they dont offer a panel zip like the osprey or gregory. if you can deal with that its a great pack.
I am 6'10 which one will be better M or L...
I am 6'10 which one will be better M or L ?
if you're 6'10'', most definitely the large. but if you're 5'10'' and you mistyped, i'd go with the medium. i'm 5'11'' and the medium fit me just about perfect out of the box. that said, if you have a longer torso, then you might want to go with the large. best thing to do would be to find a store nearby that carries the infinity and try one one. or, cause the shipping'd be free, you could order one, then exchange it if the sizing was off.
I am 6'10 which one will be better M or...
I am 6'10 which one will be better M or L
at 6'10", definitely the large, unless you have an extremely short torso for your height :)
Tons of Space, minor annoyance
This pack is fairly light, has plenty of space for a multi-day trip, and is very comfortable. Only issue that I have found is a squeaking that occurs when the waist strap is fastened. BDEL just said to apply some dry lube to the swivel to get rid of this annoying squeak.
Would this bag be suitable for a non-hiking...
Would this bag be suitable for a non-hiking trip? I want to know if there are any disadvantages to using it to backpack in Europe city to city. Also, would this bag need to be checked on international flights? Thanks.
I couldn't give you specific info on features but it's a bag that will likely need to be checked on every flight because of the size....unless you don't fill it to capacity and are able to jam it in the overhead. Otherwise, packed full, it will likely need to be checked.
Hey Stevie! I am in the process of purchasing this pack. I have owned a black diamond pack with ergoactiv suspension for a while now and I love it, hence the purchase of another. There are some pros and cons you must weigh out before deciding what's best for your specific needs. The suspension on this pack is phenomenal, it feels as though you are 'one' with the pack. The downside to this is the weight limit is a little on the lower end of comparable packs this size, so how heavy or light you pack could make or break the deal for you.

Another point, as far as I know, this bag has ONLY top access to the main compartment, which I find to be a pain on urban backpacking trips (I truly find it to be a pain overall but am willing to sacrifice for the comfort of this wonderful pack), side or bottom access helps a lot when on such trips, but is not a necessity. If this is something you may want in a pack, I am big fan of Arc'teryx and their Altra 65 and 75 have AWESOME main compartment access, but the bad reviews on their similar suspension broke the deal for me(complaints of squeakiness, all from dirt though, since you will not be in such dirty conditions this may be a good pack).

I think if you pack right, this pack will serve you well in Europe, getting around on 60 litres for urban adventures shouldnt be too hard, and this pack rocks in it's class, just a few things to consider, Enjoy your trip! post a pic in action when you get back!
I just used this bag on an overnight yurt trip in N. Utah and it worked perfectly. The trip in was a true test as I had Red Iguana Mole for 6 on top of all my other gear. The bag handled the load perfectly and I quickly fell in love with the ball joint hip belt setup. No matter how much I leaned or dipped, the pack was continuously centered and balanced. At the yurt, the pack reduced down great for doing laps and did not feel too bulky at all with a much-lighter "essentials-only" load. The only complaints I might have with this pack is the lack of shovel/probe sleeves and the hip belt and chest strap could have been done using slightly wider materials.
The concept, design and production this pack is the best of others in its class. The material is light, very durable supported by the diamond weave throughout it. It is everything that you would expect of Black Diamond. For a 65L pack you can't beat it and nothing compares with it. Get one. A great addition to your pack arsenal.
shall we dance?
Familiarity:

I've put it through the wringer
When I want to dance, I don't go to a party, I just pull my pack out of the closet. She (yes my pack is definitely female) fits like a dream and the pivoting hip joint and shoulder straps let her move with every motion, whether it's scrambling through Utah slot canyons or winter climbing in Colorado. BD nailed it with the Infinity.



Super simple pack; one big pocket, H20 sleeve, one-pocket brain. It might not have all the fancy bells and whistles that an equivalent Osprey or Gregory pack might have, but then, there's less to break. After three years of hard use, I've got two tiny holes in the brain fabric, the side and front pockets are stretched out, and there's scuff marks all over.



I've never had an issue fitting my gear in, even when leading weeklong trips where I've had to carry extra food, first-aid kit, paperwork, etc.



Just the best. Bottom line.
I'm new to the Backpacking scene, but I must say that I'm a Big fan of this pack. I usually just use an old school back pack when I go camping, and just strap everything on the outside. But I have been converted by the Infinity 60. All my gear fit in this bad boy: clothes, sleeping bag, pad, and food. And the swivel hip pad, while it confused me at first as to why I would need it, made the hiking experience just that much more comfortable. The pack stayed up right and snug, and didn't threaten to throw me over the edge when I had to scramble over rocks.
The only down side I found was the packs Suicidal Tendency to jump off of high places. It jumped off my table, off several rocks I put it down on, and I'm sure if I took it near cliffs it would have attempted a jump there to. So, keep your eye on this one, he's got low self esteem, even if he Is the best pack I've ever used.