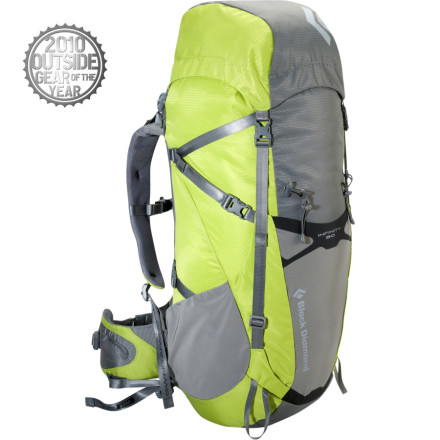 Detail Images

Community Images
Black Diamond's ergoACTIV suspension means you can comfortably carry the kitchen sink and maybe your dishwasher on your next multi-day trek with the lightweight Infinity 50 Backpack. Household fixtures or not, this top-loading pack maintains versatility and comfort through self-adjusting straps, a dynamic hip-belt, and contoured frame stays. Streamlined design means this pack's exterior is uncluttered yet you won't have to sacrifice storage space or useful features.
OpenAir mesh back panel allows cool air to flow in between your back and the pack and vents away hot, sweaty vapors
Interchangeable ergoACTIV hip-belt is mesh-lined for comfort and attaches to pack by a ball joint to tilt, lean, and rotate with your torso
SwingArm shoulder straps thread through the base of the pack and connect together by a cable that continuously balances strap length as you hike
Aluminum V-Motion frame is customizable to match the contour of your back
Front compression pocket serves both as storage and as added compression when pack volume is low
What is the extra strap for?
What is the extra strap for?
To add gear on the out side
This pack has acceded my expectations. The adjust-ability is amazing, there is a strap located in all the right spots so that you can get this thing locked into a comfort zone. As the other reviews mention, the hip belt and inner swing arm system put this pack well ahead of the others. The material has been very strong so far and I have really enjoyed how light weight it is. Compression pocket on the front is great for throwing in a rain layer or some sandals for quick access.
This is a great pack. The suspension systems is one of the best I have ever used, the pivot at the bottom really gives more freedom then any other similarly sized pack that I have ever used... you don't realize it until you put something else on and feel how stiff most hip belts make you feel. I have comfortably used the pack for everything from hauling my books around campus to weeklong backpacking trips. It cinches down nicely with smaller loads, but when packing for a week and carrying around 45 lbs I still had extra room had I needed.



Small annoyances are that:

it is basically one huge space, with just the brain on top for organizing smaller stuff, so you will probably want to invest in some stuff sacks to organize your stuff.

the ventilation system isn't the best in the world. It's not a trampoline style, but it's pretty good for mesh and foam core. (The day a company comes up with a trampoline style pack along with a pivoting hip belt will be a grand day indeed)

No bottoms access... I guess with a pack this size it is somewhat to be expected, but a zipper along the bottom so you can pull out your sleeping bag without emptying the pack would be nice.



Basically this is an extremely versatile pack that can comfortably handle just about anything, and doesn't restrict you like most packs.
The Features description states removeable...
The Features description states removeable sleeping pad straps. Can anyone explain how these removeable pad straps work and where they are attached to the infinity pack?
Not to doubt you, but I don't see the removable pad straps on this pack... can you clarify?
I haven't been able to find these either, I'm afraid that they might be the same adjustable straps that can be used for the ices axe. This would not be very convenient becuase I usually need my ice axe and my closed cell sleeping pad in the same environment.
The removable pad straps should be included when you get the backpack. When I got my infinity pack, it was included in the top pocket. If it's not strung to the key holder thing on the top pocket, I suggest you contact BD. great CS btw...
can this pack carry a snowboard? Can it...
can this pack carry a snowboard? Can it carry skis?
yes and no. yes in that if you wanted to, you could probably figure out some way of strapping a snowboard or a pair of skis to it. no in that there isn't a dedicated feature for it, and my guess is your edges would end up damaging the material. BD does make dedicated overnight ski packs, so you could check those out.
Okay Bag with Major Design Flaws
Personally I did not like this bag at all. I have to admit that the hip belt and cables running through the pack did do a good job of displacing weight, but there are two major design flaws.
1) If the backpack is not filled all the way with whatever, the top cover keeps falling off. For example, I put my camera and glasses and things i need quickly in the top pocket, and instead of resting on the clothes that should fill the pack, it just falls off to the side or on my head. Very annoying.
2) The grey areas of the pack are like an elastic material allowing you to put rain jackets or something you might need quick in it, but after a few weeks the elasticity wears off and things keep falling off.

Alsoooo, the shoulder straps are just a bit too narrow for my liking, and do not allow enough pressure to be distributed along your shoulder blades.
How about the sizing - from torso length,...
How about the sizing - from torso length, I would be M (I am just in the low end of L at 50 cm torso length), but I read the belt is up to 34" in M, and that might be tight for me. So my question is, what is the real size of the belt, i.e. the max use (must be more than 88 cm)?
Or, on the other hand, will I be able to use the L size bag with 50 cm torso length? Then the belt would not be a problem (my waist (on skin) is 90 cm.
Fits enough gear for an overnight or two, and performs comfortably with 40 lbs when scrambling (as long as you stack the weight near the hipbelt, but thats probably true of all packs) and fits in an overhead compartment when stuffed nearly to capacity. I haven't used it enough yet to make a durability claim but I haven't seen any weak points yet. One thing it lacks is a great deal of pockets, there's compression pockets on each side and the front, and only one hip pocket, but that's a small knock for the quality at the price.
I love the design of this pack, but the suspension really doesn't work well for me. At first, I thought it felt cool and great. But upon using it on my ski mountaineering adventures, I realized this pack was terrible, at least for that application. Once it is loaded, it sways too much due to the pivoting suspension. It DOES NOT MOVE WITH YOU, instead it pulls you around in directions you don't want to go. If you want a pack that moves with you, choose one with a static suspension. I found the pack of my dreams in the Gregory FUSION LTS line up (Gregory and BD are now the same company by the way). I especially love the Torre and Serrac packs. They make heavy loads feel like a feather and most importantly, the packs move with me rather than knocking me off balance.
This pack is so great. The way it moves on your hips\shoulders is so comfortable and offers great climbing\scrambling mobility.The hip belt is super comfortable and easy to pull very tight. I've taken it on as airline carry on when it was cinched down very tight too.
I bought this pack for long weekend trips, since that is just about all I get to do these days, and I love it. The ergoACTIV belt makes the pack feel like it's a part of your body. I've loaded this pack up with 35-40 lbs of gear and dog food and I can barely tell it's there. In terms of durability it's been on two long weekends hiking, a week in the BWCA, and checked twice in the last couple months and it seems to be holding up fine.

No complaints at all. Absolutely a great backpack.
Unanswered Question
I am looking for an Alpine climbingand...
I am looking for an Alpine climbingand hikking backpack. First, I thought about Quantum but now I am undecided because Masterials aren´t good (I read). For this reason, I am thinking about this infinitypack. Has anyone bought both and couldcompare them? Is infinity more a hikking pack? Thanks
The combination of the ergoACTIV suspension and SwingArm shoulder straps make this pack perfect for climbing approaches. Navigating rough trails and scrambling is so much easier than a non-suspension pack, even carrying a rope, gear, and other stuff. The suspension really allows the pack to move with you, rather than the pack moving against you. Highly recommended!
thinking about getting a new pack as my...
thinking about getting a new pack as my old one self destructed. BD infinity looks like the one, but have a question: is this waterproof? Also, how does it compare against North Face packs of similar size?
Definitely not waterproof! Easily remedied with a pack-liner or stuff sacks. Better construction and technology than any of the NF offerings as far as I can tell. I love the Infinity! Good luck.