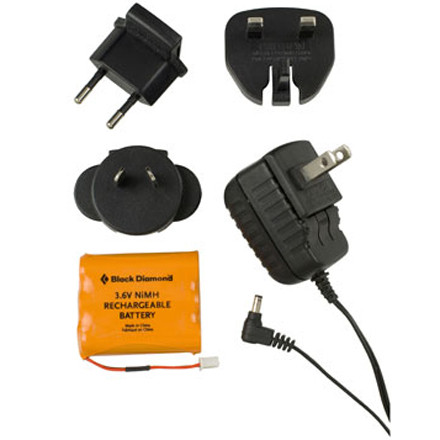 Description
Stop buying new batteries; get the Black Diamond NRG Rechargable Battery Kit instead.
Tired of buying new batteries for your Icon or Apollo headlamp before every trip? Get the Black Diamond NRG Rechargeable Battery Kit, and stop buying bulk packs. This kit includes a rechargeable NiMH battery and a charger. Just plug the charger in when you get back from ice climbing, and your Black Diamond headlamp will be ready to roll for your dawn patrol ski tour the next morning.
Unanswered Question
what is the style/type of connector...
what is the style/type of connector (attaching the battery pack inside the Apollo). there are tons of vastly cheaper, alternative battery packs but I'm not certain if the connector is universal or standard.



update: found this from frys for $1.90. store pick-up only, however.
Is this NRG kit for the old 3 AA battery...
Is this NRG kit for the old 3 AA battery style or for the new one?
Best Answer
Hey Reid,



I think I get your question. This is the same old NRG kit as it always has been. Still fits the Apollo lantern and the older style Icon, but not the newer Icon or the Icon Polar.
There is no reason to not have one of these. The charge lasts and is quick to fill up.
Two Stars - for this reason. I work with a crew who spends almost all day inside big pipelines doing work. Every one of them wears a Black Diamond Icon because you can get this rechargeable kit for it, and it'll last all day. Unfortunately, I thought I'd be really cool & buy the new model of Icon. The new model takes four AA batteries, and it doesn't appear this rechargeable battery kit will work. If you buy this kit for your Icon, make sure it's a 3-battery model.
I am amazed at the longevity of a full charge. No other batteries compare. I have used this for 3 weeks, naybe 15 hours on the headlamp and the green loght >80% is still on. The price is high, but worth it. Getting stuck in the dark sucks.
Unanswered Question
Has anybody rigged this to charge from a...
Has anybody rigged this to charge from a solar panel while hiking?
do rechargeable batteries come ready to...
do rechargeable batteries come ready to use?
Best Answer
Hey Steve,

You might get a bit of use out of the NRG straight out of the package, but it's going to be best to install it in your Apollo or Icon first to charge it up overnight or until the battery indicator light shows green.
For the price you can buy an awful lot of batteries for it. It is rather nice to have the ability to just plug it in the night before and be ready to go with out having to keep a stock of AA's around. It's pretty much a personal call, but I'm glad I went ahead and purchased it. We'll have to see in the long haul how much it comes out ahead.
Fits the Apollo, not the Orbit
I screwed up. Not paying attention again (ADHD) and I bought the wrong charger for the Orbit. I needed the NRG2, not the NRG. The NRG is for the Apollo, the NRG2 is for the Orbit.

Rather than sending this little charger back, I decided to purchase an Apollo since I really liked the Orbit and thought, bigger may be more impressive. I was right, the Apollo rules! Orbit is pretty cool too! For light trips I take the Orbit, for car-camping or where I'm not worried about the weight, the Apollo is really nice to have.

Anyway, learn from my mistakes Orbit = NRG2 charger!

Thanks!
Don't let the idiots below scare you... This is VERY EASY to use with the Apollo lantern. Open battery compartment on bottom... insert battery. PLUG IN ... SIMPLE! I used my Apollo lantern every night during a recent 4 night trip. All on a single charge. Pays for itself after a few uses... AA's get very expensive
Can anyone tell me how to charge the...
Can anyone tell me how to charge the batteries in the Black Diamond NRG Rechargeable Battery Kit. Seems like there is some parts missing
I can't see if you have parts missing or not, so I'll tell you how if you've got everything. Once you've got the AC plugin adapter set to your correct country style outlet, plug the other end into the battery pack on the headlamp that's located underneath the headlamp strap where the cord from the front light connects to the battery compartment. Look for the little grey plastic plug there, lift the grey plug out and connect the charger in there. Hopes this helps.
I just bought this and couldn't find out how to hook the batteries up to recharge them. It says in the directions to pull back rubber piece and insert the charger into the batteries but there was no place to insert it. Also I have found that it is for the headlamp and Apollo latern but can't seem to get anyone to confim it. Gave it a 1 star cause I couldnt figure out how to hook it up and the direction sucked. I am sure it would be great if I could figure out how to hook it up.