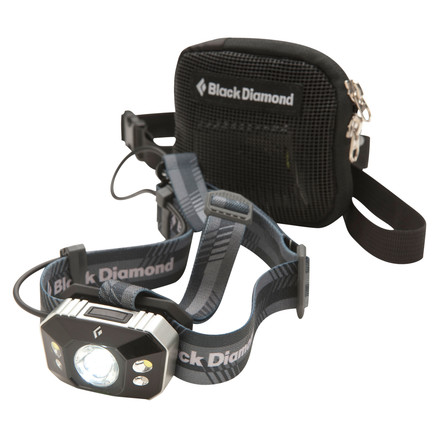 Colors

Detail Images
Description
For dark times in cold places.
The Icon Polar Headlamp is Black Diamond's most powerful headlamp specifically designed for cold-weather adventures. Black Diamond packed this headlamp with multiple LEDs, including a powerful 320-lumen QuadPower LED for lighting up to three hundred feet of darkness. There are five modes, so you'll be able to find the perfect one for every activity, whether you're rappelling down the mountain or hiking up it. The Icon also features a case that's waterproof down to a meter, and a well-balanced back case that holds four AA batteries for up to one hundred and seventy five hours. You can detach the battery pack and store it in your jacket to preserve battery power, and the headlamp has a three-level power meter that lets you know how much power you have left.
QuadPower, two SinglePower white, and two SinglePower red LEDs
320 lumens max setting
Proximity, distance, dimming, strobe, and red night modes
Waterproof to one meter
Four AA batteries with three-level power meter
Detachable battery pack
BD Bees Knees
Familiarity:

I've put it through the wringer
I used this headlamp all summer fighting fires around the northwest. It is honestly the most efficient and brightest headlamp I have ever used, even though I was very skeptical of the battery pack at the start (I had used a Storm for all my personal purposes the previous few years). The battery pack is so well balanced that you forget about it after a minute or so. I never used it with the chest strap but that's also an option if you don't mind a cord trailing down the side of your head somewhere. Also, I used this headlamp at least an hour every day for over a hundred days, and I changed the batteries ONCE . In fact I doubt I needed to change them as I didn't know about the dimming feature at the time... just hold down the button and the beam dims down until it's minimum brightness, blinks, and then dims back up to full brightness. I was trying to switch to red-light mode with gloves on in smokey conditions and just figured the batteries were dying from the blink and dimness. Also when batteries are dead on other devices (radios, GPS, etc) they still power this thing on a two level of the three level power meter. This thing will drain your AAs to the bottom, and take a while doing so. It'll suck the last juice out of batteries, besides those used for AM radios. When you're trying to save weight and thinking about extra batteries for your headlamp, just think about extra batteries for your GPS because this headlamp will use your old GPS ones (all GPSs run out of juice in 20 hours ish).



It is also the brightest headlamp I've ever used. I used to think my Storm was the king of headlamp brightness. This Icon is just insane. The spot feature is good for at least two hundred feet in all conditions (haven't tried snow yet, mind you). The flood feature is great for smokey conditions that the spot is too bright for.



The only difference between the Polar and regular version is the little insulated battery case. For ten bucks I think I'd go without it because it's not waterproof anyway (though the battery case seals very tightly and never leaked on me).



Get this headlamp.
Hi, is there a way to fix this on a helmet? i was thinking on a mountain bike helmet... as the SILVA headlamps do
The headlamp has a battery pack (the SILVAs I've seen don't have the battery packs). The headlamp is super bright and well-balanced with the battery pack and there's no attachment problem that can't be solved with a little 550 cord and duct tape. I wore this headlamp on a hardhat all summer and the bands were grippy enough that it never fell off before my hardhat did.
How long is the battery pack cord? Will it reach to back pocket of running shorts?
Reviews on the Black Diamond site have said they can wear it on their waist, so I will venture a yes on this.
Best Answer
Thanks for the input! I ended up ordering the Icon Polar and it works great for night time trail running. Much better than having that big battery pack on your head. Cord length is 48" if anyone is wondering.
Is this the 320 lumen version?


Yes, it says 320 lumen in the specs section.