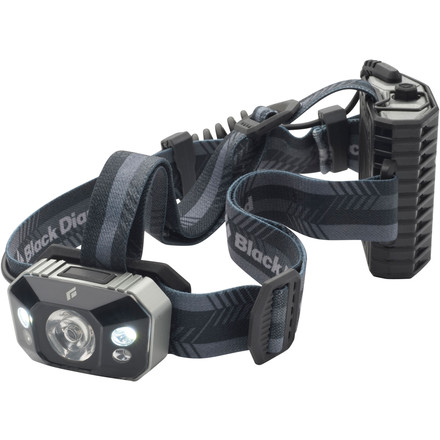 Colors

Detail Images

Videos

Community Images
Description
What other headlamps aspire to be.
The Icon Headlamp is Black Diamond's most powerful headlamp for alpinists, climbers, and other explorers. Black Diamond packed this headlamp with multiple LEDs, including a powerful 320-lumen QuadPower LED for lighting up to three hundred feet of darkness. There are five modes, so you're sure to find the perfect mode for every activity and condition you get yourself into. The Icon also features a case that's waterproof down to a meter and a well-balanced back case that holds four AA batteries for up to 175 hours.

QuadPower, two SinglePower white, and two SinglePower red LEDs
320 lumens max setting
Proximity, distance, dimming, strobe, and red night modes
Waterproof to one meter
Four AA batteries with three-level power meter
One of the brightest
Familiarity:

I've used it once or twice and have initial impressions
The BD icon headlamp is one of the brightest in it's price bracket, the battery pack on the back of the head insures that. It's fairly light as well. Overall this headlamp is really great for anyone looking to get outside no matter the hour.
Strong headlamp....but
Familiarity:

I've put it through the wringer
A very strong headlamp! all weather
But....the strap don't have a long life after a year it start to be weak
This is how bright last years Icon is.
This was shot on Rainier last September by Marc who was the last guy in our group. I am the third from the rear and my 200 lumen Icon was so much brighter than everyones headlamp other than the other Icons ahead of us.



The 320 would almost be overkill. Thankfully if you don't put it in boost mode this is the same initial brightness in the new one when you turn it on to the main lamp.
Last years is not this years.
I went and bought a new Icon today. Yeah, it blows last years Icon out of the water.

There really is no comparison when you are blaring 320 lumens vs 200 lumens.

They look identical and function the exact same way except for the new one can boost up to 320 lumens. You turn it on and it goes to the main headlamp, then you hold the button and it goes into the boost mode. Holy Crap. It is insane. Last years model turns on and can only dim from that point.

They are the same animal in looks but no way in hell are they the same in their light output. The only other difference is that last years light temperature is more grey and this years LED bulb is much more white.

I was impressed with last years headlamp but this new one makes it pale in comparison.

75 hours at 320 lumens and 175 hours when you are at 4 lumens. That is crazy. What is the amount of hours you'd get at the initial lamp setting before you boost it? Comparing last years to it I will say it is 200 lumens before you hit the boost to 320. 200 lumens was more than adequate and much brighter than the majority of headlamps being used out there.

This is a great headlamp no doubt about it and last years is nothing to scoff at either.

The other review below I believe is last years and not this years 320 model.

I will include some photos of the difference.
Unanswered Question
G'day Backcountry! I am wondering if the Icon I see here on special is the newer 320 lumens model. You see, the video indicates otherwise- that it is the older 200 lumens model. If it is, and $71.96 is the price, then please send me one forthwith! No shipping cost for orders over $50 I understand. Thank you!
Black Diamond Icon Headlamp
Not what it seems to be.
Familiarity:

I've used it once or twice and have initial impressions
I ordered this after deciding to return the Mammut X-Shot because it didn't have a red mode. After opening this light up and putting the batteries in it, and reading the directions twice to make sure I knew what I was doing, it became apparent that the only thing this headlamp has going for it is a red mode. It's quite a bit heavier than the X-Shot without batteries--the X-Shot only takes 3 AA--it's significantly darker, and the LED beam doesn't make any sense. There is no real spot beam. It's a bright--but nowhere near as bright as it should be--flood beam. I live in the woods at the end of a very long 1000+ foot driveway. The Mammut X-Shot clearly illuminated the end of my driveway on spot mode; the Icon lit maybe 1/3 of that.



I don't recommend it at all.



It does have a better waterproof rating than the X-shot--IPX7 vs the X-Shot's IPX6--and it has a 3 year warranty compared the X-Shot's 2. It also has a red mode, which works nicely. Other than that...



I ended up returning the Icon and kept the X-Shot.