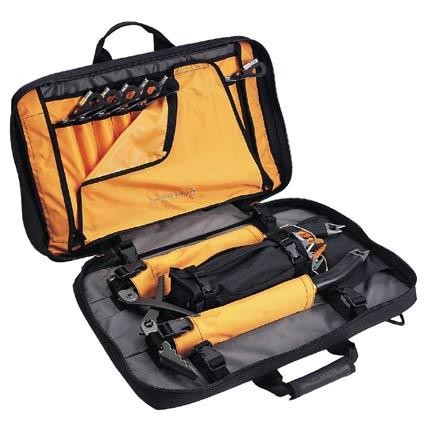 The Black Diamond Ice Box protects all of that ice gear in which you've invested hard earned dollars. Built with durable ballistics nylon, the Ice Box is equipped with two tool slots, two tool straps, a crampon pouch, a removable ice screw case, and a zip mesh bag for extra picks and tools. 10mm of padding protects your gear from busy baggage handlers and Peruvian bus rides. The Ice Box is a must for any destination ice climber.
safe travel and storage
Familiarity:

I've put it through the wringer
A great organization and storage tool. Doesn't get much use during ice season, but the other 8 months of the year it is awesome. I spent most of this past summer on the road with two of my friends; and for about a month my Ice Box bounced around in the back of a Jeep with a pair of crampons, 3 pairs of technical tools, 3 mountaineering axes, and a full rack of screws stuffed in it!

Accept for not being a necessary piece of gear, the only bad thing I heard about it was from fellow Canada bound ice climber from Michigan who complained about its durability. Long story short, his BD Ice Box ended up skidding down I-75 at eighty mph while their suv rolled through the ditch. I think that was an event of extreme circumstances.


I got this as a gift - the removable ice screw holder was cool until I got some flutes, now it just sits there. Other then that, I really haven't had much use for this - I am not really sure who would. I found it hard to fit my BD tools b/c of the bend, the pack is bulky but I can see that it would protect your gear.. I use a separate crampon bag, so this is unneeded for that. Overall, just haven't found much use - there is always next season. I plan to stow my gear in this for the summer to keep the dust off although.
it is perfect just as in the tech specs, the only problem is that universal crampons don't fit but the bd sabertooth do
The ICE Box is perfect for two pairs of ice tools, crampons (although I do not carry mine on the Ice Box), and the ice screws compartment is removable. Nothing similar in the market. The quality is impeccable, material is very strong and great to travel and check if it is all there when arrive at you destination, always important when traveling to far away destinations.... One thing that could be improved in the Ice screw compartment should be possible to roll (it has a velcro wrap) but I cannot do this with all 10 titanium screws inserted, and the flap is a little bit short. Highly recommended gear!
Design not flexible enough
The ice box seems sturdy enough, but I have a couple of issues with it. First, it may be difficult or impossible to use the ice axe holders if you own the newer style leashless axes with a pinky hook or a substantial curve to the axe. Second, you own a more radical pair of crampons (Rambo IV), with vertical frames that are permanently bolted to size and have heel hooks, again they may not fit in the crampon pouch. And lastly, there are only ten sleeves for ice screws, I have 14, so there will be some loose screws sliding around.
The Ice Box is excellently designed - it holds 2 pairs of tools, crampons, ice screws and spare bits in a nicely sized padded case. No more wholes in everything in the car or house.

I'm not sure anyone but the sponsored ice climber or the inveterate gearwhore actually needs it though.
The Black Diamond Ice Box is great. If you're looking for a way to organize your ice climbing gear there is no better way! The case is well padded and is made of durable fabric. There was a little room issue when it comes to doubling up your ice screws in it, although this can be worked around fairly easily. Great product. Thanks Black Diamond.