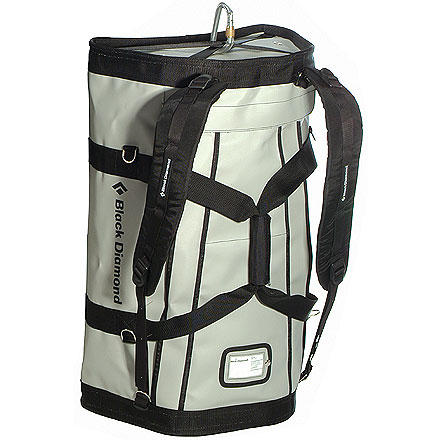 Videos
The Black Diamond Huey Duffle Bag is made with burly Rinotek haul bag material to withstand the abuse of porters, mules, and airline baggage handlers on your expedition. Its large square-shaped opening allows easy access to the giant space inside. The Huey Duffle Bag is available in sizes from a pretty-big 60L (3661cu in) to an absolutely massive 150L (9150cu in). Well-padded removable shoulder straps and end-carry handles make transporting these giant bags easier, and the clear ID pocket increases the chances that you'll actually see your bag again after the airline accidentally sends it to the wrong continent.
Black Diamond Huey Duffel Bag
would the 60L be good as a carry on? size...
would the 60L be good as a carry on? size wise?
While all airlines are a little bit different, the general rule of thumb is that carry on items must be no larger than 22x14x9. So unless you're somehow going to fold the bag in half, I'd say no.



From personal experience, the largest pack I've ever successfully flown with was a women's XS 50L pack, which was practically a 40L.
i have the Medium, and also a NF Base Camp in a Larger. i've taken this to AK and on many trips around the west. i use this for fieldwork travel mostly. although i'm a climber, i've not used it as a haulbag. this is truly one of those pieces of gear you'll have the rest of your life. i dare the luggage monkeys to destroy this one. i'm always shocked at how much gear i can get in here in addition to snowboard helmet.
I am thinking about getting the 150L bag...
I am thinking about getting the 150L bag for moving my stuffs to Asia. My plan is to load the bag on outbound trip and then put the empty bag in the carryon luggage for inbound trip. My question is can the empty bag fit into a carry on luggage? Thanks.
It should roll up well enough to fit
Better than NF Base Camp
Gender:

Male

Familiarity:

I've put it through the wringer
Well I just made my second trip (1 to GoM and the second to Nigeria) with this bag and it lasted longer than my base camp duffel (1 trip to Murmansk Russia). I load it with 65lbs. of gear and had no issues. The only thing i do not like about it is the way it closes. I do not like the fact that it does not zip close the entire way. Other than that it is a very durable bag. UPDATE!!!!: after x amount years it is finally showing some wear. the webbing strap on the bottom of the bag is getting a little frayed. But other than that this bag is still rock solid!
These are awesome. Used mine to haul 70 lbs of firewood down a mountain to a campsite no problem. When it came time to pack for college, 30 shirts/ 15 pants/ 3 shoes/ 3 sweatshirts all fit no problem! When i go home on weekends my rope/ tent/ extra back pack/ sleeping bag/ and clothes all fit in nicely. Highly recommended. The material is tough. plus looks alot cooler then a TNF base camp duffel.
Whether you purchase the 60L or the 150L, you're going to get a huge, versatile duffel. The Rinotek is super tough material, which can take the stress of a good beating, adventure after adventure. I have the 60L which has lots of space to haul your abundance of ski gear or camping gear when you're car camping. The duffel has lockable zippers, backpack straps, two interior mesh pockets in the top flap. The lock loops at the top of the zippers are protected by a strip of velcro the width of the bag--many reviewers dislike this feature, I prefer it for the added protection. And, like many other reviewers, I do believe the bag would be somewhat better with compression straps inside. This bag is worth the money, especially on sale.
Can this bag be carried on a plane?
Can this bag be carried on a plane?
Best Answer
It depends what you mean by "carried on". This would have to go in the hold, not as carry-on luggage. Beware in the US - The luggage restrictions are not just weight, they are ased on overall dimensions. No single piece of luggage is permitted to exceed a total dimension of 62" (ie W+H+L). Looking at the specs, the 9154cu in is 16+38+21=75", and the 6100cu in is 14+19+32.5=65.5". So you could get slugged with oversize luggage costs. Also beware cos these duffels are seriously big, and weight becomes a problem if you don't pack with discipline!
I have been using the 60L as my go to carry-on for about 3 years now. On larger airliners it fits with no problem but on smaller planes they tend to make you check it at the door. What's great about checking it at the door is that you don't get hit with the checked baggage fee. I have never had anyone stop me and tell me that the bag is too big to be considered a carry-on. This thing is burly as hell and seriously roomy, the only problem is that it gets heavy, and when you travel as often as I do, you start dreaming of wheels. So unfortunately I am soon going to retire this beast for air trips in favor of one of the snazzy Dakine rolling pieces. Still love this bag. Even have the size small, which I believe is a 30L, that they don't sell anymore which I have used as my gym bag for years.
Burly, bomber and nice. Only thing lacking is a stabilizer for the bottom of bag, but that's a personal preference thing. Easy to load and easy to carry. Great bag.
I got this back because I wanted a general purpose duffel for travel and organization of camping gear. I bought the large and i was little disheartened with i got it, not because it was small, because it was HUGE. frankly much bigger than one person needs. I couldn't figure out how i was going to use all the space then it struck me to use it as a cell system. My wife and i packed out own bags with cheap-o's and a third bad with gear and stuffed them all in the Huey and headed to Yellowstone. It was amazing. Easy to get at all the gear you need, easy to pack, easy to transport. I use it for all of our travel now. It weighs so little and is so tough that you can use one bag for two people even for flights, which is what we did tw months later when we went to California on a cruise. The straps make it super easy to carry, a boat lead easier than trying to wheel around luggage as you just throw on the backpack straps and put it on, its surprisingly comfortable too. Not at all difficult to carry 50 lbs worth of gear for at least an hour or more. i was little worried about how the backpack straps attached but not anymore...super strong. Bottom line is, its the only way we travel now.
I recently went on a camping trip in Hawaii, and needed to haul everything and protect my Osprey backpack... It worked. The only problem was with the shoulder straps, which kept sliding apart and falling off my shoulders, when they weren't slipping and lowering the pack down my arse. Some type of chest closure and heavier buckles would make this pack perfect.
I got the 150L size and it is massive. I was able to pack my entire life into this bag to move to New Zealand for a year. Had to pay excess baggage of course since there was loads of climbing gear, a winter wardrobe, shoes, etc. I think the only way you could fill it and avoid the excess charge for weight would be if you only put clothes in it. That said, the bag has been awesome for throwing everything into for a week away climbing or skiing. It swallows up everything and I still have room left over. It is very durable after a year of use it still looks almost new, and is pretty weather resistant as well. Only complaint is that it is so long that when it is nearly full and up around 23kg it sags when you use the backpack straps and it whacks you in the calf just below the knee with it on your back, making it difficult to walk. Usually there is someone else to help carry it, the handles on the ends make it easy with two people. Other than that, awesome bag.
Nice bag. I'm replacing a gregory Long Haul that I had for about 7 years (leaked at the zipper, otherwise best bag ever). The Huey is about twice the weight, but the flaps over the zippers make it better suited to being in the open bed of a truck.

I filled the Huey with blankets, and took a hose to it. Not a drop got in.

Velcro flap is a little cumbersome, but useful. It doesn't *have* to be closed every time you close the bag, so it isn't a big deal.
which bag is better black diamond huey...
which bag is better black diamond huey duffel or the north face base camp duffel thanks
I would say they are about equal. I have one of each, the BD weighs a bit less than TNF bag, but isn't as weather resistant. They are both very durable bags, the BD bag stays a little more pliable in really cold weather, so that might be a plus. I do find the velcro a little annoying when I am getting into and out of the BD bag a lot, TNF Base Camp wins in that regard. Hope that helps.
Just not a big fan of North Face. I find the material on the NF bag a little too heavy. Also retains dirt more, I think
I have had both bags and had to return my TNF bag because the bag ripped after one trip. I have had my BD bag for almost two years with well over 200,000 airline miles on it and it is in great shape.
First off i wanted a big bag to travel with---gear, clothes, whatever. i went with the 100L cuz it seemed to be what the doctor ordered (and it was), but if you want BIG then go with the 150. that being said i love this bag---its tough, the Velcro tab keeps things locked up tight, and it kept my stuff pretty dry when it had to sit in the rain for a bit. i feel like you get an outstanding bag for a decent price. thumbs up.
The bag appeared to be very solid and built strong. I returned it because I did not like using velcro everytime I wanted access to the inside of the bag. It seems as though it would be a great storage, or shipping bag. Not one I would use for everyday travel access.
The toughest duffel out and has the most comfy shoulder straps ever. Although,the bigger bags are too big for airline restrictions and the lack of inside compression straps make it tough to zip if it's packed tight. Good value on the smaller duffel for sure.
I used it for a 2 week mountain biking trip. I packed 5 days worth of lounging clothes, 4 days of mtb attire, 2 swimsuits w/outfits, extra bodywear, full face helmet, XC helmet, body armor, shin/knee guards, hydration pack, extra tire, multi-tools and still had more than enough room for 12 lbs of my buddy's stuff cause he couldn't fit all of his stuff in his 2-piece roller bag. I had it stuffed to 50 lbs and it was easy enough to carry with one of the backpack straps (easier for me, since, I am 5'4"). I've also used it for camping. Just had to buy compartments to make organization easy. I flew Jetblue and wasn't charged an oversize fee. Check the the airline site for the oversize dimensions, Jetblue is 62" and over 50lbs.

Bottom line, if you want a huge, versatile duffel, this is it. Tough material, lots of space, lockable zippers, backpack strap and inner mesh pockets. Grey color is easy to spot on the carousel. I only wish it had mesh pockets on both ends, in addition to the two underneath the flap. Also, compression straps inside would be another great detail to add.
I live in CA and ski all over the west. I have gotten tired of lost baggage and waits (with 2 young kids) and so I now fedex my bags everywhere ahead of my trip. I noticed that my cordura duffel bags were getting shredded (much worse than airlines). These bags are indestructible. They also have very few edges that can snag and cause tears. They are perfect for hauling lots of gear, and they look great too. The removable backpack straps are great for dragging stuff from the car, etc...