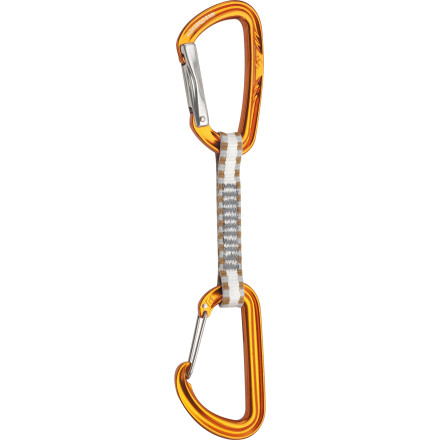 Description
You've got that clipping problem under control.
Black Diamond designed the versatile HotWire Quickdraw to meet all your clipping needs. By combining a HotWire carabiner and Nitron straight-gate 'biner, Black Diamond achieved a lightweight and smooth-clipping combo. With the HotWire's large rope-bearing surface and the snag-free keylock design of the Nitron, climbers can clip away with security and ease. Thanks to a Straightjacket rubber gasket, clipping 'biner orientation is maintained so you don't waste time and energy fumbling with the gate.
Must-Have Draws
Familiarity:

I've put it through the wringer
I'm new to outdoor climbing, so I was really overwhelmed when I was shopping for quickdraws. Overall, I took a leap of faith and went with Black Diamond's HotWire Quickdraws, and I'm so glad I did. My draws are super easy to clip, which is a must-have for a rookie like me, and they're also exceptionally lightweight.

The only thing I was worried about was their price point, but after I used them on a variety of sport climbs around Utah I knew I had made a wise investment.
Favorite Quickdraws
Familiarity:

I've put it through the wringer
One of my friends has these quickdraws, and after I used them once I knew I needed some of my own. They're super lightweight and easy to clip, especially their gates. I have 12 total, and I'm sad that I won't need to get more because I love them so much. If you're looking for some draws to add to your rack, look no further.
smooth clippin
Familiarity:

I've used it several times
these quickdraws are easy to access, open and clip. Great for sport climbing, light and clip solidly to assure you while climbing that everything is good.
very light
Familiarity:

I've used it several times
Very light! I love how light it feels. I can barely feel it in my harness.
Good stick clipping draw!
Familiarity:

I've put it through the wringer
These draws make good use for stick clipping in fact that's about all I use the one of theses that I have. If you end up taking it further up the route don't worry its just about as heavy as the hood wire draws or any other black diamond draws.
#3 draw...
Familiarity:

I've put it through the wringer
These are great quickdraws. My #1 is the Petzl Spirit draws and my #2 is the BD LiveWire. These are a fantastic quickdraw, however, for $5 cheaper than the previous 2 mentioned... making this my favorite "high-end/still sort-of value" quickdraw. Only 4 stars because of a lack of sling size choices, and the fact that the Dyneema slings tend to twist in certain situations. They clip smooth and crisp and the orange looks dang sexy on the wall. I'd recommend these to anyone looking to upgrade to solid, higher-end quickdraws that wont completely break the bank.
6 seasons and counting!
Gender:

Male

Familiarity:

I've put it through the wringer
These are the only draws i have ever owned. My friends have tried lots of different options, and i still prefer mine. The keylock nose on the bolt side is a must for cleaning steep climbs, and the wire gate clips very well. The biners are not so small that they're annoying to clip, but not so big to be clunky on your rack.



I have the old, skinnier dog bones, but love them and have had no issues with durability. Only after 6 seasons have the started to show even small amounts of wear. I plan on replacing my old set with a new set when the time comes.
Climbing with these for a while now. No complaints, always easy to get on the bolt, easy to clip, and easy to clean. Have even used these to clip nuts.
I love the keylock/wiregate combo. They won't snag on your harness or on bolts and the wiregate is easy to clip. The rubber sleeve makes sure that they are always in the right position. I'd say for a draw that is sub $20 this is the way to go.
Great piece of climbing equipment, they keep people off the ground! The only thing I don't like about them and the reason I use Petzl draws now is because when you use these on an overhanging climb where the draw is hanging freely, they are not stable. They twist really easy, granted mine have been on their fair share of climbs, but it's the only thing I personally don't like. I know BD does make draws with wider dogbones - who knows, maybe for this reason. I do think it could be I just need to replace the dogbones and problem solved!
Awesome for racking up on long sport climbs because they're so light.
Pretty Fly for a Black Dia
I picked a few of these up not realizing at first how different they are, but I was more than pleased. They are super lightweight and one of the easiest draws to clip with as well. The dogbone is also great, very easy to grab and doesn't have the tendency to twist up compared to the thinner ones. If I had the money I would I buy 100. Overall a great product, and the orange is just a kick butt color too!
Like petzl but get these instead
People will tell you to get the petzl spirit set for sport climbing. I like the spirit but honestly I think its a toss up with these new hotwire sets. I prefer a wiregate for rope clips so this is a great set up for me. I have a few spirit/hotwire combos as well but I love the new nitron biner so this set is perfect. Also, I think the dogbones on these hotwires are a perfect thickness. You also save 5-6 bucks a quickdraw when you go black diamond. These are my standard sport draw.
These guys are awesome. I'm a huge fan of the wider dogbones. The old version tended to twist occasionally, resulting in weird back clipping and such on sport routes.
Why there is no 18 cm option?
Why there is no 18 cm option?
They could be sold out at the moment or maybe they don't sell enough of them to carry the 18cm option.
you can build your own. BC carries different size dog bones.

http://www.backcountry.com/black-diamond-dynex-dogbones
Upgraded to these bad boys this spring to replace my old wildcountry wild-wire's. I am really impressed with the thicker dogbone. It adds to the handling of the draw, but doesn't add much extra weight. These draws are perfect if you are a multi-faceted climber who is climbing trad one day, and sport the next. I definitely recommend these draws!
These are great quickdraws. The nitron 'biner on the top is pretty light for a full size cylinder-gate, and is super easy to handle (fits nice in the hand). It is basically just a lighter, overall smoother and better version of the BD positron (and you all know how solid those puppies are). The hotwire has about the smoothest gate on any wire gate 'biner around, making for some easy clips when you're pumped out of your mind. The dogbone, after BD upped it to 14mm, is surprisingly easy to grab, and doesn't twist. The 10mm was too skinny in the past for anything but superlight 'draws like the oz, but these seem to bridge the gap between the fat and the super skinny dogbones. Not the absolute lightest draw out there, but still really light, and they just feel good in the hand and in use. Highly recommended!