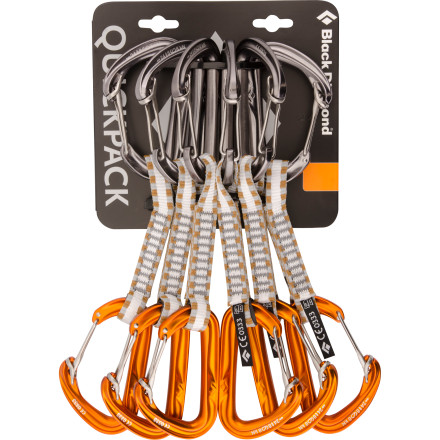 Colors

Videos

Community Images
Description
Beef up your rack, and make smooth, snag-free clips on your next project.
Black Diamond continues to push the envelope of innovation with the HoodWire Quickpack. If just one of these revolutionary quickdraws isn't enough, put up snag-free sport routes with the whole pack. Gram-conscious leaders need not worry; these fully strength-rated draws won't out-eat your old draws (unless it's a celery-eating contest).
Super nice
Familiarity:

I've put it through the wringer
These are great draws, they are quite light, have a nice smooth action, and I like the different colored biners on them (silver to silver on the bolt, orange for the rope). You also cannot snag the hooks on bolts or ropes due to the design on the hoodwire. If you're in the market for a bunch of draws this is a great place to look and you'll save a few bucks buying them as a pack.
Light and Well Put Together
Familiarity:

I've used it once or twice and have initial impressions
These are one of Black Diamond's offerings in the snag-free wiregate race. The carabiners on Hoodwire draws are slightly larger than those on Oz draws, and are thus slightly heavier. Otherwise, they are very comparable.



The Good:

--Very light weight

--The wiregate's nose is hooded, so the hook is protected against snagging hangers or the rope.

--Great clipping feel, as usual from Black Diamond.

--Cheaper than Petzl's alternatives.

--Slightly larger 'biners than on Oz draws (2mm bigger gate, according to BD's website).

--A few dollars cheaper than buying all six separately.



The Bad:

--Much more expensive than other (heavier) draws.

--Same price as Oz draws but slightly heavier. It's only 0.7 ounces, but that adds up over 12-18 draws when you're hauling them up an approach or a stiff climb.



These provide all the goodness of a wiregate with the snag-free clipping of a Positron. I plan to replace the carabiners in my current draws with either these or Oz 'biners as the old ones wear out, and any new draws I buy will likely be either Hoodwires or Oz draws. If you're looking to lighten your load, but need a bigger 'biner than an Oz, these are a great choice!
I've used a variety of biners for different situations. I've read a lot of people complaining that they think these feel weak. Personally, I take these on full day winter alpine climbs where I'm weight conscious. If I go lead climbing and expect to be taking some whippers, I'll grab the beefier BD Positrons. That said I would still trust these bad boys in any environment. And people, the dogbones are JUST as strong as bigger ones from Petzl or Wild Country. Don't be fooled by the looks.
Disappointing in a variety of ways
Familiarity:

I've used it several times
Avoid these quickdraws. I got them for 25% off and thought it was too good to be true. Sure enough, it was.



These draws have no consistency. It's like Black Diamond just gave up on quality control. In the set of six draws, you'll get a full range from gates that fall easily open with little pressure, to gates that are incredibly stiff to the point where you have to shove the rope through them. These have not broken in noticeably at all from a few days of use.



As well, the "clever" hoodwire design could be considered snagless, I guess. But if you look at how its made, the little hoodwire seems to be shoddily connected to the biner, with each one at a slightly different angle and position. Sure, this isn't a load-bearing element, but it still doesn't inspire hope about the quality control of the product. More importantly, because of the hoodwire design, the carabiner flares out and gets really wide at the nose, which almost defeats the purpose of it being "snagless". I can imagine that this biner will be difficult to deal with when clipping into and out of a tight or busy set of chains at the top of a sport route.



Not a fan. Black Diamond, I'm disappointed in you.
My favorite so far
Familiarity:

I've used it several times
I prefer this set over any other. they are light and have been very resistant. I am only starting sport climbing but for now they are perfect.
Too thin in my opinion...
Familiarity:

I've used it several times
I merely think the freewire is better because the dogbone is thicker than this version.
Black Diamond HoodWire Quickpack
I just bought a pack of these, and I had...
I just bought a pack of these, and I had handled one before and thought they were nice. When I got this pack, all of the gates on all of the carabiners (except maybe one) were incredibly stiff - I've been lead climbing for about a year and used a lot of different draws and I've never felt anything like this, showed it to my friend and he agreed. I sent them back, hoping it's a bad batch, but is that something about these draws? are they an unusually stiff gate? Everything I read complimented how smooth they are, so I just have to assume it's these ones.
I also found these to be a little stiffer than other draws I've tried, especially draws that don't have a wire gate. But I didn't find them to be stiff enough to return them, so it sounds like you may have gotten a bad batch. I'd recommend trying a new batch, we have a great return policy if you want to try another quick pack hit up one of the gearheads and they can help you set up an exchange order.
Gets it done
Gender:

Male

Familiarity:

I've put it through the wringer
These are my favorite draws. They never get snagged so I guess the hood wire feature is doing its job.
I finally decided to replace some of my quickdraws which I've been using since the mid-90s. The Hoodwires are a great quickdraw, which are surprisingly lightweight, and have a large gate opening. The actual "hood wire" is a unique feature as well, which act like a keylock for snag prevention, but with the benefits of a wire gate.
super light and does the job!