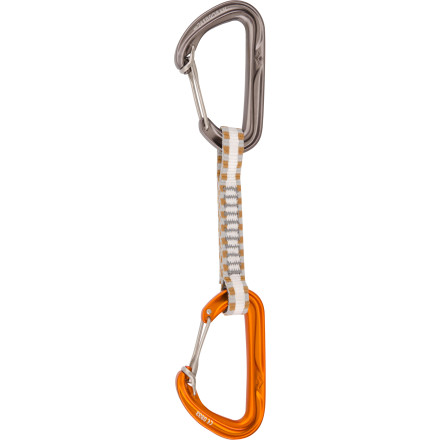 Description
The harbinger of a new age in clipping.
There's nothing worse than fumbling with a tricky clip during the crux move of your sport project. Eliminate the post-fall frustrations and sloppy clipping with the Black Diamond HoodWire Quickdraw. Black Diamond's patented stainless steel wire hood keeps the 'biner from snagging on slings or bolt hangars, so you get clean, quick clipping action. Extra features don't have to mean extra weight: the HoodWire draw is no more beefy than comparable draws with less functionality.
A few Hoodwires with some home-made liquid chalk.
Bigger but Still Light
Familiarity:

I've used it once or twice and have initial impressions
The carabiners on Hoodwire draws are slightly larger than those on Oz draws, and are thus slightly heavier. Otherwise, they are very comparable.



These are Black Diamond's offering in the snag-free wiregate race.



The Good:

--Very light weight

--The wiregate's nose is hooded, so the hook is protected against snagging hangers or the rope.

--Great clipping feel, as usual from Black Diamond.

--Cheaper than Petzl's alternatives.

--Slightly larger 'biners than on Oz draws (2mm bigger gate, according to BD's website).



The Bad:

--Much more expensive than other (heavier) draws.

--Same price as Oz draws but slightly heavier. It's only 0.7 ounces, but that adds up over 12-18 draws when you're hauling them up an approach or a stiff climb.



These provide all the goodness of a wiregate with the snag-free clipping of a Positron. I plan to replace the carabiners in my current draws with either these or Oz 'biners as the old ones wear out, and any new draws I buy will likely be either Hoodwires or Oz draws. If you're looking to lighten your load, but need a bigger 'biner than an Oz, these are a great choice!
Clipp'n Ain't Easy
Familiarity:

I've put it through the wringer
Clipp'n Ain't Easy but with these it really is. Although these draws are a few cents shout of a crisp Jackson they are in my opinion still worth the value. The hoodwire design is really nifty in that it doesn't snag when you are unclipping from a bolt or anchor. If you are looking to invest in a good set of draws, I would look no further.
the hood adds to confort
Familiarity:

I've used it several times
much more confortable to clip into a bolt, or the rope with these boys. though a bit expensive
Favorite Draw
Familiarity:

I've used it several times
The Black Diamond Hoodwire Quickdraw is a new favorite of mine as it is both light and easy to clip. On top of this, the draw takes up little space when racking for long pitches. The Hoodwire is the draw I will continue using.
12cm model: 83.8g = 2.95oz, consistent.