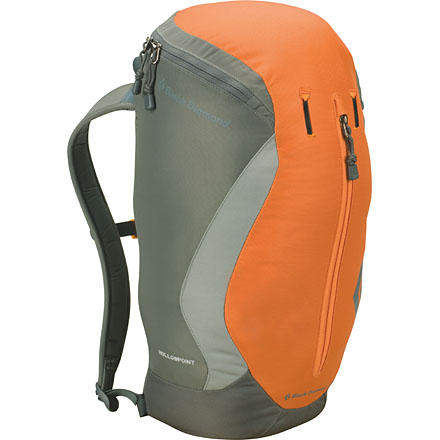 Community Images
Whether you take the Black Diamond Hollowpoint Backpack on a short trail hike, to the crag, or to run errands in town, its 20-liter main compartment holds the bare necessities in style. Black Diamond included a hydration pouch to hold your bladder and keep your thirst satisfied on the trail.
Lightweight shoulder straps and webbing hip-belt provide load-distributing suspension without adding excess weight
Zip top access point makes packing and unpacking quick and easy
Front zip pocket keeps smaller items like your compass or your wallet organized and within easy reach
Hydration-compatible for intergalactic thirst-quenching capabilities
All-around daypack
Familiarity:

I've put it through the wringer
Nice little general use daypack. Clean design, great construction. Comfortable enogugh to carry and surprisingly roomy. Seems like it will hold up for quite a while. I mostly use it for hauling stuff around town on my bike and for day hikes.



It's a decent choice for hauling stuff to the crag if you have other people to split the load with. It fits a 60m climbing rope comfortably. You might be able to squeeze a harness in too, but not much else. Or, it has plenty of room for a sport rack and some other gear - just don't expect to be able to stuff a rope, a rack, and everything else you need in here.



Couple things to note: the lower strap sits high on the body - the middle of the abdomen, rather than the hips. Not an issue for me, might drive some people nuts. Also, there's pretty much no way to strap anything on to the outside of this pack. It keeps the design clean, but sometimes it's a pain not to have anywhere to quickly stuff your windbreaker or stash a water bottle.
will my 60m rope fit in the black diamond hallowpoint along with my harness, quickdraws, chalk bag, and a change of clothes?
pleaseee help me out, im not sure what size of pack to get


Best Answer
That will all most likely fit in the bag, depending on how big your rope is, how many quick draws and what kind of change of clothes you are bringing. You can definitely fit the rope, chalk and 10-12 QD's.
day pack
Familiarity:

I've put it through the wringer
I use this pack for short day trips to the crag and for the rock climbing gym. I manage to fit my 60m rope, harness, quick draws,ATC and chalk bag in the pack then I put my helmet, shoes and nalgene on carabiners hooked to the gear loops and it works out great.
Perfect cragging pac
Familiarity:

I've put it through the wringer
Great, clean, simple little pack thats perfect for carrying your climbing gear on the way to the craig. The gear loops are a nice addition.
If you want a minimalistic pack with a clean look, this is the pack for you. The sternum and waist straps are solid and there's plenty of room for all your climbing gear, although fitting a 60 or 70 meter rope into the bag along with your gear might be pushing it. I carry two pair of climbing shoes, my harness, chalk bag and bucket, brush kit, water bottle, and a couple belay devices (ATC Guide, GriGri) with biners, with room to probably fit a helmet on top.
Would this be a good pac for school and...
Would this be a good pac for school and then going to the crag on the weekends. I would appreciate your input thank you.
you would need to carry your rope separately.
How does this compare to the Black diamond...
How does this compare to the Black diamond Bullet?
Can it handle a 13 inch macbook pro?

I'm looking to use it for school/cragging.

Thoughts? Suggestions?
not great for school, good for cragging
Just sat down in a coffee shop after a beautiful, sunny bike ride. Currently writing this review on my 13" macbook, which was carried via the BD Hollowpoint. Nice pack for carrying the laptop, charger, a book and a few notebooks.
you would need to carry your rope separately.
The hollowpoint was the perfect pack for a one day ascent of the Chief Joseph Buttress and East Ridge of Nez Perce.
I´ve had these bag now for over a year and it has become my every day back pack, you can carry your personal stuff like books, PC, jacket e.t.c, or for 1 night trip, or 1 day of hiking, it is made of a great super resistant material, it has an inside compartment for your hydration system that is great when you go out in your bike , and an outside pocket thats very accessible to keep the stuff you need to reach easy, not very water resistant, if you get it you must get a rain cover for rainy days, i consider these is more like an every day pack to use in the city.
This is an alright little bag. Its pretty durable, as I would expect from BD, but it doesn't do anything special. If I had actually paid for mine I would be a little disappointed. There aren't any external gear loops (I love the option of strapping stuff on) and the shoulder straps aren't the most comfortable for longer hikes. I mainly use it to take my harness & shoes & stuff to the gym, there isn't enough room for much more so I don't see it having enough space in it to fill it with gear for cragging. If I were buying a school backpack for a kid, I would consider this pack, because like I said its super durable. But then again, its a $65 pack...
hey so is big enough for rope, if not any...
hey so is big enough for rope, if not any recommendations on a pack for a rope and climbing equipment? cheep if possible.
This thing is really nice when you don't have alot of gear to carry, I like it alot when hitting the rock and I can carry my harness, shoes, all my little doo-dads and my SLR camera. What more can you ask for? It ain't huge, but you knew that getting into it!
the overall shape and "sleekness" of this pack is great. the pockets are basic and easily accessible. would be an awesome pack if the straps were a little more heavy-duty and comfortable. not for an over-night or all-day trek. hope this helps!!
I was looking for a small pack to fit approach shoes, water, food, and a layer or two for longer (though single-day) multi-pitch climbs. After receiving the hollowpoint, it was clear that its just too big. So I returned it. Otherwise, looks like a good daypack for hiking, etc.
Can't say enough good things about this back. Crazy durable construction, relatively weather proof but won't withstand a downpour. Straps aren't the most comfortable I've ever felt but its minor flaw. Love the look and feel of this on my back. Perfect size for a daypack when no technical gear is needed.
This pack is ok... But it's heavier and lower capacity than the rpm which is a much better pack. This pack gets used as a book bag strictly unless a friend needs to borrow an overnight pack. Still good but there's better from bd for just a lil extra dough
Pretty much as others have outlined below, the pack has a few shortcomings. The mini pockets won't fully secure your gear and the front compartment uses the main compartment space so when the main compartment is full, there's no room left in the front compartment. Also the vertical zip design for the front compartment access results in wasted space at the top of the front compartment.It's a bit small for a serious day-pack, and the photo here is a bit deceptive because it makes the pack look a bit bigger than it actually is. I think the BD Dart (which is 30L) would be a better choice unless you're specifically after a smaller day-pack. Construction and colour seem to be quite good though so I can't fault it for that. And the design is nice and clean so it shouldn't snag on things too readily.
After more than two years of almost daily abuse, my Hollowpoint (the 2006 model) is still going strong. This pack is the perfect size for mundane tasks (daily commutes, going to the gym) as well as more adventurous pursuits (trail-running, summer peak-bagging). My pack is still in great shape; this speaks to Black Diamond's attention to detail and commitment to product excellence.