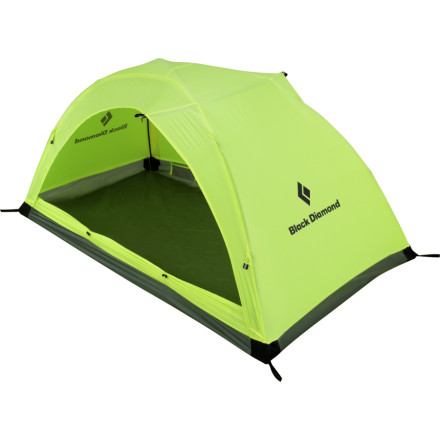 Detail Images

Community Images
Description
The HiLight of your trek.
Go light with the Black Diamond HiLight Tent when you trek the Appalachian Trail. This four-season tent is more than comfy for one person and can accommodate a second if your buddy wants to bag a few peaks with you.
Freestanding, single-wall design saves weight by eliminating the need for a separate canopy and fly; ideal for trekking and climbing applications
Breathable, abrasion-resistant, and highly packable NanoShield fabric features a Silicone NanoCell coating to protect against rain, snow, and wind
Covered vents help prevent condensation from building up in your shelter; just position a vent in the direction of the prevailing winds for more circulation
Three internal DAC Featherlite poles provide freestanding structure without a back-breaking weight penalty
Two internal mesh pockets help keep your kit organized at night
Optional footprint and vestibule sold separately
Share your thoughts
What do you think of the
Black Diamond
HiLight Tent: 2-Person 4-Season
? Share a...
Emphasis on "light"
Familiarity:

I've put it through the wringer
I LOVE my BD Hilight. This 3lbs 2oz. tent has completely changed the game for me. Now I find myself scoffing at the idea of carrying a standard 6lbs 2-person tent. Two walls? Who needs 'em!

This tent is a single-wall 4-season shelter, designed for mountaineering and lightweight excursions in dryer climates. I've had this tent for about a year now and have spent over 60 nights in it. The NanoShield fabric excels in a snowstorm and light rain, but definitely will collect some condensation in a long downpour. I'€™m a huge fan of the large door, which allows you to feel less closed-off from whatever cool spot you'€™re visiting. And you get used to setting up the poles from the inside. I'€™m 5'€™8, and can still stretch out in this thing, but if there is some condensation on the walls, I can bet the foot of my sleeping bag will be a little damp. It's wide enough for a friendly night with another person, or for just you and your backpack. If you pay attention, you'll see loads of professional mountaineers, climbers, bikers, and other specialized recreationists using this thing.

My tent has seen thunderstorms in the red-rock deserts of southern Utah, summer snow squalls in the Wind River Range, and light-and-fast overnights in the Wasatch. It's basically the Holiday Inn Express of bivys (and it weighs the same as my older BD hooped bivy). One time a friend and I took a 31 mile overnight trip to the Cirque of the Towers (approaching from the east side). We ended up getting to our campsite about midday, and wanted something to brag about so we decided to finish the next 15 miles that afternoon. Boy, I was glad I had a super-light overnight kit, or I never would'€™ve been able to reach the car that day.

I don't really have any qualms with this tent. Of course, it was designed with a specific purpose in mind, but I'€™ve actually been impressed by its versatility. The fabric is pretty lightweight (read: thin), so I usually have a footprint with me, but I have yet to see it rip.
Let me address the complaints about the tent "€œwetting through": at the current progression of waterproof-breathable fabrics, this is the nature of single-walls. During heavy downpours, moisture will start to condense on the poles and drip down to the corners. I have never seen actual drops come off the fabric. At its worst, I did have some pooling in the corners and a damp sleeping bag in the morning. That all being said, this tent dances best to one song, and one song only: dry and cold conditions. You don'€™t expect your Ferrari FF to be able to handle 4x4 trails just because it'€™s got all wheel drive.

In summary...

Pros:
-Lightweight luxury
-Big door
-Bomb and elegant construction

Cons:
-Not for tropical climates
Good swap for a bivvy
Familiarity:

I've used it several times
This a great, comfortable little tent. I wouldn't recommend cramming two people in if you're over 5'10", but it's a great lightweight alternative for a bivvy, and wayyy more comfortable. As a-not-as-seasoned camper, seam-sealing the tent was not fun. But I've gotten used to the internal pole system, and with some extra care during takedown and setup, I'm confident that BD will give you a great marriage of weight and durability.
HiLight HiAlpine
Familiarity:

I've put it through the wringer
I absolutely love the HiLight Tent. It features a very simple design with a compact footprint that is just enough room for two people to sleep comfortably in(the vestibule add-on is plenty roomy for two peoples gear). The internal pole system is a little weird at first but easy enough once you get it down. The fabric is very breathable and the two windows provide plenty of added ventilation. Once you seam seal the tent properly, you are ready for snow, rain, and whatever else mother nature decides to bombard you with.
Here are a couple questions that you might have.

Q: Is an ultra-light, ultra-breathable single wall tent for everyone and every situation?
A: definitely not.

Q: Soooo, who/what is it ideal for?
A: Climbers and backpackers who need a lightweight setup for higher elevation desert or alpine environments(situations where you might normally bivvy).

The fabric is ultra-light and thus, not very durable - definitely something to take into consideration(I am pretty careful when setting it up and taking it down). It's a single wall tent, so even thought the fabric is super-breathable and waterproof, I probably wouldn't want to use this tent in a crazy humid environment or a crazy rainy environment(think Deep South or PNW), as a double wall design is going to be better. That being said, I've been in heavy rain & hail storms in the Uintas and have used it on touring trips and stayed nice and dry.

Feel free to hit me up if you have any questions about the HiLight or anything else.. Office # is 801-736-5313.
So is this considered a 3 season or 4 season tent? the specs say 4 season and the description says 3 season? I'm trying to decide between the Black Diamond HiLight and the FirstLight, what are the differences between these two tents other than the door location?
Best Answer
Hey DaveDillon,
This is a 4 season tent. I will let our writers know that we need to get the description corrected.

Door location is one of the differences between the two. The HiLite has more of a tapered footprint design. 82" long, 50" wide at the head and 42" wide at the footand 40" tall. The Firstlight is 82" long and 48" wide at the head and foot and 42" tall. The HiLite will save you about 3 oz of weight.
Not worth the money...
Familiarity:

I've put it through the wringer
This tent wets out whenever I have encountered more than drizzle. It isn't durable which is to be expected, nor is it easy to set up. It does handle the wind ok. I spoke with a BD Rep and he says "not for use places like Chamonix..." But how about high & dry Montana? Or any other high desert for that matter when the cloudbursts last all of 5 mins? I found this tent to be one of my worst purchases because it wets out at the hint of dew or drizzle - and for a high price tag. I would highly recommend looking elsewhere (maybe the MH?) unless you have a very specific alpine purpose in mind and an unlimited checkbook.
Good looking and functional
Familiarity:

I've used it once or twice and have initial impressions
This tent looks really nice in nature, blends in to the light green grass. It is very easy to put up, with only three poles (two Xed, and one short pole for the middle top). I used this for easy camping, it did not rain and there was little wind, so I don't know how it would hold up to rough conditions. It has zipper vents on both sides for the air to circulate. And it's really light and fits well into the two small bags that come with it.

It is snug for two people especially if you like to spread your legs at all. And my partner is 5'8, wouldn't suggest it if you are much taller than that.
Shrinkage
Gender:

Male

Familiarity:

I've used it several times
I had the previous version of this tent (it was yellow not green) and I have used it for years. I really considered it an ideal tent for 1 or 2 people: super lightweight and always did me right in the rain. Can zip the windows closed to keep the heat in late in the season.

Well, I was headed to Montana a couple weeks ago, and I was worried the old BD was not going to stand up to a true downpour, so I ordered this to replace it.

It might be lighter, but not by much. Don't get me wrong, it is really light. It seems well made. But there are two bummers:
1) it is really small for 2 people...it tapers slightly on one end, which means it only holds a tiny amount of gear (before you could have your shoes and extra clothes and not have your bag over the top of them. I'm 6'0" and my head and feet are both up against the tent walls.
2) The door used to be a full-mesh panel with a full fabric layer on another zipper. Now the door is fabric with a little window at the top. It was nice to be able to leave the fabric open in the summer and look out at the sunrise.

It worked fine on my 8-day trip and held out a rain shower, but it's just not my favorite tent any more.
Best Fast and Light Tent
Gender:

Male

Familiarity:

I've used it several times
This tent is so easy to set up, minimal hardware, it doesn't weigh 9 lbs like my Exped rated 4 season tent, and no fly to mess with and is a true stand alone tent which most other tents cannot claim. I do recommend this tent as a "Solo" tent only, or for an emergency shelter for 2 people.

I took this tent to Glacier Peak with me and we had cold temps and sustained 35 Mph winds, guyed it out on the 4 corners and it did great and didn't flap around as much as I thought it would and had zero condensation issues on the glacial moraine, meadows or forest floor. Try to remember that when you pitch a tent you will get condensation on wet, soaked ground or on "thawing" (above 0 Degrees C) snowfields, there is not a tent made that will not get condensation (in the storm fly) in humid and above freezing temps unless it is on dry ground or on solid rock.

I do recommend getting and using a footprint with this tent, the floor tub is very thin. I have the Vestibule and Gear Loft and Pocket Pal and have had no issues with compatibility. The Pocket Pal and Loft have helped me dry out clothing and keep the tub floor clear and have come in very handy. As for the Vestibule I recommend getting it as for a place to cook your meals and stow gear when the weather is not the greatest, I always have mine with me just for such situations and it doesn't add much more weight (1.5 lbs) to the backpack.

As for seam sealing, yeah a PITA but how many of you have had taped seams leak after only a years worth of use. I much rather seam seal my tent knowing it was done right the first time and I don't have to worry about it 6 months down the trail.

Again, this tent has been a big positive for me and that's after using and owning both an Exped Tent and a Tarp Tent.
Try Another Tent
Familiarity:

I've used it several times
As much as I would like to recommend the BD Hilight, I just can't do it. The tent itself is great, it's just the fact that every single accessory I've ordered doesn't work with the tent, including key components such as the footprint and the vestibule. It's all about the full experience and not necessarily a singular product.

If I had paid a reasonable price for everything it wouldn't be as big of a deal, but the fact that the vestibule itself was the price of my separate Bivy sack makes the cost harder to swallow.

Go with an established European brand and save yourself the hassle and still get the same quality if not a better fabric.
Love/Hate this Tent
Familiarity:

I've used it several times
Tent was used:
6 Nights on the High Sierra Trail (HST) in Sequoia National Park from the Giant Forest to Mt. Whitney in early/middle September 2013. Weather ranged from stormy and windy to dry.
1 Night in a storm in Lassen National Park in early October
1 Night in north central Oregon in early October

Pros:
-Great size for me. I'm 5'7" and the length is perfect.
-I love the large entry door
-This is the easiest and fastest tent i've ever broken down.
-Amazingly Compact and very light when packed
-Seam sealer included

Cons:
-Condensation Condensation Condensation
-Pole seats in corners
-usually a footprint allows you to properly guage where to set stakes, this footprint didn't doesn't do that.
-require you to seam seal the tent

I really wanted to like this tent, the size and setup is almost perfect (would be perfect is the screen on the door was the same size as the door and not just a window at the top). The problem for me was condensation. 7 of the 8 nights i used the tent there was condensation, including a couple of dry cold night. It really didn't matter if i kept the windows open or closed nothing seemed to work. In the morning my sleeping bag was damp anywhere it touched the tent. Setup is kind of a bear as well, and is made much easier if you stake the tent down first and then insert the poles. The poles are supposed to be inserted into a button on each of the four corners of the tent, but often times its hard to keep the poles seated while trying to insert them into the opposite button, there has to be a better way. After some use the tent stretched a little and this became slightly easier. The second time i setup the tent the pole slipped out and poked a hole through the bottom of the tent. I didn't have any leaking issue, and I did seam seal the tent. In the end the condensation was too much and as pricy as this tent is I returned it. Hope this helps
green Nano Shield fabric
Familiarity:

I've put it through the wringer
In a heavy sustained downpour this fabric is a total failure.
Nice lightweight tent
Familiarity:

I've put it through the wringer
When you are debating to bring a tent or not bring one, this is a good one. Not necessarily an emergency shelter but a tent that can make your night a lot more enjoyable. A squeeze even for those just under 6', but can fit two skinny kids comfortably and packs to almost nalgene size. Condensation is an issue, but the top vents do help a bit, and the whole tent can be shaken out pretty easily. Fabric seems fragile but I haven't ripped it yet so that may just be looks. Also a decent gear cover when you want to sleep under the stars.
The general description of this tent says...
The general description of this tent says "Black Diamond HiLight Tent: 2-Person 3-Season". The Tech Specs say "Season:4-season". Which is it? 3 season of 4 season?

Black Diamond lists it as a 4-season tent. It is meant for light and fast assaults on alpine objectives.
I'd call it a winter 3 tent: Not awesome for hot summer days, but great for light stuff fall/spring/winter or in winter conditions up high in summer. Not for comfortable backpacking or car camping
It is more 3 season minus the rain. Not enough ventilation for summer.
BD Highlight
Gender:

Male

Familiarity:

I've put it through the wringer
Love the tent, it is light taut and roomy, I use it solo. I have used the tent in the rain (NC mtns) and have had no unusual problems (I have the green fabric version) with water. I like the large side door entry, this is so much easier to use (as I get older it is more difficult to squat and reach out to the zipperpull at the end of a vestibule). Bought aftermarket carbon fiber poles which reduced weight even more (and work better). My new favorite tent!
Light and Water Resistant!
This isn't your average tent, it has the NanoShield so you don't need to pack a fly or have added weight when backpacking. This is the perfect sized tent for 1 Adult Male to be conformable in or 2 Adults tightly without much extra room. This packs down very small and is prefect for that tent to always carry at the bottom of your pack! Very easy 3 pole setup, SOLID TENT!
Great for certain applications
Fully seam-sealed, this tent is light and packable and ideal for certain conditions: it should be cold and dry to prevent excessive condensation (like many single-wall tents), and you should be friends with your tent-mate, since it is tight in there!

In warm / wet -- condensation becomes a serious issue and you will get wet inside.

Pluses -- Light, simple, packable
Minuses -- condensation, the need to seam seal the whole tent at home (takes 1-2 hours and some care), the vestibule which is overly complex and really a pain to attach.