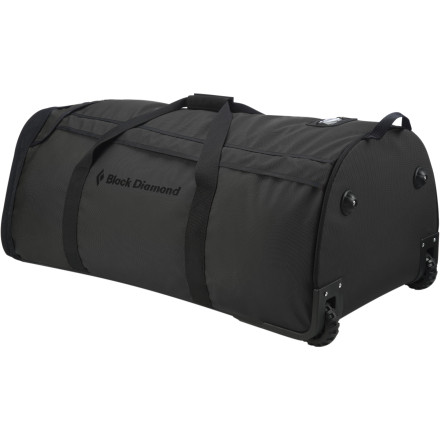 Black Diamond took its best-selling Huey duffel bags, slapped a large-diameter wheel set and an extension handle on it, and voila! You have the expedition- and travel-ready Hercules Duffel Bag. The bombproof Rhinotek material makes the Hercules tough enough to be thrown on top of a bus, strapped to a yak, or simply rolled through the airport. The clean interior lets you organize all your clothing and climbing gear, and you can lock the dual zippered access for securing your monster rack.
What do you think about this product?
Have questions about this product?
I was looking for a duffle to haul all my gear down to patagonia for a 6 month mountaineering and kayaking expedition. I picked this bag because of its size and claim to being an expedition bag and that it had an "extension handle". This bag is big and it burly but it is a pain to haul around. The wheels are nice but the the extension handle is just a cloth strap, and as a result the bag is constantly hitting you in the legs or butt. Not the most ideal this so I decided to return it because it made traveling with a a real hassle. I got this thing so I could wheel it around but it makes it very difficult.
How much weight can this bag handle. I...
How much weight can this bag handle. I have a portable jewelry case and I what to put the poles/hardware in this type of rolling duffle bag?
They're made to handle expeditions with lots of metal climbing equipment. Should probably work for your case.
IS THIS DUFFEL any kind of waterproof or...
IS THIS DUFFEL any kind of waterproof or water-resistant? Alrighty then!
The fabric this is made from is highly 'weather resistant' so waterproof..son please! Can it handle a drizzle and some precip..oh yeah bring it on.