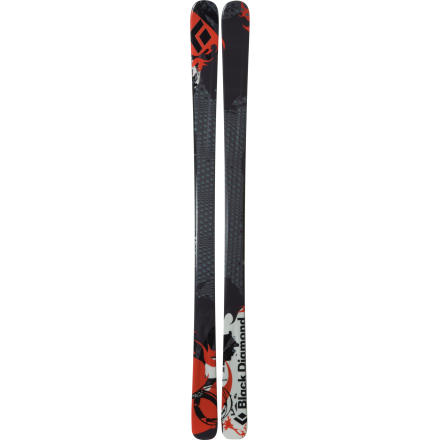 Community Images
Whether you're attacking a dawn patrol tour, free heeling down your favorite bowl or looking for a ski to rip the whole resort with, the Black Diamond Havoc Ski will keep that pow-swallowing grin on your face all day long. The Havoc loves to make turns through uber technical terrain and lay waste to high altitude powder fields after you get to the top of the skin.
3D CNC poplar core provides years of life for your ski without too much extra weight
Dual Torsion Bow Technology packs a progressive flex and hearty snap
Integrated 3D dampening keeps your ride from rattling your teeth
Hello BC people. I have some brief tele...
Hello BC people. I have some brief tele experience and am looking at picking up a pair of these in the 175 with G3 bindings to mess around with on groomers this spring and maybe do some touring once I get some turns under my legs. Do I sound crazy? For what it is worth I am 6 foot, 175 and have been alpine skiing in Colorado since before I could walk. Cheers
Hey, I'm 6ft and this is my exact set up. I know where you can get a pair...
Light enoug, but maybe too flexi
I mounted 2009 Havoc's with Fritschi Free Ride Pro for something lighter than my Volkl Katana/Marker Baron combo- yes anything is lighter than that combo. I skin with both skis in my Technica Dragon 120s. At 215lb, 6'1" i went with the 185cm. I woukd say the ski is pretty good at a lot of things, and not particularly great at any one of them. Suprise for me was in moguls I think it shines. in powder depends on skill level and for me that means I like a fatter powder ski. Seems soft to me on groomers cuz my 215 is bending them like noodles. Some chatter when bombing groomers. I think they are light. One issue I encountered has may be partially the ski or maybe the binding or boot or all three but... I had/still have premature binding release way too many times. Skis binding and boots all brand new. All equipment checked and rechecked 3 times by people smarter than me. Kept cranking up the DIN, still releasing on puny water bars and in unexpected places. This is not a condition that breeds confidence to ski steep tree lines. I put this down to a combination of flex in the ski and binding. Same bumps on Katana/Baron or Salomon x-wing fury and no release even at lower DIN settings. Who knows. Curious if anyone else had similar experience with the FreeRide pros on BC or freeride skis.
I am an advanced resort skier who tried...
I am an advanced resort skier who tried touring this spring, loved it, and is now seeking some advice from the well-informed BC community. I'm looking for a ski that I can use to ski off-piste on the weekends, but one that would also be good for skinning up the resort hills for exercise after I get off work in the late afternoons. And, ideally, it would ski fairly well on these workouts when going down. Am I asking for too much in one AT ski? Or is there one out there that might fit the bill? (At least while I cut my teeth on this new side of skiing.) I'm not only wondering about model, but dimensions, as well. I'm 6'4, 190, advanced on resort runs, but new to touring. Thanks a lot!
Best Answer
I would lean towards a ski about 100mm underfoot, with a small amount of tip rise. That way you get good grip with your skins (heavily rockered skis will get less grip). If you are skiing alot of powder you can even go wider. There are a number out there that fit the bill. I work with G3, so I'm biased...but their Tonic model is a great option! Enjoy.
BD skis are on the heavy side for touring. I use these when i'm going to be skiing something gnarly enough that i don't want to sacrifice performance and am willing to deal with the weight. For other conditions i try to tour with a lighter ski.
Want a mid-fat, light, carvable ski? Here it is. Skis powder, crud, courdoroy, and Eastern Hardpack equally well. Holds an edge on steep, icy terrain. Turns easy and carves well. A must have for any quiver.
are these skis a good choice for some one...
are these skis a good choice for some one who spends like 50% of there time at the resort and 50% high altitrude skinning.
also are they wide enough in the hip to mount AT bindings Like Marker dukes?
I think the answer to your question would be yes Randy. They ski the resort really well since they are stiff and hold a good edge. I use mine mainly for skiing steep lines in firm conditions in the backcounty. They aren't the lightest ski around at that width, but they make up for it on the downhill. I hope that helps.
Question for the weathered free heel folks....
Question for the weathered free heel folks. Last year was my 1st year on teles. I went a little impulsive and ended up mounting the BD o2's on a pair of line prophet 90's with T1 boots. I got about 15 days on them and I think they are just too heavy/stiff. Skied mostly East coast in bounds just trying to get better. These Havocs seem to be about the dimensions i'm looking for but I don't want to end up on another ski that is going to kick my a$$. What else should I be looking at. Just a little forgiveness. thats all I want. Open to any and all suggestions for a new ride.
Id try the k2 hippy stinx. they are a light weight very forgiving ski.
what angles should i tune my new BD havocs...
what angles should i tune my new BD havocs to??
, ☃bcs_badge_alumni_label☃
They come stock with a 1° (base), 2° (side). This is a good all-round tune, but depends on the feel your looking for. I usually ride mine sharper at more like a 1°, 3° - but again, it really is a preference thing.
Gotta stay on top of these boards!!
I bought the Havoc in a 185cm length, and find it best suited for very steep and somewhat "open" slope environments, where you can "rip" at high speed, making GS style turns. It also performs very well in the crud and crust - just rips thru it. This is not a ski I would ski the trees with at all, as it just doesn't turn nearly quick enough for my "taste" in there, but as a serious big mountain ski-this would rule! NOT a ski for a beginning or intermediate skier at all, but one for a well seasoned backcountry expert. You really have to "stay on top" of these or they'll run away from you, or worse yet, put you on your face quick if you let your guard down. A very, very demanding ski..
These are heavy, but they rip through even the Cascade concrete! You can really barrel in these or cut tight, tight turns. I have them set-up with O1s so they are even heavier, but when skinning they don't feel bad at all. All the descriptions I had read boasted about their stiffness, which worried me. I'm only 125lbs and I have the 165cm - I do ski fairly aggressive but I can crank these no problem.
Fills out my quiver of two
Fills out the quiver. I took my Justice 185 / Fritchi setup to Hokaido last month and had two days of
frozen inbound trails after a warm day. At 62 with one bad knee it goes without saying I needed a narrow
ski for a couple of days. Once home the first job was ordering the Havoc. I have only had it out on a foozen crud day at Mammoth CA but it did the job I wanted it to do. With the Justice and Havoc I will be ready for what ever the weather gods toss my way. I found they will hold on the hardest of hard snow
and they will navigate even the bumpiest junk out there. I may have more comments when I have had
skins on and spent some time out back.
Noah Howell deskinning his Havoc skis
Noah getting ready to rip skins on top of a peak in the Ruby Mtns, NV.
hi. i'm sking on rossi dirty birds with a...
hi. i'm sking on rossi dirty birds with a crispi three buckle...not sure the make. the setup is about three years old. i'm ready to upgrade. i just got back from crested butte, the headwall, teocoli...the high places. not great snow. hardpack. i felt like my stuff was way too light, like i was fishing for marlin with a fly fishing outfit. which can be fun but this wasn't. i want to nail it. 90 percent of the stuff i do is front range colorado and the dirty birds have been fine. but the next frontier for me is the steeps and i want gear that can handle it. i'm 5 10 and 200 pounds. my birds are 174's. i want a ski, boot, binding combo that will handle this along with the powder when it happens. thanks.
If you want a one ski quiver, you should look into something a bit fatter, and definitely a lot longer. You should be on a 185 or longer. Look into the Verdict or Zealot for something to progress your abilities. Also, the Scott P4, or the Rossignol S3, S5 or S6 would be good choices. Early rise tips are the best thing to happen to ski design since shape and metal edges. Regular cambered skis are pretty boring to me now. I highly recommend looking into a ski with at least a little rocker/de-camber.
As far as boots go, get Scarpa T2 Ecos or T1's. Hammerheads are the BEST binding you can find. Don't get G3's, BD's or Voiles because they break.
When the snow is rain crust or boiler plate, the Havoc or the Kilowatt is a great choice, but they leave a lot to be desired on powder days. Anyway, your question is very broad, and I am merely offering my opinion. It really sounds like you need to try some new equipment as see what feels good. Good luck!
jack. thanks man. in one of your other posts you said you prefer the bluehouse district over the zealots. i'm willing to wait a bit to get the setup i want.
Efficient Power Technology: Inside Black Diamond skis design and construction.
Our freeride skis are designed for the modern skier who demands maximum performance with no limitations. Watch this video as Thomas Laakso, our Ski Line Category Director, details the design philosophy and construction technologies used in our skis.

Skiing the 'Ivory Chute' in the Wasatch Range.
...like a can of whoopass
I ski the older 183cm havoc and am an aggressive 5'8" 140lb Rocky Mtn. tele skier. This is my all condition ski. It is super fast and dynamic even after almost 5 years. It does best in a few inches of steep fluff and softer crud and prefers not to turn too much. When coaxed, will slash through trees and carve frozen sastrugi. Just enough landing platform to work with for the aerialist in you. Things get more balancy off larger airs, on bumps, and in deeper snow. This ski can be a charming and light touring partner and is almost big enough to get though death crust you will find in not so story-book backcounrty. The longer length makes the tips harder to dive. When they do dive, however, (and they will) these stiff puppies do not forgive. Committingly stiff all mountain ski that could be the most fun you will ever have on less than ideal snow.
I just skied jay peak, vt. for a day. I got these skis for light powder and backcountry conditions. We weren't backcountry per se, but it was coming down hard all day and we were in the trees. I got the 185s. It took me about 1 run to figure out how to work them in tight trees but once i got it down they were dreamy. They do not have the snappiness to rip hard turns (ie no GS turns) but they are sweet for cruising on a good new england snow day. The flex pattern is just great for hammering natural bumps and glades. needless to say they seem to offer good flotation on a NE powder day. we'll see how they hold up in serious pow.
I have not skied them yet, however i'm just noticing that the factory tune is sort of a joke. The edge is pretty dull and the base looks pretty dried out. If your skiing in powder you probably don't care about the edge (i never once tuned my last pair of backcountry skis - i imagine most people probably don't either), however i def want my bases to be in good condition. Granted everything i mention here can be fixed with a couple hours of manual labor but i'd prefer my brand new skis to be ready to hit the slopes without those few hours...
I'm looking to upgrade from my old skinny...
I'm looking to upgrade from my old skinny K2 Totally Piste (I know, old school) and am considering either the BD Havoc or Verdict. I'd like a good all-around ski that will be good in backcountry powder but still decent on-piste too. Thoughts? The Verdict looks like it might be a bit heavy for touring. Also, I'd like to keep using my Scarpa T2X boots -- would they be big/stiff enough to drive the Verdict, or would the Havoc be a bitter fit with that boot? Thanks for any help....
Best Answer
I'll just cross post my response to the same question regarding the Verdict:
Your T2X will be able to drive the Verdict just fine. I would encourage you to go with the Verdict over the Havoc, because it is very versatile, and with a 100mm waist, you will float much better in powder. The Verdict does have quite a bit of sidecut, though so it will still be able to carve really well on groomed and choppy runs. The Havoc is better suited to technical lines, and hard snow. It will do okay in powder, but it's really not much of a leap from your Pistes.
Other skis to consider as well, are the Salomon Shogun, the Voile Insane, and the K2 Coomback. All lighter than the Verdict. They are all fairly similar in dimensiions, but the Shogun and the Coomback have the added powder snow performance of Rocker in the tips. Rocker is the way to go. Your powder skiing will improve so much, and you will definitely be able to rip groomers, too. Those are all great options to progress your skills, while not changing your "old school" attitude and style.
If you're set on Black Diamond, then I'm sure you'll be happy with the Verdict, but for what it's worth, I think you'd really like a rockered ski. I don't think I'll ski a traditional cambered ski ever again. It's that awesome. Good luck. Happy turns.