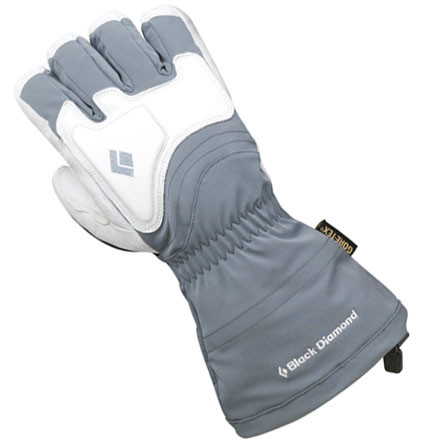 Detail Images
Just ordered these and have some of the same complaints as the other reviews. 1. the inner glove is made of a really weird material...feels like wool! 2. they are super stiff.

I have a pair of Black Diamond Stratos gloves and like them much better. The Stratos was soft and comfortable right out of the box, and the inside is a soft fleece. I'm sending the Guide gloves back asap.
Did BD change the design???
I originally bought these three years ago and they had the schoellar fabric and primaloft liner. I loved them- I used them for everything- ice climbing, backcountry skiing, mountaineering etc. Every now and then I would get a cold finger but I could just ball my hand in the glove and warm up - usually it would only happen if I was standing around for a while. The only other issue I had with them was if they got a little wet or my hand was a little sweaty the liner would turn inside out when I pulled my hand out . This was especially frustrating on ice climbs etc because I would have to pull the glove apart and push all the fingers back out put it on my hand and then put the shell back on. Anyway, other than that I liked the glove enough that I bought another pair recently after losing one glove. So why the three stars???

Well, the gloves I bought as replacements were not the same. They had the same name but that was it. They were not made with the schoeller dry skin but some other cheap stiff fabric. The had a wool liner instead of the primaloft liner which was really stiff and itchy. I tried hard to like them but after ski touring with them and having itchy hands that cramped up trying to hold onto my ski poles with stiff ass gloves I returned them and bought the OR ascent gloves. It's too bad because the OR ascent gloves aren't as warm as the original BD gloves but they aren't itchy either.
I bought these for my wife. We do a lot of skiing in and out of bounds and I hope to get her into overnight winter backcountry. Her hands are endlessly cold despite proper hydration and calorie intake. Bottom line is these gloves are PACKED with insulation. If your hands are still cold with them on, you have issues other than the gloves. No other glove I've seen packs in insulation like this. If you're still cold, buy mittens because gloves just ain't gonna cut if for ya. The only reason they got 4 stars is because of the lack of wrist strap... However she says the elastic wrist feels plenty snug and secure.
Hi- I had bought the men's small BD guide...
Hi- I had bought the men's small BD guide glove for myself (I am woman) a month ago and have been using them every day skiing in whistler.-they have been great. Someone stole them yesterday when I put them down(while skiing up on the mountain- can you imagine!so I had to ski down from the top at 11AM without gloves) I have 4 months left of skiing. So my question is-- the women's ones that are on sale for $100- they don't seem to have good reviews- are these the exact same glove?-- Can you physically get the men's small and see what it is equivalant to in the woman's - maybe the large?-- or are they made differently because they are different years or some other reason-- I particularly liked the wool inside and want to make sure it is also inside the woman's one with just as much filling.thanks
My wife uses the women's medium and the men's large. The men's large is, well, larger although it fits well. In particular, it provides enough room for a glove liner and still fits comfortably.
My fingers get cold VERY easily. These gloves are supposed to be warm, according to everyone I have talked to, however, after wearing them everyday this winter, I was not satisfied. My fingers were almost always cold. I took them back and got mittens instead, which should work better for me. If your fingers don't get cold easily, then these gloves will work great! They look really cool, especially in the granite/pearl color.