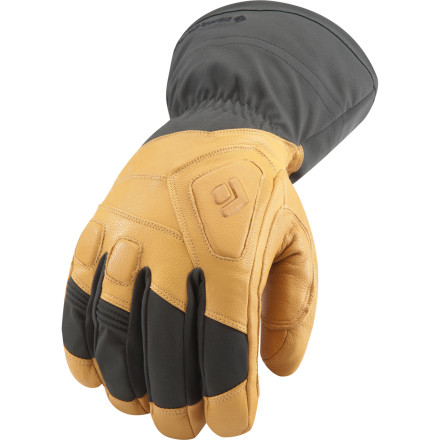 Community Images
Description
Built to withstand day-in and day-out winter abuse.
Backed with a Gore-Tex XCR waterproof breathable membrane and PrimaLoft One insulation, the Black Diamond Men's Guide Glove deals with harsh conditions so they can't put a damper on your epic day in the backcountry or the resort. Plus the Guide's removable liner boosts versatility and maintains your hand dexterity throughout the stormiest winter weather while you patrol, guide, or tour.
Abrasion-resistant nylon shell with four-way stretch fabric offers stellar durability, longevity, and dexterity
Waterproof, windproof, and extremely breathable Gore-Tex XCR insert on the removable liner optimizes comfort, keeps hand warmer and drier longer, and is ideal for higher-activity levels in winter
PrimaLoft One insulation and boiled wool in removable liner warms your hand, provides superb breathability and temperature regulation, and adds a soft touch
100g fleece palm lining wicks moisture and dries quickly to eliminate annoying clammy-hand issues
Goat leather palm and palm patch supply dexterity
Molded EVA foam padding on knuckles for impact protection when you traverse out onto a narrow skin-track through the tight trees
Drawcord gauntlet seals in warmth and blocks snow
Temperature Range: -20/10F (-29/-12C)
Tried and True
Familiarity:

I've used it once or twice and have initial impressions
The BD guide glove is fantastic, it's been in the BD line for a few years now and they have no reason to stop producing it because it gets the job done. The over the cuff is great for those blistery days on the hill, and you get the dexterity of a glove with plenty warmth. These are great gloves and can't imagine buy another pair for a few years, because of the great quality of the leather.
Runs small
Familiarity:

I've used it once or twice and have initial impressions

Fit:

Runs small

Size Purchased:

Extra Large
I'm 5'6, 178lbs and the first pair of Guide gloves I received was a large and these were definitely too small. My middle finger is 3" , thumb is 2-1/4" and pinky is 2-1/2" long. I exchanged them for an extra large pair and these feel better, but even these feel a bit tight. I think I'll keep them and hope that they stretch out a bit and become more comfortable. Appear to be very well made.
Burly!
Familiarity:

I've put it through the wringer

Fit:

True to size
These gloves are warm, durable, burly. I have owned several pairs and have never had a chance to see when they will wear out because I lose them first. Great for ice climbing, mountaineering, and skiing. They are thick and warm but you can still easily manage a rope/belay or put in a screw. The powder cuffs go up the arm enough to work as intended. The all leather hand design prevents ropes from wearing them out and prevent material from snagging in belay devices. The only times my hands have gotten cold wearing these are when my upper body has first gotten cold. If you layer properly, these gloves are plenty warm.
Frostbite
Familiarity:

I've used it several times

Fit:

Runs small
I bought this glove for a late winter ascent of Shasta. At the time of purchase I thought they would be overkill but I figured I'd use them for snow sports in the Midwest afterwards. The gloves are very well built and high quality. I didn't have a problem with the liner coming out when I removed my hands as others have. I applied conditioner and waterproofing before my trip as I noticed while playing around in the snow that the leather soaked up water.
I climbed Shasta on an exceptionally windy day (gusts of 60mph) and sustained winds of 20-25. Single digits at at summit, exactly the type of conditions BD says these are made for. After only 30 minutes of climbing my fingers were freezing. I kept going but at each stopping point I had to take my hands out of my gloves and warm them against my body and each time I couldn't feel my fingers. BD says these gloves are rated to -20. Bull****. I ended up getting frostbite on two of my fingertips.
Save your fingers and find a warmer glove-I returned mine and bought Outdoor Research Alti gloves.
Great glove but not for me
Familiarity:

I've put it through the wringer

Fit:

True to size
I wore this glove for three seasons and am now retiring it. Fresh out of the box this glove looked killer and bomb proof. My first impressions putting it on were that it's a bit stiff but feels warm and strong and might fit a tiny bit smaller than the average glove. I loved the piling on the inside on the back of the hand(still my favorite feature) and the removable liner was great for quick drying. The glove quickly became more flexible after a few uses. These were as waterproof as any glove I had prior and I highly recommend treating them with nikwax from time to time. I bought these because they were supposed to be the toughest and the warmest unfortunately the primaloft didn't cut it for me. I spent the last few winters doing quite a bit of quading and snowmobiling and my hands suffered minor frostbite on a number of occasions. The problem with using primaloft is that it similar to down in that it loses it's insulating abilities when compressed, which for me was most of the time.
After I figured out what was happening I only used the gloves around the yard where I didn't have to rely on them as heavily. Eventually the stitching on the fingers gave out. At which point I super glued the seams back together and continued to use them until the leather on the index fingers wore right through. If you are not gripping things all day like I was I highly recommend them, however, if you are there probably are better options out there.
Met Expectations
Familiarity:

I've put it through the wringer

Fit:

Runs small


Bought these in hopes of not having to spend $50 to $70 each year for new ski gloves. Had the BD Guides for seven seasons now and they have held up well. Leather, stitching and Gore-Tex are in excellent shape and they have stood up to wear and use that had lesser gloves cut and busting at the seams after only one season.

They are decently warm, but require a hand warmer on the coldest days. Did not come with a wrist lanyard which seems odd given the price and that most competitive gloves do include a lanyard. I said they "run small" but should qualify that by saying at least on me. I have the XL's and they could be a tad bigger but others may not have this issue.

Only negative after seven seasons is the synthetic micro suede nose wipe material has flaked off. The underlying Spandex that makes up said nose wipe on the back of the thumb has begun to tear away from the leather. The rest of the glove is in such good shape it was worth having the thumbs repaired. I expect the gloves to provide several more years of service.

I'm happy with the item and they met my expectations.


Super solid glove.
Familiarity:

I've put it through the wringer

Fit:

True to size
Overall, I really love this glove. It's super comfortable, super durable, and pretty warm. I've had it in all sorts of conditions and it really holds its own. I'm holding the 5-star rating because while it's relatively warm, I think it should be a bit warmer for how much insulation is in it, and how expensive it is. On cold days (below 20 deg) I have to wear liners underneath to keep my hands from getting cold.



Overall, a great product (especially if you can get it on sale).
Warm durable glove
Familiarity:

I've used it several times

Fit:

True to size
I used these on 6 ski days where the weather varied from cold & cloudy, to cold & snowy, to bluebird and 30 deg. I found the glove to be nice and warm down to the high teens, but at 15 deg and lower, I would use a liner. Glove did not get wet after an all day snow storm with wet snow late in the day. I performed the provided leather treatment before using the gloves. They are pretty stiff initially but I found the gloves relatively easy to manipulate after a couple of days of wear. I would purchase them again with the knowledge of their usable range.
The best and warmest finger glove ever.
Familiarity:

I've put it through the wringer

Fit:

True to size
I have reynauds, so I get really cold fingers, very easily. These are the warmest finger gloves I've ever used. I put some waterproofing wax on the leather (because I'm A/R), and put these to work. I've had several good ski days on them, with temps dropping down into the upper teens. Normally, that'd be mitten territory for me, but these gloves have kept my hands warm and dry--surprisingly so. The leather is pretty bomber; shows no evidence of the trees, rope-tows or rocks that they've interacted with. Thus far, I'm loving these gloves!



Sizing is true to the size chart; I ordered a large, and they fit perfectly.



They seem entirely waterproof to my skiing use.



My only constructive criticism is that if your hands are moist and you pull the gloves off, the insides pull out just a smidgen, which makes it hard to put them back on with your moist hands. That's more a problem with the pinky hole than anywhere else. Not a deal breaker by any means...more of a minor annoyance. Great gloves overall, and I'm glad to have them.
Warm Gloves!
Gender:

Male

Familiarity:

I've used it several times

Fit:

True to size
I just got a pair for this winter, mostly alpine skiing all over Colorado. They are really warm with a good grip. Looking forward to wearing them on the cold days. A disclaimer--I am a weekend warrior but I do test some products from Gore from time to time, but the ones I choose!
I am undecided between these and the Guide Finger lobster style mit. I live in Michigan and it gets very cold where the good skiing is up north so I am looking for warmth but would love something with some dexterity too. I mainly will be using these for skiing but may be doing some ice climbing in the near future. Will I lose much of the dexterity with the Guide Finger compared to this glove?
Burly Glove
Familiarity:

I've used it several times

Fit:

Runs large
I'm usually a mitt guy, but decided on a glove last season in order to increase dexterity. I also noticed a lot of patrollers at alta and snowbird were rockin these gloves. For a glove, the guide glove is as warm as a mitt. The goat leather is thick and durable. The extra padding around the knuckles was great when tree skiing. Only reason I don't give this glove 5 stars is that it doesn't feel that flexible/the dexterity isn't great. The glove takes forever to break in. Although advertised as a glove that is great for climbing and ski mountaineering, I would think that it would be tough to tie knots with these gloves.
Good for most days
Familiarity:

I've put it through the wringer

Fit:

True to size
Just wanted to throw my hat in the ring for these bad boys:



1. They are not for super cold days. Use mittens.

2. They are BURLY and hold up well.

3. As a result of #2, they are a little stiff and you do lose some dexterity, so because of #1, just take your gloves off if you need some!

4. No easy attachment for idiot cords - no loops outside the cuff. To me, this is a major oversight for mountaineer-grade gloves.
Very solid, but have shortcomings
Gender:

Male

Familiarity:

I've put it through the wringer

Fit:

Runs small
Two seasons in these guys so far. Some thoughts:

-They look cool. I get compliments. I feel like a bada$$ wearing them. Rad.

-They're tough. ~60 days and very little wear.

-...And sensitive: The velour black bit on the wrist is perfect for snot-wiping without ripping my nose off my face.

I'm serious, this feature is money.

-For how burly they look, they're just not that warm. Don't get me wrong, they are better than most and I love them, but I still get cold fingers @ 20F or lower, despite all that insulation (which is ample). For colder days I use cheap store-brand mitts that are warmer (mitts will always be warmer, less dextrous though, which leads me to...)

Dexterity: Pretty good! Not crazy mind-bendingly good, but pretty darn good.

BUT: The fingers are awkwardly short. Average-size fingers may be cramped. Mine are normal length, and the tips always jammed up against the tips of the glove, causing some pack-out (and contributing to cold fingers). Just seems like the hand/finger ratio is off. I'm a size 8, went with large.

-The liners are finicky and a pain (layered polartec/fleece twists and bunches on itself when removing to dry)



Would I get 'em again? I dunno. From what I can tell other offerings (Hestra) have limitations of their own, and I love the tan leather color. So, probably. Maybe the lobster claw version instead.




Excellent Expedition Glove
Familiarity:

I've used it several times

Fit:

True to size
Took this glove on a winter ascent of Mt Rainier. Wore it when my other gloves couldn't keep my fingers warm. This glove was amazing and I will bring it with me everywhere!
Starts Warm and toasty but....
Familiarity:

I've put it through the wringer

Fit:

True to size
bought these as i have the lobster version and find those too warm...was hoping these would be a happy medium...

have spent pretty much the last 30 days using these in mostly trying conditions (Hakuba Japan...from +5c to -12c) generally heavy powder and my "back to base" touring kit ....over periods of several hours however these gloves do lose their initial warmth quickly. Whilst highly water proof, the leather does get damp faster than similar gloves (ie. hestra alpine pro's)...not sure of the leather treatment process at BD, but have found Hestra gloves far superior in this capacity. Inserts are great initially, but quickly "pill" with constant use and don't particularly like getting damp from snow infiltration.
Coldest Glove I own
Familiarity:

I've put it through the wringer

Fit:

True to size
On ski patrol on a small hill in North Carolina. Bought these gloves for very cold days. Always fail to perform at 10 degrees or less. Was in Vermont a few weeks ago for sustained tems at -10 to 0 and had to stuff them full of handwarmers to keep from freezing. Very bulky and stiff. On the plus side, they are dry, and well built. Sizing is accurate.



If you are looking for a glove to handle super cold temps, this isn't it.
Warm but not for long
Familiarity:

I've put it through the wringer

Fit:

True to size
These gloves appear bomber, but the PrimaLoft liners pack out fast and lose a lot of material. After about 20 days these gloves just aren't warm anymore. Unfortunately Black Diamond won't sell replacement liners so I don't use them much any more.