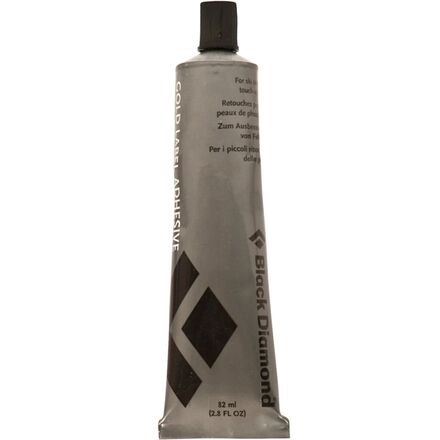 Community Images
Description
Increase your skins' life with the Gold Label Adhesive.
There's nothing worse than fumbling with your skins in the backcountry, so touch up your skin glue with the Black Diamond Gold Label Adhesive. Count on this handy squeeze tube for easy application onto your skins, and let the reliable skin glue breathe some life back into your climbing skins.
Needs a high skill level
Familiarity:

I've used it once or twice and have initial impressions
This seems like it'd be a great product for patching, if you have more skill than I do about using it. I thought it would be easier than the Glue Renew sheets considering that I just had to patch a few spots on this particular pair of skins. Not so, but no fault of the Black Diamond product. It just inherently takes more skill than the sheets.

Regluing with the sheets is also a tedious and lengthy process, but it doesn't demand any great touch. I had a lot more trouble using this tube glue and wound up using a whole tube to patch one pair of skins that weren't too bad.

I thought I would feel more comfortable after, say, the first half of what I had to patch on the first skin, but I never really got comfortable. To be fair, I am only mediocre as a craftsman so I blame myself as much as I blame the product.
How to clean and reglue skins
a method for getting gunk off and fresh glue on.
Good for touch ups, can use for reglue
Familiarity:

I've put it through the wringer
I have used this glue for touch ups and for reattaching the skin tip loops on the older BD skins (before you had to screw the tip loop into the skin and instead folded the top of the skin onto itself). The glue does those very well, obviously.

The other use is to reglue the entire skin with this tube. Although the strips may work better, I was able to successfully reglue my BD mohair mix skins after removing the old dirt/glue mixture. The most important thing to do is to apply several thin coats instead of 1 thicker one. I completely used 1 tube to reglue a pair of skins that measure ~185cm long x 110mm wide. Make sure you have a source of fresh air...it got pretty stinky in the room as they I was working and gave me a headache. The photo was taken as the reglue was drying.

I used this link as a guide, but adapted as needed:

http://www.skiingthebackcountry.com/skiing-resources/reglue_climbing_skins
Not bad, but ...
Familiarity:

I've used it several times
Gold Label is great for touch-ups, but like a below reviewer said, I would not recommend for a total re-glue of your skins. A friend of mind who's a ski tech. recommended that I use this to re-glue my entire skin instead of using the sheets. I have been on three tours in extremely cold temps. (-20 F to 0 ) since and I haven't been really happy with the result. Have the skins failed? No. But the stick hasn't been confidence-inspiring either. I would describe the glue as just-tacky-enough, which is fine ... but a little sketchy, especially when you're four miles from the car, there's two ft. of powder, and it's below zero.



The temps. have been pretty extreme on my tours since I used Gold Label, but I want to know I have glue on there -- especially in those temps. -- that's not going to fail.
Can you use this on any brand of skins?
Can you use this on any brand of skins?
This is a great option in the times that your tips and tails are loosing their stickiness. I would not recommend for use with full glue replacements buy the glue renew sheets if that is what you are looking to do. Great for small repairs! ***one extra note if you are having an issue with your glue loosing its stick first try a piece of parchment paper and an clothes iron on medium heat. lay the paper down on the glue smooth side towards the glue. Then iron over the paper. it will smooth out the glue and renew the stickiness.
after a season of heavy use your skins aren't quit as sticky as you would like, this stuff is great because you can do touch up jobs on patches where you skin blew into the side of your car, or a cat,or dog, dirt, etc. I've use it on all brands of skins, and it seriously brings the stick back to life. Apply the glue, let it dry (~1 hr)before putting the skins back together or you'll have a problem, and you're back in business. Once it dries it isn't perfectly smooth like the new skins are but its just as stick if not more. Companies sell entirely new glue renew sheets but that really seems like a pain and usually there are just a few patches that need more stick, it used to come in a big jar, but the tube is the same stuff, just smaller. Try it, it will make your skins as sticky as they ever were.