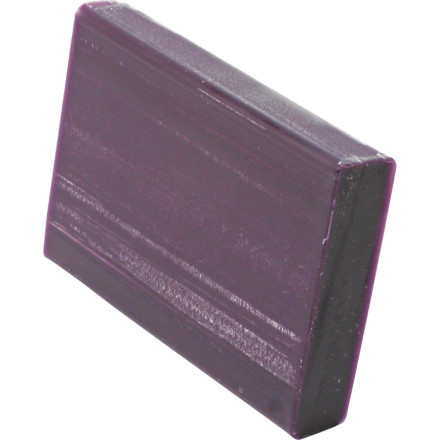 Description
Unless you like carrying extra snow around, pick up some Glop Stopper.
Despite what your buddy says about training weight, touring with snow-caked skins is no fun. If you're headed out on a warm spring tour or ski in frequent temperature inversions, Black Diamond Glop Stopper Wax is an essential part of your backcountry toolbox. Applied to your climbing skins, Glop Stopper keeps your glide smooth and free of snow build-up.
This is a must-have for any spring tour. The wax is super effective at keeping your skins snow-free. I have nylon skins that tend to get a lot of snow stuck to them and since I have been using this stuff, I haven't had any issues!
Slop on the glop
Familiarity:

I've used it several times
Don't tour without it.... Just ask the man below...
TRIP SAVER!
Familiarity:

I've put it through the wringer
First day on G3 alpine skins, the temp dropped and snow clumped on my skins. That sucked. Second trip, ironed on this wax before going out. no problems since. I'm going to attribute it to the wax. Get it!
Black Diamond's glop stopper is an essential while touring in the spring. It's cheap, works as advertised, and will save you a massive headache.
A helpful tutorial from the StraightChuter himself...
60% of the time, it works all the time!
Familiarity:

I've used it several times
Just kidding, this stuff is awesome. Hopefully I need it 0% of the time this year, but its an absolute life saver to have some of this handy in your pack at all times. I dont even take it out. Ever. For fear of forgetting it when I need it the most. If this stuff were $50 bucks I would buy it, even if it meant saving me just once from having to take my skis off every 50 yards to scrape hunks of wet, heavy snow off my skins. Do yourself a favor - buy it. Do your friends a bigger favor and buy it too, so they don't have to hear you complain and drag ass.



Its about the size of a deck of cards, and is super hard. It often breaks into couple pieces b/c its brittle. Don't let this discourage you. You'll still find yourself scraping small pieces of it on your skins thinking "is this even doing anything?". Don't worry, it is. And you'll notice the difference right away.
Better to have it and not need it.
Familiarity:

I've put it through the wringer
Better to have it and not need it, than not have it and want it. Cause when you want it, you want it bad. I live on a island with lots of snow, and lots of salty air and temperate temperatures. So our snow is never far from wet. Slide this goo on your skins and enjoy the glide. Like many below have said, use it up. Goo is good, and if you just put on a light coat, it'll be done in the first few glides.
Getting wet and heavy? Rub this stuff on and you are good to go! As others mentioned, dont go easy on it!
essential for spring touring
This stuff keeps the snow from sticking! does its job as advertised. Definitely need to grind it on there, but it keeps you from carrying unwanted snow on your skins and gives you great traction
Suicide Prevention
Gender:

Male

Familiarity:

I've put it through the wringer
Nothing is as frustrating as going out for a ski tour and having your skins glomm up. Hateful, hateful, hateful. It kills the glide of the skins, adds tons of weight, gets worse with each step and just comes back immediately after you clean it off. Luckily, there is a simple solution - BD Glop Stopper wax.



I slice off about 1" at a time and carry it around with me, as well as a small credit card sized chunk of plastic. You have to really scrape the water out of your skins first, and then rub in the wax as hard as you can. Even then, you'll probably have to do this at least twice once you've got the glommies. Better yet, do it at home before your skins even get a chance to glom up.


worth its weight in GOLD
Gender:

Male

Familiarity:

I've put it through the wringer
get this, put it in your pack. forget about it. Most of the time you dont need it. But when you do..... pray to little baby jeebus you still have some left!
worked well for the job!!!!
Gender:

Male

Familiarity:

I've used it once or twice and have initial impressions
well I was lucky enough to have a friend tell me about skin wax before my 1st split adventure. so it worked well. would recommend to any friend.
especially in warmer conditions and wet snow. Keep going up hill!
Black Diamond Glop Stopper Wax
An absolute must have in the spring time. Well, that is unless you like carrying around another 5 pounds of snow stuck to your skins.
Dont leave home without it
I will leave on a touring trip with this wax ever again. Simple as that.
You dont generally need this stuff in the winter, but once the slush hits this is a must! It'll keep the skins snow free... and what more could you ask for. My set up is already 100 lbs per leg, why add more snow weight when a $10 piece of wax can save you
When you need this stuff, it's every bit worth 12 bucks. It really works and is a spring touring necessity. Save yourself the misery of dragging around another 15 pounds of snow on your skins and get glop stopper wax. I always have a block in my pack.