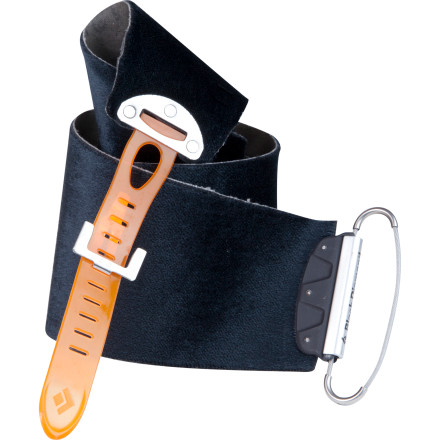 Colors
Description
Make it quick.
Rejoice backcountry skiers, because the natural mohair fiber of the Black Diamond GlideLite Mohair Pure STS Climbing Skin makes this bad boy one of the fastest, most packable ski touring skins on the planet. Cleverly engineered tip and tail attachments accommodate a wide range of ski shapes and sizes, and Black Diamond's own Gold Label glue keeps this skin stuck securely.
Gold Label adhesive is Black Diamond's own in-house formulation which performs in a wide range of temperatures and stays sticky season after season
Mohair is a natural fiber with inherent water-repellent capabilities and a hollow core that makes the material light, stiff, and fast across the snow
Tip loop attachments fit a wide range of ski tip shapes and sizes, and the loop wire can be easily adjusted to fit different skis
Synthetic tail straps have a slight stretch that creates a snug, secure fit no matter which slot the metal clip is sitting in
Tail attachment provides up to 10cm of adjustability
What is the length of the 80mm wide skins?
Is the length adjustable?

Hey Chris,



These skins are trim to fit in that you will trim them to the length you need, and then attach the front loop hardware. Once installed, you can readjust length using the tail clip.



Ben

brabinowitz@backcountry.com

801-746-7564
Mohair, Mo Problems!
Familiarity:

I've put it through the wringer
The main difference between these skins and the normal BD Ascension Nylon Skins is that these are essentially thinner and more lightweight. These deductions are more for the feel in your pack, rather than making your uphill climb easier - as its only pretty minimal - and in that case, if you're a stickler for ounces they're a good choice, otherwise its not a huge difference.



In my opinion, you do sacrifice a little bit of uphill grip with the Mo Hair. I made the mistake of using these for a pair of super rockered skis, which therefore had minimal contact with the snow on steep climbs. Combine that with a slightly lesser grip and I was occasionally slipping and struggling on tough climbs. So keep that in mind.



My other problem is a bit silly, but may effect you if you are as OCD as I am. These skins were so thin that often at the top of windy peaks, when I'm pealing them - they would flap around so much (noticeably more than normal skins) that I could not fold them up evenly to pack more efficiently. I hate wasting time on top of a cold peak, so this was a problem for me.



Anyways, just some things to consider.
Here is a video that shows how to trim your skins for your skis. These skins will fit almost every length ski, you just need to figure out what width you need