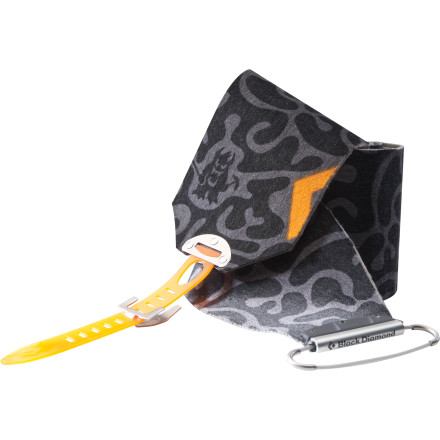 Colors

Videos

Community Images
Description
Naturally fast on the up track, and light in your pack on the way back down.
A mix of fast, natural mohair material and durable nylon make the GlideLite Mohair Mix STS Climbing Skin Black Diamond's most versatile long-haul GlideLite system. This skin is up to 60g lighter than similar Ascension models, and both front and back are adjustable so it's easy to swap between your touring skis. Who wouldn't want the best balance of efficient glide, reliable traction, and weight for their buck?
Gold Label Adhesive sticks to the bottom of your skis in the coldest and warmest temps and remains sticky season after season
Mohair material is a natural fiber with inherent water-repellent capabilities and a hollow core that slightly reduces weight while still offering plenty of traction and supreme glide
Nylon material, which is mixed in to form the Mohair Mix, boosts skin durability
Strong metal wire tip loops fit a wide range of ski tip sizes and can be easily adjusted or replaced
Tail straps are riveted in place and have an even stretch to provide the snug, secure fit you need to keep skins in place
Prefer these to Nylon skins
Familiarity:

I've put it through the wringer
I've got a couple pairs of these skins and also a pair of the Black Diamond Nylon STS skins and I hands down prefer these to the Nylon skins. The Nylon ones are good in their own right, but the Mohair Mix is significantly lighter and more compact, which is a big help when my touring pack starts getting really full. I really haven't noticed a difference in grip between the Nylon and Mohair Mix, and the durability seems to be relatively comparable between the two. I guess I see the Nylon ones lasting a little bit longer but I suspect that the glue would go out on either set before you really start wearing through the skin material itself. The biggest thing that I've noticed between the two is that the Mohair Mix skins seem to hold more water if you're skinning through really wet snow. Fortunately our snow is usually pretty dry here in the Wasatch, but it might be something to keep in mind if you're looking to do a lot of skinning in coastal ranges or late spring/early summer.

These skins are pretty easy to set up - mine came with a flat front end that you cut to length before installing the tip loop with a set of breakaway screws. All of the hardware was included so all I needed was a screwdriver and a utility knife to cut the front end to length. I do notice a bit of stretch in my skins, especially in wetter snow. When trimming the length, make sure you take this into account don't leave your skins too long. That being said, I haven't had issues with them stretching so much that they come off. As others have mentioned, the trim tool that Black Diamond includes with their skins pretty much sucks. Do yourself a favor and pick up the G3 skin trim tool.


I'm All About These
Familiarity:

I've put it through the wringer
After skinning for years on older Black Diamond nylon skins, I got a pair of these to skin on some pretty wide skis. Overall, I feel like they glide just as well and the weight difference is so small its hard to tell the difference. What makes me love them is how compact they are inside your backpack compared to the nylon skins. I love skiing with a smaller pack, and these let me put more in/cinch down my pack a lot more. Totally comparable everywhere else.
Haven't slipped yet.
Familiarity:

I've used it several times
Granted, I haven't used these skins for a long time, but I'm amazed at how Black Diamond's GlideLite Mohair Mis STS Climbing Skins prevent slipping on steep ascents. I've taken these things up the same steeps that my previous skins failed to stick to. They're lighter than my old pair too, so skinning just got a lot easier. My only complaint is Black Diamond's stupid trimming tool worked once before I broke it and had to buy another one. I'll reply on this comment the day these skins finally slip.
Black Diamond GlideLite Mohair Mix STS
Great Skins
Familiarity:

I've put it through the wringer
These are a great skin! They are light and supple. I forgot how much weight you can save with your skins, especially for fatter skis. They grip very well and resist moisture effectively.
skinny skinning
Familiarity:

I've used it several times
Pick up a pair of these around the sni-a-grab extravaganza in denver about two years back and love the ease of use when I want to go on a quick side-country. no issues with the glue with regular maintenance but really needs to be at least a little warm to adhere properly. Gets the job done.
Not the best
Familiarity:

I've put it through the wringer
Light skins but a couple of problems with these as opposed to the nylon STS.

One, they stretch considerably in use -- enough that you may be moving the tail hook during the trip.

Two, they curl at the ends and edges allowing snow to get underneath until there is no stick left.

Twice, the combination of curling and stretching has left me with a skin that won't stay on the ski at all.

The solution is constant refreshing of the glue, especially the ends and edges, but way more trouble than other skins I've used.
they are all 185cm uncut plus 15cm tail
It depends, as they are available in a multitude of lengths. Regarding overall length, they are available in "15mm width increments from 80 to the new 140 mm;" thus, you will find possible options consisting of 80mm, 95mm, 110mm, 125mm, and 140mm lengths. Additionally, BD notes on their website that the "patented STS adjustable tails provide 10mm of length adjustment," so whatever length you ultimately get provides you with a bit of leeway when locking in the measurement that works for your setup.

Hope this helps!
that's confusing. methinks you talk about width, not length. since i want to decide whether to go down the kicker skins alley or not - size for this time matters a lot, at least for me...



to put it the other way, are these adjustable in lenght, since there are no other options than the 80, 95, etc mms..



thanks anyhow.
Best Answer
they are all 185cm uncut plus 15cm tail
Adequate, but nothing special
Though black diamond finds a good balance of glide and climb, there's nothing really terribly special with this skin. Glue is ok, glide is better than a full nylon skin, but not so incredibly life changing that I'd recommend this over other options. Easy to cut, though the black diamond cutting tool is not fantastic. Overall it's a good option, if you're looking for a skin that is light, and finds a solid balance of glide and climb.
Is the 125mm size wide enough for Voile...
Is the 125mm size wide enough for Voile V8 186cm which measures 146-115-126? Or should I hold out for something wider to get full wall to wall coverage?
The Voile V8 has a considerably rockered tip and raised tail, which will make wall-to wall-coverage a little superfluous as a practical matter. I do understand the need some people have for aesthetic coverage, but the Black Diamond GlideLite Mohair Mix STS Climbing Skin will give you all the coverage you really need to get up the mountains of you life.
Great Skins - Balance of Glide and Grip
Familiarity:

I've put it through the wringer
Have used the full Nylons and other brands in the past but these blew me away. They glide amazingly well and still have enough grip for the uptrack. I have had very few issues with the glue and are in fact a little too sticky out of the box. Pack down to a smaller size than the full nylons and are a touch lighter as well. BD definitely has the best tip and tail attachment for traditional skis(recommend the G3 tail attachment for twin tips, use their cutter tool while you're at it as well). If you're looking for some new skins and like good glide, you won't be disappointed.
Improved glide, lighter than Nylon skins
Gender:

Male

Familiarity:

I've put it through the wringer
Second pair of the BD Mohair Mix skins. Compared to BD Nylon skins, they are much lighter, more supple (easier to fold), more packable (smaller) and of course provide noticeably more glide.

They do seem a little more delicate than the Nylon version but I have used these for the past four years (with careful skinning technique over trees and rocks) and haven't torn or ripped a pair yet.



Order the G3 trim tool too... makes cutting your skins a breeze. Automatically accounts for the skis edge and cuts ~2mm smaller without having to reposition. Storage bag included.



An added bonus, the G3 Twin Tip Connector kit works perfectly with the tail straps:

http://www.backcountry.com/g3-twin-tip-connector-kit?ti=U2VhcmNoIFJlc3VsdHM6ZzM6MTozOmcz




Here is a video that shows how to trim your skins for your skis. These skins will fit almost every length ski, you just need to figure out what width you need
Nice skin, could be better
Recently purchased for use on my new spring/summer skis. I purchased the 80mm which works perfectly on 85mm skis with no trimming, only need to be cut to length. Climbing grip is good, and glide is adequate at this time, although experience tells me it will improve with more use. Mohair needs to break in for optimum glide. They are lighter and thinner than my previous pair of mohair mix skins, resulting in a small fold size. In spring conditions the glue held well on the ski base, in fact too well, as they are very hard to pull loose with the new glue formula. The other oddity, is they pull apart much easier from themselves than the old formula glue. I guess one could conclude they have strong adhesion, and weak cohesion. I am not a fan of the newer tip loop, as it forces the skin to be cut rather exact. I like the old style loop that requires the skin to be cut long and folded back on itself, giving the flexibility to refit to other skis that are longer without re-positioning the tail clip, or running out of tail adjustment length. The last negative is the pair I bought had voids in the glue on one skin. Fortunately I had some BD glue laying around, so not a big deal, just a little QC issue. Overall these are an improvement over the skin they replaced, and I recommend them.
will the BD skins fit 195 length skis? I...
will the BD skins fit 195 length skis? I can't see a length listed

thanks for your help Alan
Alan,

Yes, they will. I use them on my Madshus Epoch 195s. Go for it!
Good Luck with the glue so far!
Gender:

Male

Familiarity:

I've used it several times
Good glide, nice stick, very packable, grips well on steep ascents, and also rips off the ski well. I haven't noticed much difference in the glue so far, but will post if I do.