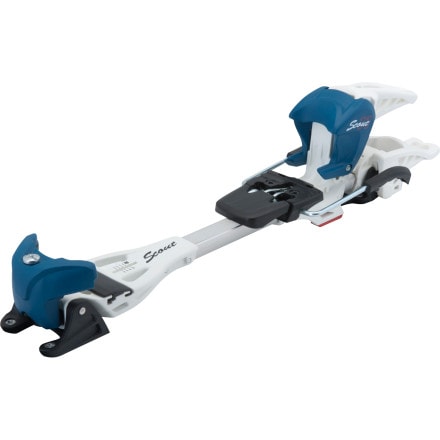 Colors
Description
You've heard of quiver-of-one ski? Here's the quiver-of-one binding.
Look no further than Fritschi's Diamir Scout Binding with 95mm Brake when you need a balanced, all-mountain ski binder for dawn-patrol touring in moderate terrain and inbounds ripping off the lift. Although it's plenty light, this binder features uncompromising build quality and robust materials that ensure durability season after season. The walk mode is easy to access, the action is swift and smooth once you're skinning along, and the release system features a wide range of technologies design to absolutely minimize the opportunity for premature release. Both seasoned vets and recreational backcountry skiers will find the Scout Binding well suited to their use.
Toe piece allows a wide 20mm of lateral movement before releasing the boot from the binding, which drastically reduces the opportunity for non-crash-related premature ejection
Swivel anti-friction plate allows for consistent and friction-free sliding of the toe of the boot in the binding (important for touring and freeride boots with rubber soles)
Heel piece allows for 13mm of vertical movement before releasing the boot from the binding, which also drastically reduces the opportunity for premature ejection
Both toe and heel feature a mechanism with a high restoring force so the toe and heel of the boot are returned to alignment quickly in the event of lateral or vertical movement shy of the maximum release point
Compact Technology is the core piece of this binding: a light and extremely torque-resistant module responsible for the front safety release and hinge support
Compact Technology allows multiple binding functions to operate in a smaller package, thus reducing the non-mounted footprint and lowering overall weight
Sliding binding-bar linkage allows the ski to flex naturally underneath the boot and between the mounting points of the binding
Change from walk to ski mode without leaving your bindings by simply flipping a switch with the end of your ski pole
Heel elevator is easy to flip up with your ski pole and offers four angles of inclination from three degrees to thirteen degrees
Once mounted, binding has a position height of 37mm from the top edge of the ski
Binding accommodates skis with waist measurement of 67mm+ and DIN ISO compatible touring and alpine ski boots
Share your thoughts
What do you think of the
Black Diamond
Fritschi Diamir Scout Binding - 95mm Brake
? Share a...
Do you sell replacement parts like the heel elevator piece?
Thank you
Responded on
We dont sell that piece, I would call Black Diamond warranty directly. They might be able to send you a piece or have you send in the binding so they can fix it. (800) 775-5552 is there main number.
Do you sell brakes for the Scout binding that will fit skis with a 100mm waiste - and if so, can you send a link.
Thank you!
Responded on
Hey jonp779770,

We currently have BLD1242 our inventory at the moment has a 108mm width I hope that will work out for you. or you can get the 95mm width and bend the brakes to clear the edge.
Great bindings on-area and off
Posted on
These binding are just right. Super affordable and function well. I'm an early intermediate skier and loving these bindings at Alyeska and backcountry.