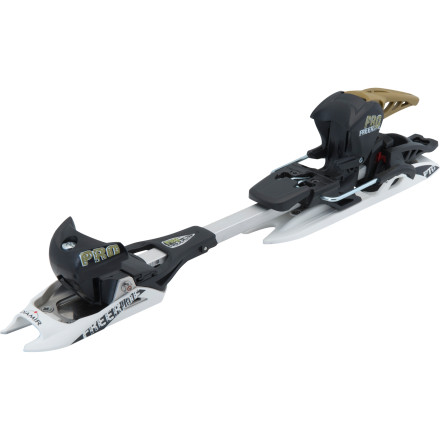 Colors

Community Images
Description
Wider, more powerful, and rocks modes for both touring and skiing.
Sure, the Fritschi Diamir Freeride Pro 108mm Binding has a touring mode, but that shouldn't lead you to assume that it sacrifices anything in the way of downhill performance. This is a wide, burly touring binding for powerful skiers who seek technical lines far away from the resort. Robust materials mean ultimate durability, a clever linkage design transmits all your power directly to the ski, and a dialed release system protects you against disastrous early-release scenarios. Glide quickly on the skin track and then push this top-shelf touring binding until your speed leaves you screaming like a child.
Toe piece allows a wide 20mm of lateral movement before releasing the boot from the binding, which drastically reduces the opportunity for non-crash-related premature ejection
Swivel anti-friction plate allows for consistent and friction-free sliding of the toe of the boot in the binding (important for touring and freeride boots with rubber soles)
Heel piece allows for 13mm of vertical movement before releasing the boot from the binding, which also drastically reduces the opportunity for premature ejection
Both toe and heel feature a mechanism with a high restoring force so the toe and heel of the boot are returned to alignment quickly in the event of lateral or vertical movement shy of the maximum release point
Sliding binding-bar linkage allows the ski to flex naturally underneath the boot and between the mounting points of the binding
PTC (power transmission control) offers superior power transmission to the ski by using wide and torsion-resistant front and rear binding plates, a lateral stabilizer beneath the heel, and a stabilizing bridge shape between the heel and toe
Change from walk to ski mode without leaving your bindings and with a simple flip of a switch with the end of your ski pole
Heel elevator is easy to flip up with your ski pole and offers four angles of inclination from three degrees to thirteen degrees
Once mounted, binding has a position height of 39mm from the top edge of the ski
Binding accommodates skis with waist measurement of 80mm+ and DIN ISO compatible touring and alpine ski boots
Can you get new brakes and change them to accomadate a larger width ski?
Check out the Black Diamond Fritschi Diamir Ski Brakes (Item # BLD1242). They come in a 120 mm size to accommodate a wider ski.



Feel free to shoot me any questions about Black Diamond or other ski bindings:

klivingston@backcountry.com

801-736-4337
Unanswered Question
Can I mount these on BD Syncra ski 124-80-108
Good compromise
Familiarity:

I've put it through the wringer
This binding takes a lot of flak for no reason other than that it's not the best at any one thing. Markers may ski better, but they're noticeably heavier. Dynafits are lighter but can't take the abuse of in-bounds skiing. This binding sits right in between... plenty sturdy enough to handle heavy use at the resort but they aren't going to kill you on the uphill. And contrary to popular belief, they ski just fine... 99% of the skiing populace wouldn't notice a difference between this and their regular alpine binding underfoot. They stand a little taller off the ground but it's hardly noticeable when you're actually skiing. But of course, why would anyone blame their shitty technique when they can blame their gear instead?



So, who should buy this binding? Anyone that wants an AT ski that can do it all, resort or backcountry. In an ideal world, we would all have a ski/binding setup to handle every possible scenario but some times you have to compromise. Be honest with yourself, if touring will make up less than 25% of your season, then don't waste your money on a fancy Dynafit setup that will spend more time in your closet than under your feet.



FYI: I currently have this binding mounted to a pair of K2 Sidestashes, 181cm. I'm 5'8", 185lbs, and have never had a pre-release that wasn't my own damn fault. Approx. 60 days on this set up, 50/50 resort vs. backcountry.
Functional but better designs out there
Familiarity:

I've put it through the wringer
I had the previous model of this binding, no issues with durability but not a great touring binding. For one it is heavy but worse yet you are picking up the weight of the majority of the binding when you are you picking up your heel to glide. At first the weight isn't bothersome but after awhile your buddy's dynafits on the way to the summit of Rainier look better, and better.... Also they accumulate alot of snow buildup when touring through powder. They definitely look like a good conventional downhill binding, but I have found my Dynafit's ski down hill better and I'm a fairly aggressive, powerful skier (190lbs).
will these bindings work with the scarpa...
will these bindings work with the scarpa maestrale rs boots?
They will. Just be sure to adjust the toe height to accommodate the rockered sole properly.
how do i know when the toe height is adjusted properly?
If you aren't a certified ski technician then you shouldn't mount the bindings yourself. Better to have a 500 dollar binding mounted right on your skis.

If you know how to do ski mounting, then do you have a toe mounting plate? Put it under the toe of your boot and screw down the toe adjustment screw until the plate is tight and still able to remove. If you aren't sure of how to do this I would recommend you to take it to a ski ship that has ski techs certified to mount black diamond bindings. I am a certified ski technician in the East.
There are two ways to review these: Review them, review them vs. Dynafit.



Review: These are fully functional, they work great, I never had a problem with them.



Review vs. Dynafit: When you can purchase the Dynafit Speed Radical for the same price, you'd be crazy to go with Fritschi. Almost every touring boot made now is Dynafit compatible. Fritschis are clunky, loud (clack-clack-clack-clack), heavier, harder to maneuver on tricky ascents, and don't offer the top-of-the-line stability that Dynafit offers.



What it comes down to: I don't think these bindings, though totally functional, are worth anywhere near their price point.
Unanswered Question
Hey I was thinking of mounting these on...
Hey I was thinking of mounting these on the Black Diamond Amperage. These would be my resort/touring ski and I was wondering how they would hold up as both?
I have these mounted on Black Diamond Zealots and they work well. I've been touring with them a few times and they're quite a bit heavier than a dedicated touring binding, but fill a niche for someone who wants one setup for inbounds and backcountry skiing.
How are these for in-bounds skiing? I...
How are these for in-bounds skiing? I have the original fritschi's but don't feel as comfortable on them in bounds. Have these been upgraded and are beefier for inbounds skiing? I have a sidecounty setup already - trying to decide what to mount on new Katanas. Or would you recommend a downhill binding like the Marker Jester Pro?
Best Answer
I've skied the Freride Plus bindings on 183 Volkl Gotamas (106 waist) for several seasons for everything from euro-ice to bumps to groomer laps to deep powder with lots of side country and have found them to be the best bindings I have ever used period (after decades of Marker , Look, etc., etc.) -just for general skiing - even without the AT advantages. I have actually had two sets of Marker's best break on me. I now have the Freeride Pros on Line SFB 115's and they are even better than the plus... I'm an athletic 6-2 and 175 lb, level 8-9 skier. I'm sanely aggressive and like steeps but not death-inviting stuff, and I don't huck cliffs or do park tricks. I ski about 30 days per year, so if you're one of the lucky 100+ day guys, you probably wear your gear out alot faster than I do, so YMMV. One other thought - I ski Garmont Endorphin boots size 27.5 and use the short version of the Fritschis. If you have the long size range, they might not be quite as rigid, but mine are rock solid.
you're 6'2" and ski a 27.5? Yow!