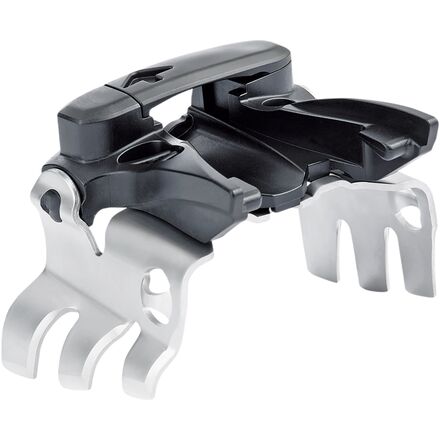 Detail Images
When skinning conditions get slick and icy, the Fritschi Diamir Axion Ski Crampon deploys with the flick of a ski pole. This retractable ski crampon attaches to the Fritschi Eagle or Freeride Pro binding and its long size provides extra bite on steep, technical slopes.
Heavy & cluncky
Familiarity:

I've used it several times
I've been a Fritchii fan since 2001 and am now on my 3rd pair of bindings. I was warned there was a new crampon for this year's model, so I knew I needed to get it. I backcountry ski every month of the year, in all types of conditions, so I'm one to use my crampons fairly frequently. I have used these 3x now and have been quite disappointed. What I struggle with is it seems there are just no other options-oh Fritchii, why did you have to change the design???

The details-they are HEAVY. They have this plastic latch that "slides & clicks" them into place-seems extremely prone to break AND it's tough to put on, and especially off, when your fingers are cold. Plus, the metal is thin under foot-there is a flex spot of lots of pressure and it's on the plastic part-again, a concern for breakage. Should any of these fail, you won't have crampons. I was skinning a knife edge ridge recently, one foot on each side at an angle, and I had to bail because the crampons were FLEXING too much and I kept loosing purchase and rolling the feet too much. Not ok.
They advertise a cool new feature- you can raise and lower the crampons while still having them on your binding for those situations where you need/don't need to use them. Well, if I put the crampons on my bindings, I NEED them. Usually the conditions are "consistent" enough to decide yay or nay to crampons on a pitch. Plus, they are heavy, so I don't want them on my feet when I don't need them. Unlike some other crampon set ups, these do not drag when you skin-a great feature unlike dynafits. So, even those rare moments I didn't need the crampons, I didn't choose to raise them 'cause it made no difference to me (and yes you can do it with a flick of the pole-it's not difficult).
Because I have always loved my Fritschi bindings, I will put up with these which is why I didn't give them 1-2 stars. Outside of the knife edge, they worked well on steep, long, icy traverses. Again, I worry about the plastic breaking and when it does, Black Diamond will hear from me to replace them for sure. I do wish they would go back to their old design (I tried to jury rig the old onto the new and without some serious engineering, that wasn't going to work). If I were guiding or doing large amounts of ski crampon use, I would say get another binding-you don't want these crampons. Disappointed, but yes, they do work except for that dang knife-edge flexing.
Unanswered Question
Hi,

Do these crampons come in 120mm width at all? If not, what would be good crampons for 118mm waistline skis and Diamir Freeride Pro bindings (120mm brakes)?

Thanks,

Andrew
Unanswered Question
I have the red & white freeride pro bindings...
I have the red & white freeride pro bindings not sure of the model year, will these crampons work with these bindings?
Need more versatile design
Gender:

Male

Familiarity:

I returned this product before using it
Got these a few weeks ago as a gift from a friend who heard that I had some fritschi bindings. Unfortunately, these do not work on the Freeride Plus bindings, only the current models. It is a real shame that Black Diamond didn't exercise a little more thought in the execution of this item, as it is a really great idea. With just a little modification of the insertion I think that they could be made to work with most if not all of the fritschi models. Perhaps a snap in insert for different models, or a slight change to allow the front end to seat properly. Sadly, these got returned. Again, the concept is fantastic and build appeared to be top-notch, the idea that I can flip down the crampon when I really needed it is very, very cool. I would likely give them four or five stars if they worked for me. They are not however worth spending another $400 just to update a pair of bindings that are still in very good shape and are serving well. Be very aware of your binding model when ordering! Good luck, ski safe.
Have Freeride Pros on BD Voodoo skis / BD Method boots. They attach very easily and solidly to the binding. Fairly easy to deploy and retract using ski pole tips and a couple pushes/pulls with the basket - on the go. The cleats only extend a couple of cm below the skis when on the highest heel setting of the binding, so not a lot of bite going directly up a steep slope when heels are set high. But I have found that these crampons REALLY do the trick during traverses and generate great stability during kick turns. My only concern was that I got a 110 mm set only because my ski waist (88 mm) would not accommodate an 86 mm set. Once I got them I couldn't see how an 86 mm set would work for most adult folks as the cleat(when retracted) on an 86 mm pair seems would have dug into the bottom of my boot. Have about a 1/2 cm gape between the boot outer edge and the cleat. Don't know - just glad I got the wider ones.
I have the Fritchi FR binding (8 years...
I have the Fritchi FR binding (8 years old?). Just bought the Axion and it does not seem to fit. No dice?
Yeah, no dice. The Axion is only compatible with the Freeride Pro and Eagle. Yell at Backcountry for saying they attach to "any Fritschi binding" in the description.
Out of curiosity can these be used in lieu...
Out of curiosity can these be used in lieu of skins?
Usually ski crampons cannot be used instead of skins, but they complement each other. Ski crampons are good on steep snow with a crust or hard/packed/icy snow, where the edge of the ski doesn't cut through the surface enough. However, where crampons fail is soft snow, where the big surface of skins give much better traction. In short, ski crampons are most useful in ski-mountaineering when the snow conditions are less than optimal.
Supposedly the Europeans would much rather forget their skins than ski crampons at home, if that is any help. I tried mine without skins and it was pretty tricky.
Does not fit Fritschi Diamir Explore bindings
I bought these for my Explores, but no dice. A lot of googling and reading of fine print reveals:

"This crampon is only compatible with current Fritschi models (Freeride Pro and Eagle)" -BD website.

Please add a binding compatibility list to this listing.
will these work on my fritschi freeride...
will these work on my fritschi freeride bindings? Also it seems as if theres alot of plastic on them compared to previous models, does this pose a problem with the integrity of the crampon while kicking hard into icepack?
The BD website says "This crampon is only compatible with current Fritschi models (Freeride Pro and Eagle)". I'm not sure about older models. Good luck.
Will NOT work on models before Freeride Pro (I tried that). Also, there is apparently no version for skis wider than about 108 waist. I think the design philosophy is likely that if you're going out on deep powder boards, you probably don't need ice-breakers. Ski mountaineering is rarely done on super wide skis anyway, except by helicopter, unless you're primarily packing/climbing up with boot crampons. Even the new ultralight Line Magnum Opus skis wouldn't be good for Euro-style ski mountaineering because they're not suited for ice and hard crust.
Could this be made to work on Armada JJ's...
Could this be made to work on Armada JJ's with a 115 waist?
I have the same question, will they bend enough for the 115mm JJ?
Also have same question with my 115 Rossi Super7
I have BD amperage skis that are 115 in waist and was in search for the crampons that can be used with Freeride Pro bindings. Unfortunately the only option is Axions that come in 110 size maximum. I decided to give it a try and fit them. The outcome:

1. They are really designed to fit skis 110 and have margin for 112 in the front teeth. The rear can fit up to 117mm. So the bending isn't going to help much (probably stretching 1mm is possible) because the material they are build from is not bendable and would possible crack if you force it too hard. I had to find another 1mm from each side. Well, the dremel came handy in this case and I was able to thinner the metal near the from teeth. It does fit now with little to no margin. There's still a chance that the crampons will be touching the edges under load when you traversing the slope. Haven't tested in the field yet. As a summary, the crampons are great, but really not designed for 115 skis and if you don't want to spend time doing some mods like I did and compromising crampons material - don't do it. It is so sad that they don't come in 120mm size.