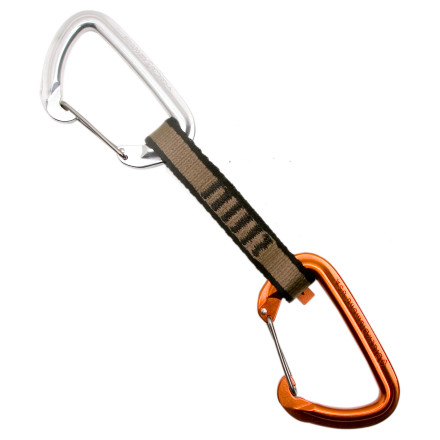 Colors

Community Images
Description
Rack up with the Black Diamond FreeWire Quickdraws and save both money and weight on your rack.
Black Diamond's FreeWire Quickdraw combines two wire-gate carabiners and a durable nylon dogbone in a set for climbers who don't want to go broke for draws. The wire gates eliminate gate flutter and reduce the chance they'll come open in a fall. This Black Diamond quickdraw also resists freezing better than solid gate models, which makes it excellent for winter climbing. Best of all, the FreeWire Quickdraw weighs only 3.4 ounces to keep your rack light.
Love it!
Familiarity:

I've put it through the wringer
The majority of draws on my rack are these guys! Great price for a great product.
Simply can't be beat for the price
Gender:

Male

Familiarity:

I've used it once or twice and have initial impressions
Reliable QD's, feel strong and no problems thus far
You get what you pay for.
Familiarity:

I've put it through the wringer
Like most other people here, I bought them for the great price, the trusted name, and the durability I've come to expect from Black Diamond. I haven't been disappointed at all, and in fact, now that I have the money to upgrade, I'm just fine keeping my draws the way they are.
best draws
Familiarity:

I've put it through the wringer
These draws are some of the best i've used. They are cheap, simple, rugged, and of course made by the always trustworthy BD. I think nylon dogbones are the way to go. You don't need the few grams of weight savings from dynex etc until you get on some crazy hard stuff which in that case maybe you should be sponsored and getting this stuff for free. The nylon is durable and long lasting. I highly recommend these draws to any level of climber.
After a couple years of use.............
I've been using the "FreeWire" quickdraw for a few years now and have used other competing draws and honestly, these are still pretty sweet. The main thing is their PRICE. They are so cheap comparatively its a no brain-er.

That being said, I wanted to mention a couple things...

These DO NOT feature rubber bands on both sides that function to keep the quickdraw in place like many others do.

This function is made so draws do not become "cross weighted" and therefore non-functional in a fall, whether short or pee your pants HUGE.

Because these do not have double rubber bands I took personalization duct tape and lightly taped the opposing side of the quickdraw on the dog-bone where there isn't a rubber band. This has solved all my problems!

No longer do I look down at my draw after a heinous run-out pitch only to see the quickdraw is sideways and dangerous making me want to cry.

PROBLEM: Draws get crooked while climbing, even if placing them "directionally."

SOLUTION: A small piece of colorful tape allows you to personalize quickdraws while also keeping them in place to keep them from "cross-loading" in a fall whilst climbing. Also, you can easily see under the tape to check dog-bone for unsafe deterioration.

Thank you!
My first set of draws.
Familiarity:

I've used it several times
These are my first set of draws. I got them because they were the cheapest I could find, and I trust Black Diamond gear. The carabiners clip well but may be a little too stiff for some climbers liking. The overall quality and build is fantastic; classic Black Diamond quality. The dog bone in the middle has held up well on all of my draws with little to no fraying.
The only con I can think of with these is that they are heavier than other draws. If weight is a concern for you, consider going with a little more expensive draw. If you're just starting out and looking for a cheap draw, these are great and will do the job.
Side note: I like the 18cm length a little better than the 12cm to minimize rope drag. You can see the difference in size in the photo below with the 12cm on the far left.
For the price, nothing else comes close!
Familiarity:

I've put it through the wringer
Once I got serious into climbing I wanted to build my own set of gear and one of the first things you should start with is some quickdraws. I looked around and saw so many different options it was hard to figure out what I should get. I have always found that Black Diamond makes great gear to I saw the Freewire was quite a bit cheaper than most other draws out there so I decided on them.

When I got them I was immediately impressed by the quality and features you get for the lower price.

They have the big thick nylon dog bone which keeps them from twisting around and allowing you to accidentally back clipping. They also are full size wiregate biners which is rare for a low cost draw. Many of my friends have tried to save money on draws and other brands come with much smaller sized biners which can prove to be hard to deal with sometimes. The gate is easy to open and slide a rope in, and it always makes that *click* sound when it closes which can be helpful to belayers. The biner that the rope will go through has the rubber spacer between the draw and dog bone which helps keep it steady, this feature is rare and mostly found in the $15-20 range in my experiences.

The only thing I have found to be a hassle is since they are both biners are wire gate the notch on the top biner can get stuck on my gear loop when going to clip but its never too bad. This is not a design issue because thats just the design you get with a wiregate. They are also not the lightest draws on the market but the additional pound I have to carry up the wall has never been noticeable.

For the price the draws are packed with features usually only found in more expensive draws. I have had great luck with them. Do recommend.
Freewire Quickdraw
Familiarity:

I gave it as a gift but have feedback to share
"Trusted reliance of Back Diamond gear and the ease of a freewire quickdraw make this an excellent option for any quickdraw needs"
Affordable good qualty
Familiarity:

I've used it several times
These were my first quickdraws, i'm still using them and i think they are a really good option for sport climbing for beginners because of the price.
good beners at a cheap price.
At the current sale price of $8.96, your getting Freewire beners at $4 apiece and the dogbone for $1.. pretty fat deal. We've had these quickdraws on the rack before I even started climbing. Solid, cheap beners that get the job done. Nothing fancy, but it they're good. We use them on our sport and trad rack.
Great for the price
Familiarity:

I've put it through the wringer
These are awesome draws! I've had them for almost 2 years and have used them for both sport and trad climbs. They still have a lot of life left in them. They're obviously not the best draws you can buy, but they perfect to start out with if you don't wan to spend a ton of money.
Good n cheap.
Familiarity:

I've put it through the wringer
Good beater draws for the crag. kinda bulky and heavy if you are racking up 20 + draws for linking up pitches . The round profile does not allow them to lie flat and stack on each other like other biners that use an I Beam profile. Best bang for your buck for sure.
A real work horse
Familiarity:

I've put it through the wringer
I'v had a set of these draws for about 2 years now and I am very pleased with how they've worked. Very strong and easy to clip, I like them for both sport and trad. The only disadvantages of these draws are the weight and bulkiness. Over all I really like these draws.
Everyone has these.
Familiarity:

I've used it several times
I like them. They are pretty good for a low price. The only issue is that pretty much everybody and their mom has these draws. Mark them before you take them anywhere.
Great value
Familiarity:

I've put it through the wringer
For the price, these draws cannot be beat. I have bought quite a few of them and thing they are a great, basic draw. They are not the lightest, compact, or most attractive draws out there, but they are color coded, easy to use, and very solid. The orange/silver color coating is a nice feature as well. I've even ordered these draws just for their dogbones(to replace worn-out ones) and used the new biners to make more alpine draws.
Great for starting a sport rack!
Gender:

Male

Familiarity:

I've put it through the wringer
These were my first draws and I am sure it is for most people. They are durable, affordable, and easy to use. I tend to prefer the wire gates and will continue to purchase these in the future for this reason. Why spend more when these get the job done. Buy these draws!
Affordable and Solid
Familiarity:

I've put it through the wringer
These are pretty much my standard draws. Great price, decent weight, the wire gate clips well, nice thick dogbone with a rubber stopper and it might seem minor, but I like the opposite colored carabiners. If your looking to buy a large set or are on a budget, these are the way to go.
I like the hefty dogbones and the wire gates have a smooth feel to them. Everyone seem to have these, no doubt because they are cheap, but they are also solid gear. I bought mostly 12mm and a few 18mm. Now that I've had them a while I'm ordering a few more. I like the rubber insert on the rope end loop. The only minor drawback on the 18mm is the bolt end loop is really large and the biner can easily flip around-but it goes back easily too.