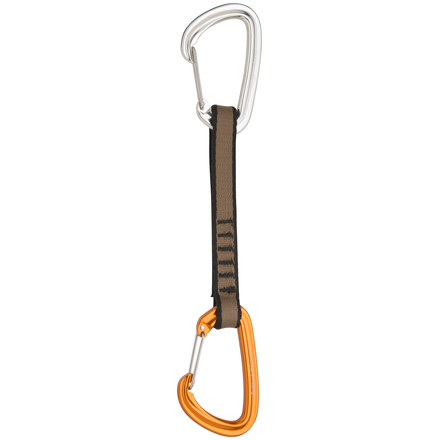 Colors
Description
Unlike most draws, the FreeWire keeps going and going.
Climbing gyms around the world buy Black Diamond's FreeWire Quickdraw because of its long-lasting durability. Its nylon dogbone lasts for years, and two HotWire carabiners keep the weight down with a clip-friendly wire gate. Modern updates include the StraightJacket retainer to stabilize your rope-side carabiner, and Black Diamond designed the carabiners with large rope-bearing surfaces as well as open-angled noses for easier clipping.

HotWire carabiners
Nylon dogbone
StraightJacket retainer
Great value
Familiarity:

I've used it several times
If you're looking to buy a functional draw whilst saving money (fellow college students) the Freewire is perfect. While they are a bit heavy, the handling is great, albeit the loose end is very loose, especially on the 18 cm model. I've heard of other people having issues with snagging, though I haven't experienced this myself. On top of this the draw is very durable, the webbing so far has held up great and burs have yet to appear on the bolt side. Finally the draw looks half decent as well, with a cool color pattern, and ends that are easily distinguishable from each other that makes for easy organizing. So far I have been using mine on sport climbs ranging mostly from 5.10-5.13.
Keeps you from falling
Familiarity:

I've used it several times
These quick draws work. I took a fall where my feet were about five feet above the last anchor and stopped pretty hard on the quick draw. It held up great and did it's job. An added bonus is the "StraightJacket" that holds the rope side carabiner in place. It makes it just that much easier to clip your rope in with one hand while you are in those akward poses clinging for your life.