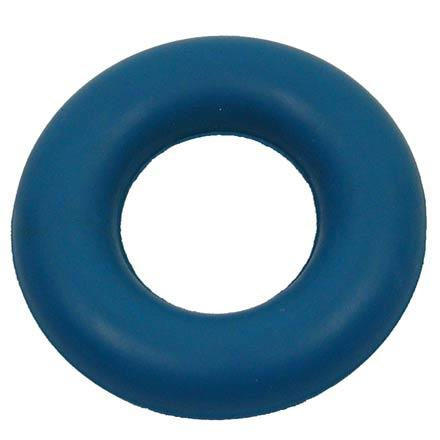 Community Images
Though Black Diamond's Forearm Trainer looks like a dog chew toy, it works surprisingly well at giving you a good forearm pump when you can't go climbing. Stash the Forearm Trainer in your desk at work or at home. Keep your arm strength up by squeezing it with each hand until you have good Coke bottle forearms, and you can barely type on your keyboard.
Great Desk toy
Familiarity:

I've put it through the wringer
Awesome to use while at work to keep busy in between calls and emails. It has good tension and is easy to pack around anywhere!
Great for the price
Familiarity:

I've put it through the wringer
Great little thing to have while you sit at your desk or are stuck in traffic. Mine started to split on the inner edge after a few months and compromised the integrity of the ring. For the price it's not a big deal though. Get one!
This thing's great to have at your desk. Do a hundred squeezes each hand a couple times a day. Hold shut for a minute a couple times a day, things like that.

But, it's fantastic if getting tattoo work done. Tattoos hurt, it's nice to have this little guy to squeeze to refocus that pain and let it go.
I bring it with me everywhere!
Familiarity:

I've put it through the wringer
This is an awesome little forearm trainer. I bring it with me everywhere. I bring it to work, in the car, at home. I use it all the time and no matter how often I use it, I still feel like its resistance is the same as the first time I used it, but I also feel stronger! I would totally recommend this to anyone looking for a simple and affordable forearm trainer.
Love to use this on 4 hour drives
Familiarity:

I've used it several times
This thing is really awesome for long road trips and gets you really pumped if you use it for long enough! I think these things are great if you can't get to the gym and need a good hand/arm exercise.
might help with bike-related hand pain
Familiarity:

I've put it through the wringer
I decided to try this because my hands had been killing me after long descents while mountain biking. There are all sorts of factors that contribute to hand pain based on your bike setup (handlebar setup, suspension, etc), in addition to what kind of trails you ride (rocky vs buffed out.) Instead of tweaking a bunch of things on my bike that may or may not have kept the numb hands at bay, I decided to invest in this lil' guy to see if strengthening my fingers/hands with it would help. After a few days of squeezing this in intervals while at my desk at work and a few days back on the bike, I definitely noticed an improvement in how my hands felt at the end of a ride. The hand numbness still comes and goes, but it's not as debilitating as it used to be. Definitely recommend it! To boot it's also been rolling around at the bottom of my purse for the two months that I've had it, when it hasn't been in use, and it still looks/feels as good as new.
I've had many 'stress balls', forearm trainers or whatever you want to call them. This one blows them all away, hands down. Perfectly designed. Thanks Black Diamond.
Comfortable but a little soft
Familiarity:

I've put it through the wringer
So this is a simple product. Grab a big rubber donut and squeeze. That's about all there is too it. I'm very new to climbing, but even with my relatively low grip strength I found this product to be a little soft. It's still good for training your grip strength, but I feel like it'll be pretty easy to max the product out in terms of just how much strength it can help you build.



Be careful not to do it too much. Took the little donut to a move and squeezed on it for a couple hours and worked up a couple of blisters on my fingers. Still a very comfy device, but I overdid it.
I love this super simple trainer. Nothing fancy, but it gets the job done. I keep it at my desk for a quick train, and it's noticeably helped with forearm strength. Plus it's super durable! And thankfully it didn't come with a heavy rubber musk to it either... Definitely worth yo' seven dolla
6 Bucks for a box of Donuts...or....
Familiarity:

I've put it through the wringer
Let's be honest folks, donuts are supposed to make you feel good, and this one sure does the trick! You can't get pumped forearms mowing down on a dozen donuts, but you can after five minutes with this guy! This thing is super durable and holds up to wear and tear really well. A few minutes on the way to the crag makes for a great warm up too.
Simple, effective.
Familiarity:

I've put it through the wringer
It does exactly what it says. I've used mine extensively, and it doesn't seem to break down or change resistance...I was worried that with time, it would either break or get easier, but it hasn't. If you use it with grungy climbing hands, it does get dirty, but it washes up easily with some dish soap and warm water. It's simple, it's effective, it's cheap. It is NOT the best for isolating specific fingers, but it's great for overall hand strength.
not enough
Familiarity:

I've put it through the wringer
I was existed when I first got this products but it is not enough for any one who seriously wants to train there grips strength passed it around the local gym and found out there are similar products that are tougher product works great just not a work out
Good 'nuf
Familiarity:

I've put it through the wringer
I got this thing to use as an exercise after climbing, and for while I am studying/watching tv/whatever. It works really well for its purpose. Not much to say, you just squeeze it. It has held up to daily stress really well. It will develop some marks/discoloration, but has not broken. When it gets rubbed against anything, the rubber will be a lighter blue. I didn't find the smell bad at all. When it first comes it has that "new tire" smell, but it wore down to a light rubber smell after a few days. It does what it is meant to, and holds up well. Great stress buster.
But, it's a human toy! Great for keeping up that forearm and hand strength. No complaints thus far.
Strong Like Bull
Familiarity:

I've used it several times
Just got this to quell boredom while staring at a computer screen all day. I love it, but I agree with previous reviews, it's got a strange and strong smell. Despite the odor, it's the best and cheapest of it's kind on the market - you won't regret that 6.95.
Smells Funny, Works Great...
Familiarity:

I've put it through the wringer
I spend some of my time at a computer desk, and every hour I do a short regimen of pushups, sit ups, etc to keep me from feeling (and looking) like a guy who works at a computer desk. I use this trainer to work on forearm and finger strength daily while at work. The only negative - it smells VERY strongly of rubber. On Monday when I walk into my office it is an overwhelming smell. I have started to keep it wrapped in a towel in a drawer overnight and that helps.
Good little tool
Familiarity:

I've put it through the wringer
I bought this tool for long trips in the pickup, as I travel for work. I mainly use it to maintain finger strength when I can't hit the hangboard for a bit. It will become a little easy after about a weeks use, but there are plenty of ways to get crafty and work the fingers. If you're looking for a forearm pump, I'd suggest a hangboard.
I like my blue donut!
Familiarity:

I've put it through the wringer
After a pretty serious hand injury, I bought this to help regain grip strength - it definitely helps build endurance in the forearm, giving you an edge when it comes to arm pump.



Protip: if it gets too easy too squeeze, put it in the fridge and cool it down - the colder the rubber, the more resistance!



Funny smelling rubber, but I'm kind of picky about things like that. It's not bad at all.
Cool little fun way of giving your forearms a warm up/cool down. Use it to relieve stress or just as a mini off day 'work out.' the price is great! Keep in your car for when in traffic or on your way to the climbing gym. How can you not enjoy it, you just grab and squeeze!
Love this thing!
Familiarity:

I've put it through the wringer
I keep this at my work desk. It's a great way to to get in a quick little forearm workout. It's not as hard to squeeze as I thought it would be, but I just do extra reps to make up for it