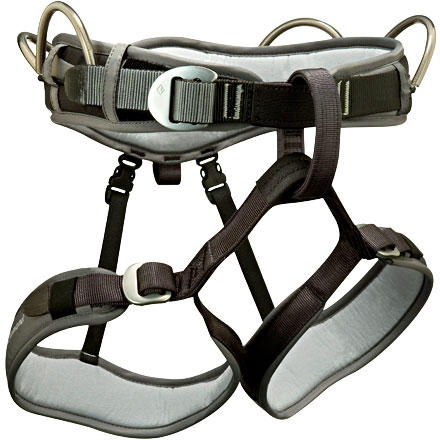 I finally got a Black Diamond harness and I love it. Its really comfy even when you're hanging or repelling. Also, it's fast and easy to throw on. Just get a matching color chalk bag and you'll look good.
together with my scarpa shoes great combination
Black diamond need I really say anymore, I got this harness with my scarpa velco shoes and togerther I feel safe enough to even let ben the angus belay me, only joking. Like I say Black Diamond thats all you need, great brand
Just started climbing, nothing to technical. After wearing rentals and friends, this by far is the most comfortable harness I've worn. Noticed instructors were using it, recommended it also.
Great all-round harness, nice and comfy with all the key features and none of the crap. Decent range of adjustment for summer and winter, and sizing seemed about right.
I like this harness. quite comfortable and easy to adjust. The only thing I didn't like was it would seem that the loop in the back is only meant for hauling gear and not for belay anchoring.
, ☃bcs_badge_alumni_label☃
Thanks Phunk
This Harness is fantastic. I dig the fit and the comfort bar has been set pretty high. Lastly, if you're looking for quality this won't fall short.
As with all Black Diamond gear this harness is more than great. Great fit and quite comfortable even in complicated settings. Definitely recommendable.
This harness is one of the most comfortable harnesses I have ever owned. It fits well around the waste and is awesome when you have to take those huge whippers, its killer all around.
Black Diamond's Best Harness Ever
I've been climbing in Misty Mountain harnesses for years (I'm from NC), and this is the first Black Diamond harness I've felt was on par with my Misty Harnesses. This is now my main all around rig for everything from Maple bolt clipping to climbing on El Cap. It's the do-it-all rig for sport and trad, and even aid fests if you aren't into the huge Cadiallac type harness. It's got up turned gear loops which I prefer for trad climbing because I think they are easier to get gear onto and off of. Seems like the true measure of a good harness is forgetting that it's there, and this lives up to that. It's also priced pretty economical and of course looks good.
Great all around harness. I've used it several times already and I completely forget that I'm wearing it. The adjustable legs are nice but make the harness slightly heavier than the non AL. For me the adaptability was worth the extra weight. Would buy again in a second.
This harness is great, It has just the right amount of padding and the weight is just right, I forget it's there walked all the way back to the car and would have sat down in the car if I could have got my keys out.
Use it strictly for sport climbing. VERY comfortable, Very adjustable. Basically don't even notice that I have it on, but feels super secure and comfy in a fall. Great price for a quality harness. Couldn't be happier with it.
Keeps you locked in, beyond that: Meh.
This harness is... OK. The waist-belt was comfortable enough while belaying, but always rode up in a weird way when I was hanging on the rope.

The padded leg-loops always rubbed against each other and made me walk a little bit bow-legged to minimize that. I never needed to adjust the adjustable leg-loops, so that's just more junk to worry about.

I've also come to dislike the gear loops that flip up when not in use. It can make them hard to clip gear into if your shirt is any less than 100% tucked into the waist.

I'm updating this review after owning a Petzl Sama and giving it 5 stars of love. The Petzl is a superior harness in terms of comfort, lightweight, fit and function.
This harness is awesome. One of the most comfortable harnesses I've ever worn. I wore this harness the first time for over 9 hours strait without once having to adjust it. It was almost as comfotable as not having a harness on.
As comfortable as a big wall harness, without all the added weight. This harness is sick and I look forward to taking some huge whippers with it. See you 40ft above your last marginal piece. Peace.