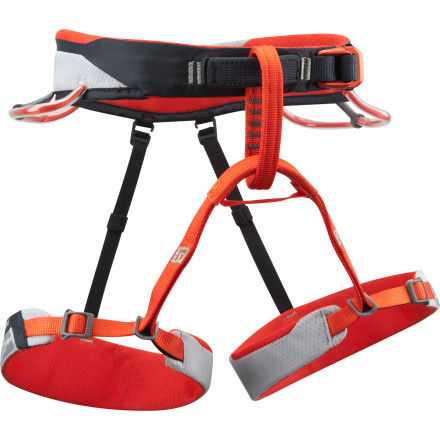 Colors

Detail Images

Community Images
Description
The choice between fight and Flight is obvious.
Built for speed, the Black Diamond Flight Harness helps you fly up your sport project in relative comfort, assuming you don't have to contort yourself into odd shapes to send the crux. Even then, the Flight's Dual Core XP Construction boasts supportive non-woven polyester and a quick-drying lining that help keep you comfortable during hang sessions. Adjustable, removable leg loops keep you comfortably fitted and in the clear when nature calls.
Ultralight design built for sport climbing
Enough gear loop space to equip a seriously long pitch with draws
Does anyone know what the break strength(kN) is on the belay loop? Black diamond usually list this on their website but I couldn't find it for this harness.
Hey Scott,

I just talked to BD and the belay loop on the Flight is rated to 24 kN
No Complaints!
Familiarity:

I've used it once or twice and have initial impressions
I am a beginner but from what I've seen, it works great.
Since there is no chalk bag loop on the...
Since there is no chalk bag loop on the rear, how do you guys attach it so its in reach for both hands?
Hey Chrisiania,



I agree with Laura's suggestions and choose this method even if the harness does have a loop in the rear. I personally don't like having something in my way when I sit down or having something slapping me in the butt when I am standing. Belts are easy on and off and soon as I am done climbing the chalk bag comes off.
Not to mention you can use a sling as a belt for extra protection when building anchors etc. Belts are the way to go! I prefer the pRana chalk bag belt to any others, but again, carrying extra slings is always smart!
Great light weight harness for the money
Familiarity:

I've used it several times
I got this for alpine multi pitch climbs so that I am not carrying a bulky harness in my pack on an approach. Its reasonably comfortable and the price can't be beat. The gear loops are on the smaller side, so it gets tricky with a bunch of trad gear, but the only harness I could find that has ample gear loop space is also 3 times the weight and takes up a ton of space in my pack, so it's a trade off.
Awesome Harness!
Familiarity:

I've used it once or twice and have initial impressions
It's super comfortable and super lightweight - great harness at a great price
I'm 32' waist and 20.5' leg and Medium was perfect. Super lite and the speed adjust buckle works great for one hand tightening and no double-back needed. Don't worry about the trakFIT leg loop plastic adjustment buckle, its not load bearing and cannot see it breaking unless maybe by stepping on it. In 20 years of sport climbing this is by far the best harness I've had, its one of those great pieces of gear you want to buy two of so you have a backup of your favorite. I attached my chalk bag to the adjustable leg loop hardware in the back for no waist belt needed.




I love the fit of this harness. 32"waist, ordered medium. I have worn it from Shelf Road to Red River Gorge and it is quick drying. Only downside is there is no loop for a chalk bag. I would recommend this to any sport climber.
awesome harness
Gender:

Male

Familiarity:

I've used it several times
I love this harness so much its my first one and I have not gotten to use it yet but just by the way it feels on me I know its going to kick but out there. I was worried about the plastic parts of the harness but they feel very sturdy and they aren't even weight bering, Im sure they will be great.
My First Harness and so far My Favorite
This harness is truly amazing. It's lightweight, comfortable, and adjustable. It's not a plush harness by any means but it packs a punch for being a minimalist harness. Black Diamond knocks it out of the park again with this one!
Ultralight and out of the way
Gender:

Male

Familiarity:

I've used it once or twice and have initial impressions
Excellent minimalist harness. No frills, but still possesses the essentials. Great for sport climbing. Has the necessary padding for comfort, and fits a wide range per size.

One start deducted because the leg loops are small. I'm about at their maximum, but have plenty of room in the waste. I am big for a climber (6'3"/ 220#), so this might not be a problem for most.

There is a nice divider on the gear loops that helps one sort things out but keeps gear pretty close. This can work for some, and be a nightmare for others. I like not having to reach way back to get to the rear loops.
Great harness for the right person
Gender:

Male

Familiarity:

I've used it several times
Wasn't a huge fan of the fit of the flight harness. Felt a little loose and somewhat cumbersome in comparison to the minimalist harnesses I've owned previously. Ended up exchanging for the ozone and happy with my decision. For the money, however, the flight is probably one of the better harnesses on the market. Lightweight and versatile.
I bought this harness to trad climb. There are two things about it that are attractive:
(1) It is minimal but supportive. Trad climbers carry more gear than sportos, what you don't want is even more bulk.
(2) The gear loops are square-shaped versus the traditional sagging loop in which the biners all bunch tight, comingle and clip to one another.
More than a few times I flew in the Flight, it doesn't bite when you hit the bight.
Arthur
This is actually my favorite Black Diamond Harness, and I've found it to be quite versatile and surprisingly comfortable for its size, and the adjustable Leg Loop Feature is super handy. Love it.
Are the leg loop 'buckles' metal or...
Are the leg loop 'buckles' metal or plastic?
they are plastic, which is certainly concerning...
The speed adjust buckle slides are plastic but with the system black diamond uses the slides make the elastic tighter or looser depending on the desired fit. These harnesses are bullet proof black diamond tests all of there products and they wouldn't sell it if it was going to fail there customers. This harness is the same harness that tommy caldwell is wearing in one of his facebook pictures with alex honnold, If Tommy wears it so will I.
I can say that after using one of the harness very hard for nearly a year, with lots of chimneys, jamaring and some big whips that you don't have to worry about the plastic parts. They aren't load bearing and just there to make sure you have a perfect fit around the legs, which I really like.
i love this harness!! so light yet so bomber. i can't even tell i have it on. no problems with it catching me on my redpoint attempts and no problems hanging out in it as i clean my sport routes. super comfy during both. i love the speed adjust feature. i was kinda sketched about the gear loops being so close to each other. i actually can't tell the difference with gear loops that are farther apart. not to mention the color is awesome. if u want a super lightweight and bomber sport harness, this is it.
Is there a size chart available yet? I...
Is there a size chart available yet? I did not see one on the the BD website either. I have the Petzl Hirundos in sz medum but it is too big. Wondering if I'll take a small in this. 5'11", 153 lbs, 30.5 waist, and skinny legs. The Hirundos is maxed tight on me and the leg loops are just a little too big for comfort when taking falls.
that is strange that they don't have a size chart jumping out at you. i did find one here - http://www.blackdiamondequipment.com/en-us/shop/climb/harnesses/momentum-al-harness/

but it puts you in between. i'd try to try on another bd harness locally if you can and attempt to fit into the small
This harness seems to have 2 large gear...
This harness seems to have 2 large gear loops that are split into 4 total sections with some kind of smaller plasic divider piece . . Will this kinda push all your gear together and make things a bit more cramped? or vice versa?
It can be used to kind of separate the gear in whatever ratio you want and spread the load in a way that makes the most sense for your needs. It is unlikely you will have it all bunching up though.
I guess I'm just more curious if the gear will be loaded towards the outside edges of the loops or towards the middle where the divider piece is located?