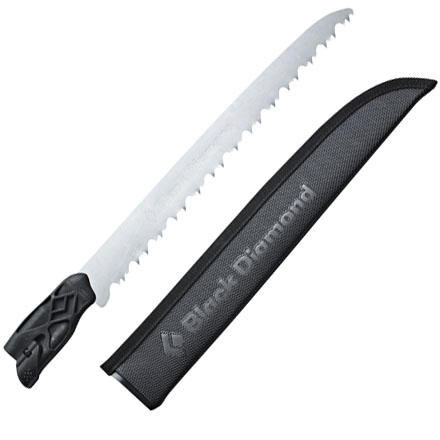 Community Images
Make backcountry snow testing a little easier with the Black Diamond FlickLock Snow Saw. Not only does this 5.6oz snow saw have a comfortable handle for cutting the walls of your test pit, it also attaches to your ski poles for extra reach. Clip the FlickLock Snow Saw to any 11mm or 14mm telescopic ski pole section to extend it for cutting the back of a Rutschblock or dropping a cornice onto a suspect slope.
Check your BD Poles for Compatibility
Familiarity:

I've put it through the wringer
Great tool! Obviously an essential for backcountry winter travel and snow study. In particular the sheath included with the saw is a huge step-up from the flimsy joke of a cover that came with the last BCA saw I encountered.

My complaint with this product actually centers around my BD poles. Not all of BD's ski touring poles are compatible with this saw. Mine are of the non-compatible variety. Not a huge issue if you carry a length of cord to cut out the backs of columns, but inconvenient nevertheless to borrow a friend's pole.

Bottom-line, check your pole for compatibility before you buy. Otherwise, its an awesome product.
Great Tool to Have
Familiarity:

I've used it several times
This saw is super sharp, strong, and durable. This saw has a sharp blade for cutting pits or anything else that gets in its path. The nice thing about this saw is that it will attach to the end of your trekking pole to extent the handle. It has easy to read 30 cm markings that are engraved as well as a large Black diamond Logo. It gets the job done for a good price and is a great tool to have in the backcountry.
Nice, light, works
Familiarity:

I've used it several times
Good price for what you need .
It's made by BD, need I say more?
Familiarity:

I've used it several times
This saw is very sharp, very strong, and very useful. It comes with a good sheath and fits nicely inside my Kode 30. Like other saws, this has a 30 cm measurement on the blade making it convenient for pits. There isn't much you couldn't cut with this thing.
Put it in your pack
Familiarity:

I've used it several times
Snow saw's not just a snow saw... This one beats out all I've had in the past! It cuts nice and smooth and belongs in everyones b/c pack. Only downside is that its crazy sharp - also a good thing, but if it comes out of its sheath watch out hands, pack and anything inside the pack - OW! Cuts trees with ease as well, found that one out the hard way but glade it was in my pack. Must better than a folding saw for sure. Nice work BD!
An essential tool
Familiarity:

I've used it several times
This saw is a crucial piece of equipment when digging pits to evaluate snow stability. It allows you to smooth the walls of a pit so fine that every snow layer will be easily identified by a quick glance. You can isolate columns for a Compression test incredibly quick, and chopping out a section of your pit for an ECT is too simple not to do. The Flick-Lock is great for attaching it to BD poles, and with two sizes on the lock it can fit a variety of other poles. This just made all of my pits exponentially prettier, and is an essential tool for responsible decision making in the backcountry.
Nice size
Familiarity:

I've used it once or twice and have initial impressions
I like how this fits perfectly in my float 22 bca bag. It comes with a nice case and is convenient how it attaches to my black diamond pole.
Will it attach to BD Pure Carbon adj....
Will it attach to BD Pure Carbon adj. poles?
The Black Diamond Pure Carbon poles have a 16 mm upper and 14 mm lower shaft section, so the lower section can attach to the larger hole of the FlickLock Snow Saw.
I have a Dakine Altitude 25 liter ABS cover...
I have a Dakine Altitude 25 liter ABS cover & my current Ortovox saw does not fit in the pack I have upgraded to. Does anyone know if this fits into the ABS cover pack that I have???
Best Answer
I think it will be close. I believe that ABS cover is 21 inches tall or so and the overall length of the saw is about 17 inches so it should work but you may have to angle it depending on what else you have in there. I have this saw and the standard Vario 25 cover and it fits in there just fine if that helps at all.
Nice saw, sharp, nice case, good product

Highly recommend
Another great product from black diamond
This is a great snow saw for cutting columns for doing snow pit tests. It can also cut through wood and other materials if needed. It has a 30cm mark for you know how big to cut your columns. You can attach this to your Black diamond Flick lock poles, for doing extended column tests. A great product.
Is the saw compatible with the Black...
Is the saw compatible with the Black Diamond Whippet Self-Arrest Ski Pole?
Best Answer
This saw is only compatible with Black Diamond's Traverse, Razor Carbon and Expedition ski poles.
You can swap out the Whippet lowers for a Trail Mids + Lowers; i.e. 3-piece whippet. That will give you the correct diameter for this saw.
Nice addition to my BC gear
This saw is a nice addition to my bc gear, and snow study kit. It attaches easily to the pole, is very sharp and cuts through firm snow like it was butter. It is really sturdy and lightweight, and takes up almost no room in the pack. Really happy with it so far, highly recommended, especially if you're using bd poles.
Little finicky in attaching to my ski pole but gets the job done. Clean cuts and measurements provide the information and tool I need for digging pits and looking savage.
cuts through snow pretty well (not that its difficult) and the attachment to BD ski poles is genius for a myriad of snow tests. My only complaint is that the handle is a bit thicker, and when used with the pole it doesn't leave a nice clean cut, there probably isn't a way around that though.